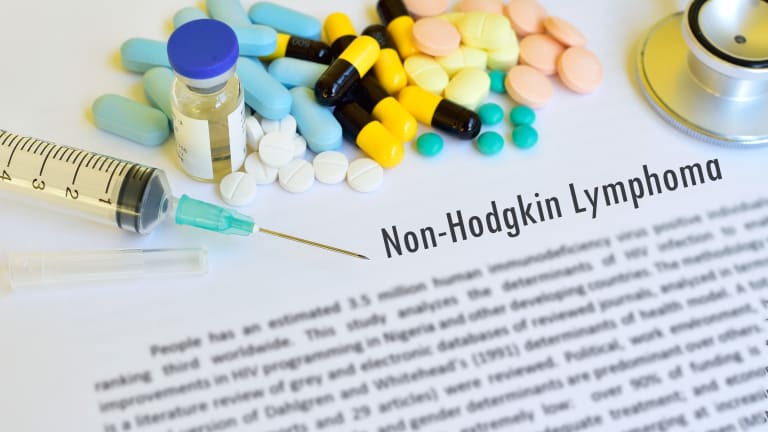 Treatment of DLBCL and Aggressive Non Hodgkins Lymphoma
Treatment of Stages II - IV DLBCL - Genomic Profiling & Imbruvica improving outcomes in select patients.
Medically reviewed by Dr. C.H. Weaver M.D. 12/2021
Patients with DLBCL or other aggressive lymphomas classified as having stage IIE–IV disease are considered to have advanced stage Non-Hodgkin lymphoma (NHL). These lymphomas have been classified according to two systems: the Revised European American Lymphoma (REAL) system and the International Working Formulation (IWF). The following types of Non-Hodgkin lymphoma are all considered to be intermediate or aggressive in nature and are treated similarly (see table 1).
Table 1 Intermediate or aggressive NHL, as defined by IWF or REAL
​
​These classification systems are becoming  less relevant as NHL is increasingly being recognized as several unique disease's with distinct subtypes affecting both response and survival that can be better identified by genomic and molecular analyses. 
The conventional treatment for aggressive NHL for many years has been CHOP chemotherapy. Two factors have been shown to improve outcomes over standard CHOP treatment: the addition of the targeted therapy Rituxan® (rituximab) to CHOP, and assuring that the full, planned dose of chemotherapy is delivered on time.
There is intense interest in improving upon the standard-of-care R-CHOP regimen, particularly for patients with adverse prognostic features or high-risk tumor genetics and patients with adverse prognostic features should consider participation in clinical trials designed to improve outcomes compared to R-CHOP.
R-CHOP Standard Treatment for Aggressive NHL
R-CHOP is the standard initial treatment for aggressive NHL.  CHOP is a combination of four chemotherapy drugs: cyclophosphamide, doxorubicin, Oncovin®, and prednisone. CHOP chemotherapy cures approximately 40% of patients with aggressive NHL and the addition of the targeted therapy, Rituxan® (rituximab) to CHOP has been shown to improve survival rates by an additional 15% to 20% when compared to treatment with CHOP alone.2,3
Can Treatment be Improved Over R-CHOP?
Gene expression profiling and molecular analyses can now be used to identify at least 8 different types of DLBCL with varying prognosis following treatment with R-CHOP. Efforts are underway to develop more effective regimens for the treatment of lymphomas where R-CHOP is less effective.19
The most widely studied regimen is dose-adjusted rituximab, etoposide, prednisone, vincristine, cyclophosphamide, and doxorubicin (DA-R-EPOCH) which is an intensified variation of R-CHOP that has met with mixed results but often recommended. Patients with the following types of lymphomas should consider participation in a clinical trial if available. 
Polivy plus R-CHP - New Standard Of Care of DLBCL?
The pivotal phase III POLARIX clinical trial directly compared Polivy® in combination with Rituxan® (rituximab) plus cyclophosphamide, doxorubicin and prednisone (R-CHP) to the standard treatment of DLBCL consisting of Rituxan plus cyclophosphamide, doxorubicin, vincristine and prednisone (R-CHOP) and found that R-CHP was superior in delaying cancer progression to R-CHOP in people with previously untreated DLBCL.3
These results, from the phase 3 POLARIX were reported at the Dec. 14, 2021 American Society of Hematology (ASH) Annual Meeting and Exposition. In POLARIX, 879 patients were treated with either six cycles of pola-R-CHP (440 patients) or R-CHOP (439 patients) and directly compared. After a median follow-up of 28.2 months, the relative risk of cancer progression, relapse, or death was 27% lower in the patients who received pola-R-CHP than in those on R-CHOP. While overall survival was equivalent between the two arms.
The Polivy regimen is the first regimen in two decades to improve progression-free survival in DLBCL compared to the standard of care. Full data to become available soon.
GCB and ABC Lymphoma
Gene expression profiling has demonstrated 2 distinct subtypes of DLBCL based on the cell from which the lymphoma originated during the process of B-cell differentiation: germinal center B-cell (GCB) lymphoma and activated B-cell (ABC) lymphoma.15 The prognosis for ABC DLBCL is significantly worse than that for GCB DLBCL after R-CHOP treatment, with 5-year survival rates of 45% to 56% in the ABC subtype vs 78% to 80% in the GCB subtype.16
Double and Triple Hit Lymphoma
MYC, BCL2, and BCL6 gene rearrangements can be identified using fluorescence in situ hybridization (FISH) testing and these are associated with a worse prognosis. The presence of MYC and BCL2 or BCL6 is referred to as "double-hit lymphoma" (DHL) and the presence of all 3 rearrangements is referred to as "triple-hit lymphoma" (THL).17 Both DHL and THL have a very poor prognosis when treated with standard R-CHOP therapy, with 5-year survival rates of only 22% to 27%.18  Lymphomas that co-express MYC and BCL2 proteins by immunohistochemistry without underlying rearrangements, colloquially termed "double-expressor lymphomas" (DELs), are also an adverse prognostic group with an inferior 5-year OS rate of 30% to 36% when treated with R-CHOP.19

A large retrospective review of more than 6800 patients with MYC-rearranged DLBCL, DHL, or THL who were treated with R-CHOP or DA-R-EPOCH found no difference in 4-year survival between the 2 regimens.20 Overall, the evidence for the efficacy of DA-R-EPOCH in DHL/THL is limited, but it is frequently administered at lymphoma centers owing to the known poor outcomes with standard R-CHOP.20 
Patients with DHL/THL should strongly consider participation in a clinical trial over treatment with R-CHOP or DA-R-EPOCH.
Treatment of Elderly Patients
A large percentage of patients with NHL are 65 years or older. Because elderly patients commonly have concurrent illnesses or other medical difficulties that may exacerbate the side effects of chemotherapy, they are often treated with reduced doses of chemotherapy. Clinical studies have shown, however, that elderly patients get the same benefit from chemotherapy treatment as younger patients. Researchers from France have reported that 58% of elderly patients (age 60-80) treated with R-CHOP survived five years or more compared to 45% of patients treated with conventional CHOP.4,8
Managing Side Effects of Treatment
The standard treatment for NHL, chemotherapy, not only destroys cancer cells but also normal cells that grow rapidly such as blood cells, cells in the hair follicles, or cells in the mouth and intestines. Damage to blood cells can result in neutropenia, a condition characterized by abnormally low blood levels of infection-fighting white blood cells. Neutropenia increases the risk of contracting bacterial and fungal infections. Managing neutropenia is important because, in some cases, this side effect can be severe enough that chemotherapy treatment may need to be delayed or the dose reduced, which decreases some patients' chance for cure .
Chemotherapy-induced neutropenia can be prevented in most patients with the administration of blood cell growth factors, which are substances produced by the body to stimulate blood cell production. There are two white blood cell growth factors that have been developed in a laboratory and approved by the Food and Drug Administration for the prevention of chemotherapy-induced neutropenia: Neupogen® (filgrastim) and Neulasta® (pegfilgrastim). Clinical trials have shown that Neulasta and Neupogen reduce the severity and duration of neutropenia associated with chemotherapy for the treatment of NHL. Neulasta is as effective as Neupogen and is administered only once every chemotherapy cycle, whereas Neupogen is administered daily.5,6,7
Strategies to Improve Treatment
Areas of active investigation aimed at improving the treatment of aggressive NHL are focused on patients that do not have a good outcome with R-CHOP and include the following:
Genomic profiling to guide treatment
Early use of CAR T Cell and High-dose Chemotherapy with Stem Cell Transplantation
Development of new Chemotherapy-targeted therapy drug combinations
Genomic Guided Treatment 
Adding the targeted therapy Imbruvica to standard chemotherapy can improve how long some younger people with specific genetic subtypes of DLBCL, called MCD and N1 live. Imbruvica is a precision cancer medicine that works by blocking the activity of Bruton tyrosine kinase, a protein that is involved in the growth and survival of B cells. Cancer cells of ABC DLBCL require this protein to survive. In a previous phase 2 clinical trial involving patients with relapsed DLBCL, researchers found that treatment with Imbruvica alone resulted in tumor shrinkage in 37% of patients with the ABC type but only 5% of those with the GCB type. 
The PHOENIX clinical trial was designed to evaluate the impact of adding Imbruvica to R-CHOP in patients with newly diagnosed non-GCB DLBCL. The trial showed no survival benefit of adding Imbruvica to R-CHOP overall but when the researchers looked specifically at trial participants aged 60 and younger, the benefits of adding Imbruvica to R-CHOP became evident. Researchers then performed genetic analyses on tumor samples and found that most of the benefit from Imbruvica was in patients with ABC DLBCL. ABC DLBCL can be divided into four genetic subtypes: MCD, N1, BN2, and A53. The researchers found that patients who were 60 and younger with the MCD subtype had three-year overall survival rates of 100% with Imbruvica and R-CHOP, compared with 70% with R-CHOP alone. Younger patients with the N1 subtype also had improved overall survival. Imbruvica did provide benefit for some other younger patients with non-GCB DLBCL. More research is needed to determine whether the A53 subtype—which the researchers could not identify in this study because of technical reasons—falls into this category. No tests are currently commercially available to identify the MCD and N1 subtypes.
ABC -DLBCL
The phase 3 ROBUST clinical trial unfortunately showed that adding Revlimid (lenalidomide) to R-CHOP did not improve progression-free survival in patients with DLBCL - ABC disease. ROBUST was the first DLBCL phase III study to integrate biomarker-driven identification of eligible ABC patients.21
High-Dose Chemotherapy with Stem Cell Transplantation
High-dose chemotherapy and autologous stem cell transplant is a standard treatment for recurrent NHL after failure of R-CHOP because it cures ~45% of patients. Research is ongoing to determine if early use of HDC and ASCT can improved the outcomes of lymphoma patients at high risk of recurrence with R-CHOP. One clinical trial has shown that approximately 75% of patients with intermediate-high-risk disease treated with high-dose chemotherapy and autologous stem cell transplant lived five years or more after treatment compared to 45% of the patients treated with conventional dose CHOP.10
Planning for stem cell transplantation: Approximately 50% of patients treated with R-CHOP ultimately experience a cancer recurrence that may be treated with high-dose chemotherapy and stem cell transplantation. Due to this likelihood, some patients and physicians choose to prepare for this treatment. Planning for a potential stem cell transplant involves collecting stem cells early in the treatment plan and having them stored for future use. Even conventional-dose chemotherapy can damage the bone marrow where stem cells are produced; therefore, it is important the stem cells be collected before the patient undergoes any treatment. Waiting until the cancer recurs to collect stem cells is problematic because the procedure is difficult to perform on short notice. As well, the resulting collection sample may be contaminated with cancer cells.
References
Fisher RI, Gaynor ER, Dahlberg S, et al. Comparison of a Standard Regimen (CHOP) with Three Intensive Chemotherapy Regimens for Advanced Non-Hodgkin Lymphoma . New England
Journal of Medicine. 1993;328:1002-1006.
Roche. Study of MabThera in aggressive Non-Hodgkin lymphoma in patients less than 60 years old halted two years early due tosignificantefficacybenefits.Availableat:http://www.roche.com/med-corp-detail-2003?id=1096&media-language=e. Accessed December 2003.
Sehn LH, Donaldson J, Chhanabhai M, et al. Introduction of combined CHOP plus rituximab therapy dramatically improved outcome of diffuse large B-cell lymphoma in British Columbia . Journal of Clinical Oncology. 2005;23(22):5027-5033.
Feugier P, Van Hoof A, Sebban C, et al. Long-term results of the R-CHOP study in the treatment of elderly patients with diffuse large B-cell lymphoma: A study by the Groupe d'Etude dis Lymphomes de l'Adulte. Journal of Clinical Oncology. 2005;23;4117-4126.
Lopez A, de Sevilla A, Castaigne S, et al. Pegfilgrastim supports delivery of CHOP-R chemotherapy administered every 14 days: a randomized phase II study. Proceedings from the 46th meeting of the American Society of Hematology (ASH). Blood. 2004;104:904a,Abstract #3311.
Vose J, Crump M, Lazarus H. Randomized, multicenter, open-label study of pegfilgrastim compared with daily filgrastim after chemotherapy for lymphoma. Journal of Clinical Oncology. 2003;21: 514-519.
Green M, Koelbl H, Baselga J. A randomized double-blind multicenter phase III study of fixed-dose single-administration pegfilgrastim versus daily filgrastim in patients receiving myelosuppressive chemotherapy. Annals of Oncology. 2003:14:29-35.
Hermans J, Drol AD, van Groningen K, et al. International Prognostic Index for aggressive Non-Hodgkin lymphoma is valid for all malignancy grades. Blood. 1995;l86:1460-1463.
Alici S, Bavbek SE, Kaytan E, et al. Prognostic significance of the immunophenotype versus the International Prognostic Index in aggressive Non-Hodgkin lymphoma. Clinical Lymphoma. 2003;4:52-55.
Milpied N, Deconinck E, Gaillard F, et al. Initial treatment of Aggressive Lymphoma with High-Dose Chemotherapy with Autologous Stem-Cell Support. The New England Journal of Medicine. 2004;350:1287-1295.
Pfreundschuh M, Trumper L, Kloess M, et al. Two-weekly or 3-weekly CHOP chemotherapy with or without etoposide for the treatment of young patients with good-prognosis (normal LDH) aggressive lymphomas: results of the NHL-B1 trial of the DSHNHL. Blood. 2004;104:626-633.
Wyndham HW, Grossbard ML, Pittaluga S, et al. Dose-adjusted EPOCH chemotherapy for untreated large B-cell lymphomas: a pharmacodynamic approach with high efficacy. Blood. 2002;99:2685-2693.
Wilson WH, Wright G, Huang DA, et al. Effect of ibrutinib with R-CHOP chemotherapy in genetic subtypes of DLBCL. Cancer Cell November 4, 2021. DOI: 10.1016/j.ccell.2021.10.006.

Alizadeh AA, Eisen MB, Davis RE, et al. Distinct types of diffuse large B-cell lymphoma identified by gene expression profiling. Nature. 2000;403(6769):503-511.

Nowakowski GS, Czuczman MS. ABC, GCB, and double-hit diffuse large B-cell lymphoma: does subtype make a difference in therapy selection? Am Soc Clin Oncol Educ Book. 2015;35:e449-e457. 

Riedell PA, Smith SM. Double hit and double expressors in lymphoma: definition and treatment. Cancer. 2018;124(24):4622-4632.

Liu Y, Barta SK. Diffuse large B-cell lymphoma: 2019 update on diagnosis, risk stratification, and treatment. Am J Hematol. 2019;94(5):604-616.

Wright GW, Huang DW, Phelan JD, et al. A probabilistic classification tool for genetic subtypes of diffuse large B cell lymphoma with therapeutic implications. Cancer Cell. 2020;37(4):551-568.e14. 

Magnusson T, Narkhede M, Mehta A, Goyal G. no difference in overall survival between R-CHOP and R-EPOCH among patients with advanced stage MYC-rearranged, double hit, or triple hit diffuse large B-cell lymphoma. Paper presented at: EHA 2021 Virtual Congress; June 9-17, 2021. Abstract S224. 

Journal of Clinical Oncology (2021 Feb 23. Epub ahead of print).