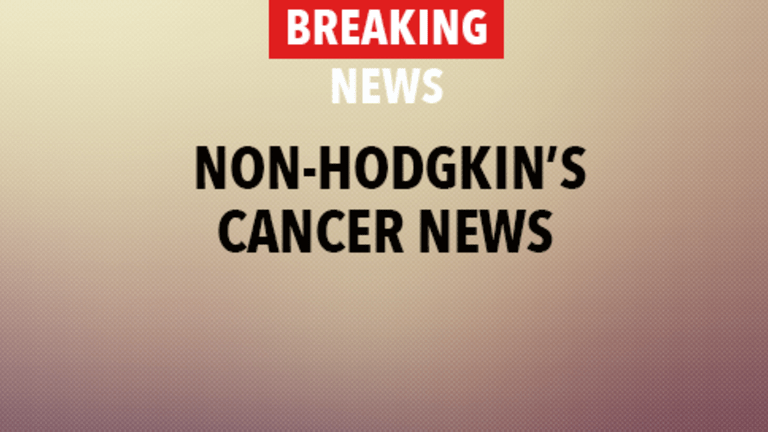 Rituxan May Prevent Need for Radiation in Mediastinal B-Cell Lymphoma
Rituxan May Prevent Need for Radiation in Mediastinal B-Cell Lymphoma
Rituxan May Prevent Need for Radiation in Mediastinal B-Cell Lymphoma
A dose-adjusted, infusion approach to aggressive chemotherapy with Rituxan® (rituximab) may allow patients with primary mediastinal B-cell lymphoma to skip radiation, according to the results of a study published in the New England Journal of Medicine.
Non-Hodgkin's lymphoma (NHL) refers to a group of cancers that originate in different cells of the immune system. Diffuse large B-cell NHL (DLBCL) is a common type of NHL that affects immune cells called B-cells; it is considered an aggressive type of NHL. Primary mediastinal B-cell lymphoma is a distinct subtype of DLBCL that is closely related to nodular sclerosing Hodgkin's lymphoma. Patients are usually young and present with large mediastinal masses. There is no standard treatment—and because immunochemotherapy alone has proven inadequate, some patients are treated with consolodiation with radiation, which has potentially serious late effects.
In an attempt to improve cure rates and prevent the need for radiation in this population, researchers conducted a single-group, phase 2, prospective study of infusional dose-adjusted etoposide, doxorubicin, and cyclophosphamide with vincristine, prednisone, and rituximab (DA-EPOCH-R) and without radiotherapy. The study included 51 patients with untreated primary mediastinal B-cell lymphoma. Patients had a median age of 30 years (range, 19 to 52) and a median tumor diameter of 11 cm; 59 percent were women. Patients received six to eight cycles of DA-EPOCH-R along with Neupogen (filgrastim) support. The researchers used results from a retrospective study of DA-EPOCH-R from another center to independently verify the outcomes.
Over a median follow-up of 5 years, the overall survival rate was 97 percent and the event-free survival rate was 93 percent. Among the 16 patients who were involved in the retrospective analysis at another center, over a median of 3 years of follow-up, the event-free survival rate was 100%, and no patients received radiotherapy. There were no late morbidity or cardiac toxic side effects found in any patients. After follow-up ranging from 10 months to 14 years, all but two of the 51 patients (4%) who received DA-EPOCH-R alone were in complete remission. The two remaining patients received radiotherapy and were disease-free at follow-up.
The researchers noted that the study was limited by the small sample size; however, mediastinal B-cell lymphoma accounts for only 10 percent of DLBCL so there will likely never be a large randomized trial to evaluate this treatment strategy. There is no standard treatment for mediastinal B-cell lymphoma to compare this to, but thus far, DA-EPOCH-R appears to be the most effective treatment.
The researchers concluded that treatment with DA-EPOCH-R was effective and prevented the need for radiotherapy in patients with primary mediastinal B-cell lymphoma.
Reference:
Dunleavy K, Pittaluga S, Maeda LS, et al. Dose-adjusted EPOCH-rituximab therapy in primary mediastinal B-cell lymphoma. New England Journal of Medicine. 2013; 368:1408-1416.
Copyright © 2018 CancerConnect. All Rights Reserved.