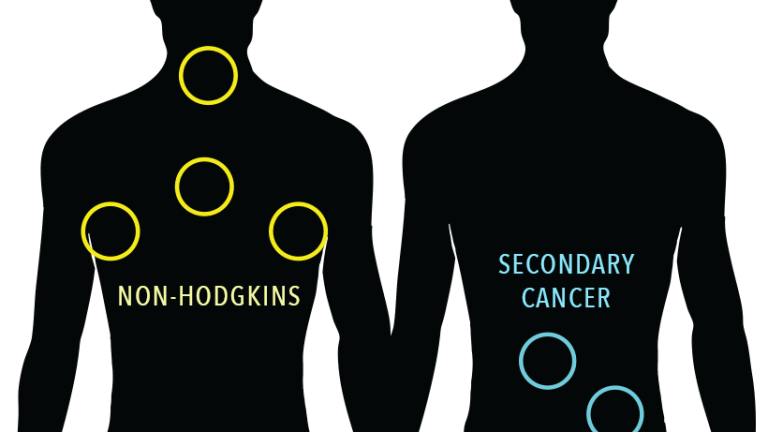 Non-Hodgkin's Lymphoma Patients Are at Increased Risk of Second Cancers
Research studies help non-Hodgkin's lymphoma patients understand their risk of developing a new (secondary) cancer.
by Dr. C.H. Weaver M.D. updated 11/2019
Compared to individuals in the general population, patients with non-Hodgkin's lymphoma are at increased risk of developing a second cancer, particularly leukemia, lung, and skin cancers.
Thanks to improvements in treatment, patients with NHL are surviving longer. This has led researchers to focus on long-term survivorship issues, such as the risk of subsequent cancer. To explore the frequency and predictors of second cancers in patients with non-Hodgkin's lymphoma, researchers in the United Kingdom conducted a study among 2,456 patients treated for NHL between 1973 and 2000. Patients were followed for an average of 7.7 years. The rate of second cancers in this population was compared to the rate of cancer in the general population.
A total of 123 second cancers were diagnosed among the NHL patients.and their risk was elevated for all cancers combined.
NHL patients had an increased risk of leukemia and lung cancer. NHL patients were almost nine times more likely to develop leukemia than individuals in the general population.
Risk of second cancers was higher among patients who were younger at the time of NHL treatment.
Type of NHL treatment also appeared to influence subsequent cancer risk; risk of leukemia was elevated among patients who were treated with chemotherapy or chemotherapy plus radiation therapy, but was not elevated among patients treated with radiation therapy only.
The researchers estimated that during the 15 years after treatment, roughly 11% of NHL patients would develop a second cancer.
The researchers conclude that patients with NHL have an increased risk of developing a second cancer and chemotherapy treatment for NHL may be linked with the increased risk of leukemia.
Another study published in The British Journal of Cancer also provides evidence that the treatment for lymphoma may lead to secondary cancer.
Researchers postulate the risk may be due to chemotherapy treatment. Its unclear if the same risk occurs with the use of newer precision cancer medicines and treated patients should have thorough undergo close follow up to identify new malignancies.
In theor study, 109,451 patients diagnosed with primary NHL were observed to determine the incidence of secondary cancers in comparison to expected rates (estimated rates of cancer occurrence within a given population) of cancer derived from age, sex and calendar periods. Researchers found a 47 percent overall increase in the risk of a second primary cancer after being diagnosed and treated for NHL.

A significantly strong increase was observed for cancers of the lip, tongue, oropharynx, nasal cavity, stomach, small intestine, colon, liver, lung, soft tissues, skin melanoma, non-melanoma skin, bladder, kidney, thyroid, Hodgkin's lymphoma, lymphoid leukemia and myeloid leukemia. Researchers determined that these patterns of risk indicate that the effect of treatment may be linked to their development however other common risk factors, such as pesticides, may be involved as well. The bi-directional effects of multiple cancer sites strongly suggest that immune suppression may also be a common underlying mechanism of cancer development.
A Mayo Clinic review also found that the odds of developing melanoma are 2.5 times higher in lymphoma patients than in the general population. What's more, patients with chronic lymphocytic leukemia (CLL) are 2.8 times more likely to die from metastatic melanoma.
Immunosuppressed patients should check their skin regularly—performing a full-body self-exam every month and visiting a dermatologist for check-ups at least once or twice per year. It's important to note any changes in the skin and see a doctor immediately. The first sign of melanoma is often a change in a mole's appearance or the development of a new growth. The best way to catch melanoma early is to maintain awareness of the skin. What's more—immunosuppressed patients can practice prevention by avoiding the sun and tanning beds and using sunscreen religiously.
Based on the results of this review, the researchers concluded that it is imperative to maintain strict screening protocols for melanoma in these patient populations. When melanoma is found early, the chance of survival is much higher.
References:
Kubica AW, Brewer JD. Melanoma in Immunosuppressed Patients. Mayo Clinic Proceedings. 2012; 87(10): 991-1003.
Brennan P, Scelo G, Hemminki K, et al. Second Primary Cancers Among 109,000 Cases of Non-Hodgkin's Lymphoma. *British Journal of Cancer.*2005; 93: 159-166.
Mudie NY, Swerdlow AJ, Higgins CD et al. Risk of Second Malignancy After Non-Hodgkin's Lymphoma: A British Cohort Study. Journal of Clinical Oncology. 2006;24:1568-1574.
Copyright © 2018 CancerConnect. All Rights Reserved.