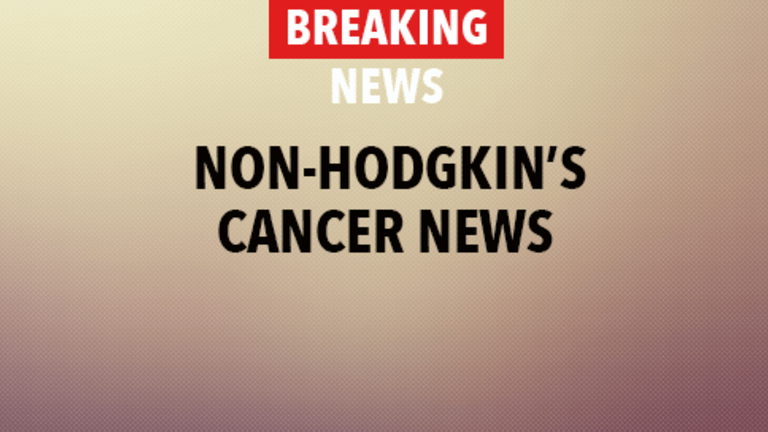 Neulasta® Allows for More Effective Chemotherapy in Non-Hodgkin's Lymphoma
Neulasta® Allows for More Effective Chemotherapy in Non-Hodgkin's Lymphoma
According to results presented at the 46th annual meeting of the American Society of Hematology (ASH), the growth factor Neulasta® (pegfilgrastim) allows patients to tolerate more dose-dense chemotherapy in the treatment of non-Hodgkin's lymphoma (NHL).
Non-Hodgkin's lymphoma is a type of cancer that affects cells in the immune system. There are several types of NHL, depending upon which type of immune cell is cancerous, the pattern of growth and/or specific types of genetic abnormalities. Treatment for the different types of NHL can vary immensely, as some types of NHL tend to grow very slowly, while others may grow very quickly. Chemotherapy is a common therapeutic approach for the treatment of NHL and the chemotherapy combination consisting of cyclophosphamide, doxorubicin, oncovin, and prednisone plus the biologic agent Rituxan® (CHOP-R) is the standard of care for various types of NHL.
Results from previous clinical studies have indicated that CHOP-R administered on a schedule that is considered more dose-dense (given every 14 days) may be more effective for some patients than administering the regimen every 21 days. Delivery of dose-dense chemotherapy has been demonstrated in clinical trials to improve survival of patients with NHL and breast cancer. Dose-dense chemotherapy, however, is associated with a higher risk of some side effects. Specifically, dose-dense CHOP-R is associated with a higher risk of neutropenia. Neutropenia occurs when white blood cells (immune cells) are destroyed by chemotherapy, leaving the immune system unable to fight bacterial, viral and fungal infections. Chemotherapy-induced neutropenia can become a serious condition for several reasons. First, the majority of patients who develop neutropenia will require a dose reduction in their treatment, which may reduce survival rates. In order to achieve optimal outcomes, it is important that patients receive their planned doses of the drug(s) at the planned time. In addition, patients who develop neutropenia may require hospitalization and even minor infections can become life threatening.
Neupogen® and Neulasta® are referred to as growth factors. They stimulate the production of white blood cells and may prevent or reduce the severity of chemotherapy-induced neutropenia. Clinical studies have indicated that early treatment with Neulasta® or Neupogen® reduces the incidence of neutropenia, and therefore allows patients to tolerate optimal chemotherapy doses. Neulasta® requires administration only once during a chemotherapy cycle, whereas the use of Neupogen® requires daily injections. Clinical trials have indicated that Neulasta® is as effective as Neupogen® in reducing the incidence and/or severity of neutropenia in patients undergoing treatment for non-myeloid (blood) cancer and further trials are being conducted to determine the true clinical efficacy of treatment with Neulasta®. Researchers believe that Neulasta® will replace Neupogen® for many patients in the prevention and/or treatment of neutropenia.

Researchers from Europe recently conducted a clinical trial directly comparing Neulasta® to Neupogen® in patients with aggressive B-cell NHL. Patients were treated with CHOP-R every 14 days (CHOP-R 14) and received either an injection of Neulasta® once per chemotherapy cycle or daily injections with Neupogen®. The two groups were then directly compared. Planned cycles of chemotherapy could be administered to 98% of all patients who received Neulasta®, compared with 93% of all patients treated with Neupogen®. Of the cycles of chemotherapy administered, the rate of the planned dose of chemotherapy and administration on time was nearly identical between the two groups of patients (94% for Neupogen® and 94% for Neulasta®). Febrile neutropenia (neutropenia accompanied by fever) occurred in 1.4% of patients treated with Neupogen® and 3.9% of patients treated with Neulasta®.
The researchers concluded that the use of Neulasta® once per chemotherapy cycle of CHOP-R 14 is comparable to daily injections with Neupogen® in patients with aggressive B-cell NHL. Patients may wish to speak with their physician about their individual risks and benefits of using Neulasta® to facilitate the optimal delivery of chemotherapy and avoid the complication of neutropenia.
Reference: Lopez A, de Sevilla A, Castaigne S, et al. Pegfilgrastim supports delivery of CHOP-R chemotherapy administered every 14 days: a randomized phase II study. Proceedings from the 46th meeting of the American Society of Hematology (ASH). December 2004. Abstract #3311.
Copyright © 2018 CancerConnect. All Rights Reserved.