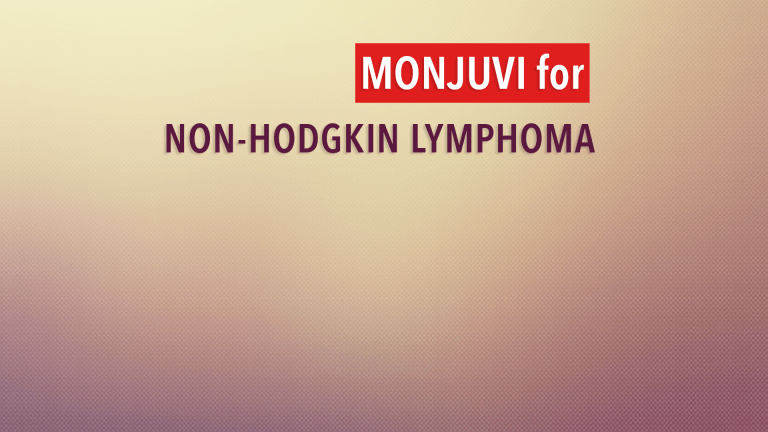 Monjuvi Precision Cancer Medicine for Treatment of B Cell NHL
Monjuvi precision medicine; highly effective in advanced lymphoma, and transplant ineligible patients - evaluation moves to front line therapy.
Topline results from Re-MIND, an observational retrospective study, demonstrated that the combination of Monjuvi (tafasitamab-cxix) with Revlimid (lenalidomide) is an effective treatment option for patients with relapsed/refractory diffuse large B-cell lymphoma (DLBCL) who were not eligible for high-dose chemotherapy and stem cell transplant.1
On July 31, 2020, the Food and Drug Administration granted accelerated approval to Monjuvi (tafasitamab-cxix), a precision cancer medicine that targets the CD19 antigen on lymphoma cells.4  Evaluation as first line therapy is ongoing.
About Monjuvi
Monjuvi, previously known as MOR208 is a humanized monoclonal antibody precision medicine directed against the CD19 antigen which is expressed on early B lymphocytes and B cell lymphomas which makes it a potential target for the treatment of non-Hodgkin's lymphoma (NHL), including diffuse large B cell lymphoma, as well as chronic lymphocytic leukemia (CLL).
In the L-MIND clinical trial, 81 patients who had failed 1 to 3 prior lines of systemic treatment were treated with a combination of Monjuvi combined with Revlimid.2 The treatment results of the 81 patients were then compared to matched patients selected from 490 transplant-ineligible patients with relapsed/refractory DLBCL who had been previously treated with single-agent Revlimid in the Re-MIND clinical study.1 Patients received Monjuvi 12 mg/kg intravenously with Oral Revlimid on days 1 to 21 of each 28-day cycle for a maximum of 12 cycles, followed by Monjuvi as monotherapy.
Initial findings from the L-MIND trial demonstrated that the Monjuvi+ Revlimid combination was fairly well tolerated however 42% of patients did require a Revlimid dose reduction. An overall response rate of 56% with 40% complete remissions were reported following treatment. Patients survived and average of 16.2 months without lymphoma progression and the one year survival rate was 73%.1 The median duration of response was 44 months after a minimum follow up of 35 months.
Minjuvi® (tafasitamab) in combination with lenalidomide, followed by Minjuvi monotherapy, for the treatment of adult patients with relapsed or refractory diffuse large B-cell lymphoma (DLBCL) who are not eligible for autologous stem cell transplant (ASCT).
When the study authors compared the Monjuvi + Revlimid treated patients to those treated with Revlimid alone 67% of patients treated with the combination regimen responded to treatment compared to 34% of matched patients treated with Revlimid. The complete remission rate was 40% for Monjuvi + Revlimid compared to only 12% for treatment with Revlimid alone. Follow up presented at the 2020 American Society of Hematology Meeting confirms that treatment resulted in durable responses after ≥2 years of follow-up.6
Monjuvi represents a new precision medicine for the treatment of B cell NHL and will undergo continued evaluation to determine its optimal use. To that end the "front MIND" Phase 3 clinical trial evaluating Monjuvi plus Revlimd in combination with R-CHOP compared to R-CHOP alone as first-line treatment for patients with newly diagnosed DLBCL has begun enrolling patients.5
The front MIND (NCT04824092) trial is a randomized, double-blind, placebo-controlled, global Phase 3 clinical study in previously untreated high-intermediate and high-risk DLBCL patients that is conducted in partnership with the German Lymphoma Association (GLA), the Italian Lymphoma study group and the US Oncology Network.
The study aims to enroll approximately 880 DLBCL patients to receive either tafasitamab plus lenalidomide in addition to rituximab, cyclophosphamide, doxorubicin, vincristine and prednisone (R-CHOP) or R-CHOP alone. The primary endpoint is investigator-assessed progression-free survival, according to Lugano 2014 criteria, and key secondary endpoints include event-free survival by investigator, overall survival, metabolic complete response rate by a Blinded Independent Review Committee, and overall response rate.
Answers to Frequently Asked Questions About Monjuvi
References:
MorphoSys AG: Primary Endpoint met in Real-World Data Study Demonstrating Clinical Superiority of the Combination of Tafasitamab and Lenalidomide compared to Lenalidomide alone. Planegg/Munich: MorphoSys AG; October 29, 2019. Accessed October 30, 2019.
MorphoSys Provides Updates on L-MIND and B-MIND Clinical Trials of MOR208 in Relapsed/Refractory DLBCL [press release]. Planegg/Munich: MorphoSys AG; March 7, 2019. https://bit.ly/2IYLR5T. Accessed October 30, 2019.
Salles GA, Guell J, González-Barca E, et al. Single-arm phase II study of MOR208 combined with lenalidomide in patients with relapsed or refractory diffuse large B-cell lymphoma: L-mind. *Blood.*2018;132(suppl 1; abstr 227). doi: 10.1182/blood-2018-99-113399.
Belada D, M.D., Ph.D., et al. A Phase 1b, Open-label, Randomized Study to Assess Safety and Preliminary Efficacy of Tafasitamab (MOR208) or Tafasitamab + Lenalidomide in Addition to R-CHOP in Patients with Newly Diagnosed Diffuse Large B-Cell Lymphoma: Analysis of the Safety Run-In Phase. 62nd American Society of Hematology Annual Meeting & Exposition (ASH). Abstract #3028.
Maddocks KJ, M.D., et al. Long-Term Subgroup Analyses from L-MIND, a Phase 2 Study of Tafasitamab (MOR208) Combined with Lenalidomide in Patients with Relapsed or Refractory Diffuse Large B-Cell Lymphoma. 62nd American Society of Hematology Annual Meeting & Exposition (ASH). Abstract #3021.