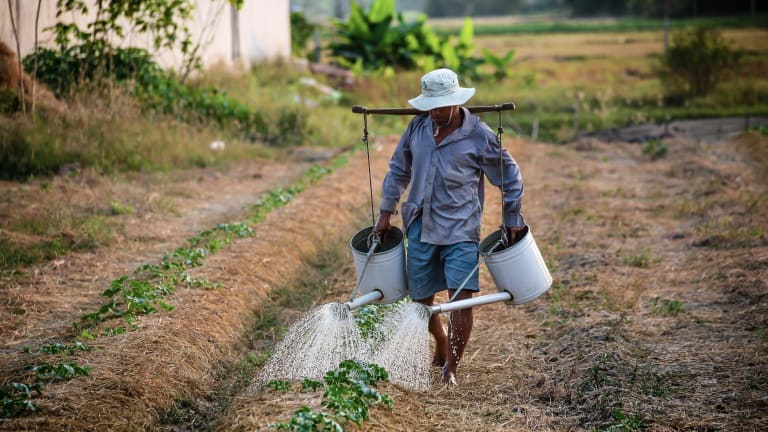 Jury Determines That Monsanto's Roundup Responsible for Lymphoma - EPA Disagrees
Superior court jury decides NHL was at least partly caused by glyphosate, an ingredient in RoundUp. US EPA Disagrees
by Dr. C.H. Weaver M.D. 2/2020
In September 2019, Monsanto was ordered to pay $289 million after they were found liable in a lawsuit from an individual diagnosed with non-Hodgkin lymphoma (NHL) after using their weed killer product Roundup.
In April 2019 and again in February 2020 The United States Environmental Protection Agency (EPA) reaffirmed that glyphosate the weed killer used in Round Up is safe. The agency found that it posed "no risks of concern" for people exposed to it by any means — on farms, in yards and along roadsides, or as residue left on food crops. The EPA's draft findings reaffirmed that glyphosate "is not likely to be carcinogenic to humans."
This is in contrast to the 2015 report from The International Agency for Research on Cancer which classified glyphosate as " probably carcinogenic to humans." The agency said it relied on "limited" evidence of cancer in people and "sufficient" evidence of cancer in study animals.
Two recent U.S. court verdicts have awarded multimillion-dollar claims to men who blame glyphosate for their lymphoma.
About Non-Hodgkin Lymphoma
Non-Hodgkin's lymphoma is a cancer of the immune system. There are several different types of NHL, which are differentiated by the type of immune cell that is cancerous, the characteristics of the cancerous cell, and different genetic mutations of the cancerous cells. Treatment for NHL varies depending on NHL type, patient age, and other existing medical conditions.
The incidence of NHL has been increasing over the past several decades. The reasons for this increase are unknown. As well, the causes of most lymphomas are unknown; the few with known causes include those associated with specific bacteria (Helicobacter pylori in gastric lymphoma) and viruses such as the Epstein-Barr virus (Burkitt's lymphoma), HIV-related lymphomas, body cavity lymphomas (human herpes virus-8) or T-cell lymphoma (HTLV-1). However, none of these specific causes explain the increased incidence of lymphomas in recent years. There is speculation that exposure to chemicals, such as certain solvents, pesticides, herbicides, and water contaminated with nitrate, are responsible for the increased incidence of NHL.
The Superior Court jury hearing the law suit deliberated for two and a half days before concluding that the Plantiffs non-Hodgkin lymphoma was at least partly caused by glyphosate, the primary ingredient in Roundup.
Scott Partridge, Monsanto's vice president, said in a statement that "We are sympathetic to Mr. Johnson and his family," Partridge said. But he added that the court decision "does not change the fact that more than 800 scientific studies and reviews . . . support the fact that glyphosate does not cause cancer and did not cause Mr. Johnson's cancer." Monsanto plans to appeal the decision and will "continue to vigorously defend this product, which has a 40-year history of safe use and continues to be a vital, effective, and safe tool for farmers and others."
Other cancer victims and families say Monsanto knew about the ingredient's risk for years but failed to warn buyers. U.S. District Judge Vince Chhabria had previously said there's "rather weak" evidence the ingredient causes cancer, but the opinions of three experts linking glyphosate and non-Hodgkin's lymphoma were not "junk science." Hundreds of lawsuits claiming Roundup causes cancer can now proceed to trial, despite Monsanto claims that there is no connection between glyphosate and cancer.
There is conflicting evidence linking glyphosate and cancer. The U.S. Environmental Protection Agency has concluded that glyphosate is likely not a carcinogen. But, the World Health Organization has classified glyphosate as "probably carcinogenic."
According to one early online publication in the journal Blood, agricultural exposure to insecticides, herbicides, and fumigants are associated with increased risk of developing t(14;18)+ NHL.
Researchers from the Northwestern University, the University of, and the National Cancer Institute recently conducted a study aimed at uncovering a possible association between different molecular types of NHL and exposure to agricultural pesticides. This study included 65 patients with t(14;18)-positive NHL (refers to a specific genetic alteration in a type of NHL), 107 patients with t(14;18)-negative NHL, and 1,200 individuals who have not been diagnosed with NHL.
Patients exposed to animal insecticides, crop insecticides, herbicides, or fumigants had a 2.6 to 5.0 fold increase in the incidence of t(14;18)-positive NHL.
There was no increased incidence of t(14;18)-negative NHL and exposure to these agents.
The researchers concluded that agricultural pesticides appear to increase the risk of developing t (14;18)-positive NHL. These results further confirm suspicions that these agents are at least in part associated with the increased incidence of NHL over the past several decades.
Reference: Chiu BC, Dave BJ, Blair A, et al. Agricultural pesticide use and risk of t (14;18)defined subtypes of non-Hodgkin lymphoma. Blood. first edition paper. Published online April 18, 2006;DOI 10.1182/blood-2005-12-0.