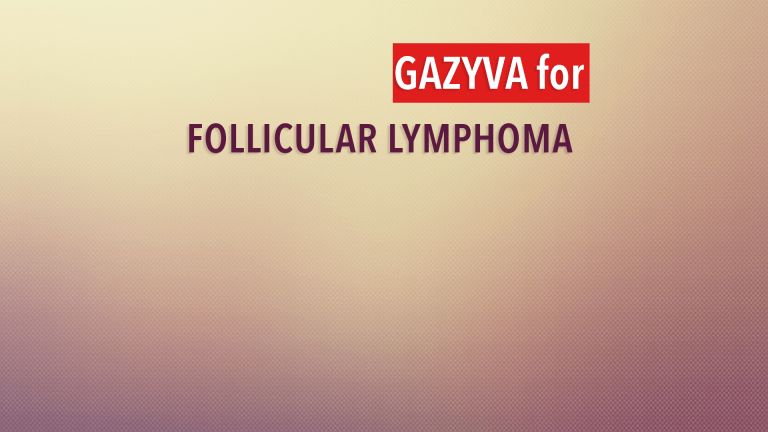 Gazyva Treatment for Follicular Lymphoma
FDA approves Gazyva for previously untreated follicular lymphoma
Gazyva Treatment for Follicular Lymphoma
by Dr. C.H. Weaver M.D. updated 9/20/2018
Gazyva (obinutuzumab) is a precision cancer medicine that represents a new treatment option for follicular non-Hodgkin lymphoma (NHL). Promising clinical trial results were initially released at the American Society of Hematology meeting in 2016, and recently served as the basis as the United States Food and Drug Administration (FDA) approval.
About Follicular Lymphoma
Follicular lymphoma (FL) is the most common indolent (slow-growing) form of NHL , accounting for about one in five cases each year. Follicular lymphoma is considered incurable with currently available therapies and recurrences are common. In the United States, it is estimated that more than 14,000 individuals are diagnosed with FL each year.
About Gazyva (obinutuzumab)
Gazyva is an engineered monoclonal antibody designed to attach to CD20, a protein found on certain types of B-cells. It is thought to work by attacking targeted cells both directly and together with the body's immune system. Gazyva like Rituxan (rituximab) are precision cancer medicines or targeted therapies that are engineered in a lab to target the CD 20 protein on the surface of B-cells. Gazyva is a novel and attaches to a slightly different spot on the CD 20 protein than Rituxan resulting in a different response.
FDA Approval
The FDA granted regular approval to Gazyva in combination with chemotherapy, for treatment of previously untreated bulky stage II, stage III, or stage IV FL.1 As previously reported, Gazyva was found to be superior to Rituxan (rituximab) in the treatment of selected patients with FL.2
The FDA approval was based on the GALLIUM clinical trial in 1202 previously untreated patients with FL. Patients were treated withg either Gazyva + chemotherapy or Rituxan + chemotherapy, followed by Gazyva or Rituxan maintenance in responding patients for up to 2 years. Similar overall response rates (91% with Gazyva, 88% with Rituxan) and complete remission rates (28% and 27%, respectively) were reported however Gazyva treatment delayed cancer progression better then Rituxan.
With a median follow-up of 38 months, progression-free survival, as assessed by an independent review committee, was statistically significantly improved in the Gazyva arm compared to the Rituxan arm. Median progression-free survival was not reached in either arm. As assessed by CT, the arms had
Gazyva had slightly more serious side effects (50% compared to 43% in the Rituxan arm). The most common were infusion reactions, neutropenia, febrile neutropenia, upper respiratory tract infection, cough, constipation and diarrhea.
Dr. Marcus, who presented these initial GALLIUM results at ASH in 2016 , stated that "Gazyva based treatment regimens should now be considered one of the options for first-line therapy for patients with follicular lymphoma." 2,3
References:
([Hematology/Oncology (Cancer) Approvals & Safety Notifications]https://www.fda.gov/Drugs/InformationOnDrugs/ApprovedDrugs/ucm279174.htm)
news.cancerconnect.com/gazyva-showed-superior-progression-free-survival-compared-rituxan-follicular-lymphoma/
Marcus R, Davies A, Ando K, et al. Obinutuzumab-based induction and maintenance prolongs progression-free survival (PFS) in patients with previously untreated follicular lymphoma: primary results of the randomized phase 3 GALLIUM Study. Proceedings from the 2016 annual ASH meeting. Plenary session; Abstract Available here. Accessed December 6, 2016.
https://www.fda.gov/Drugs/InformationOnDrugs/ApprovedDrugs/ucm279174.htm)