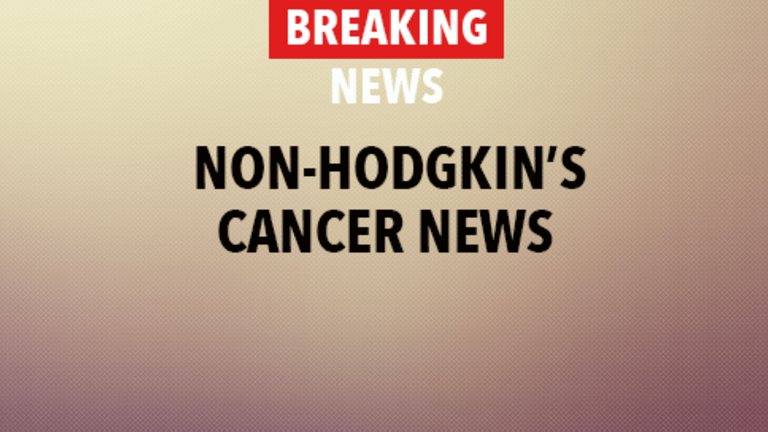 ER-CHOP Promising for Diffuse Large B-Cell NHL
ER-CHOP Promising for Diffuse Large B-Cell NHL.
The treatment combination consisting of epratuzumab, Rituxan® (rituximab), and the chemotherapy combination referred to as CHOP (cyclophosphamide, doxorubicin, vincristine, and prednisone) provides high anticancer responses when used as initial therapy for the treatment of diffuse large B-cell lymphoma. These findings were recently reported in the Journal of Clinical Oncology.
Non-Hodgkin's lymphoma is a form of cancer that begins in the cells of the lymph system. The lymph system includes the spleen, thymus, tonsils, bone marrow, lymph nodes, and circulating immune cells. The main cells in the lymph system are lymphocytes, of which there are two types: B- and T-cells. Each cell type has a specific function in helping the body fight infection.
Non-Hodgkin's lymphoma is characterized by the excessive accumulation of atypical (cancerous) lymphocytes. These lymphocytes can crowd the lymph system and suppress the formation and function of other immune and blood cells. Non-Hodgkin's lymphoma is categorized by the type of lymphocyte it involves and by the rate at which the cancer grows.
Epratuzumab is an agent that is not yet approved by the FDA. It targets a component on B-cells called the CD22 antigen, resulting in the cell's destruction. Epratuzumab has provided promising results in previous studies and continues to be evaluated in the treatment of hematologic cancers.
Researchers from the Mayo Clinic and the University of Wisconsin recently conducted a clinical trial including 107 patients with newly diagnosed diffuse NHL treated with epratuzumab, Rituxan, and CHOP (ER-CHOP).[1]
56% of patients achieved a complete disappearance of cancer.
38% of patients achieved a partial regression of cancer.
Two patients had stabilization of their cancer.
The researchers concluded that these high anticancer responses warrant the progression to a Phase III trial evaluating ER-CHOP in these patients. Longer follow-up is necessary to determine if these responses will translate into improved long-term outcomes.
Patients diagnosed with diffuse large B-cell NHL may wish to discuss with their physician their individual risks and benefits of participation in a clinical trial further evaluating ER-CHOP or other promising therapeutic approaches. Two sources of information regarding ongoing clinical trials include the National Cancer Institute (www.cancer.gov) and www.eCancerTrials.com.
Reference:
[1]Micallef IN, Maurer MJ, Nikcevich DA, et al. A phase II study of epratuzumab and rituximab in combination with cyclphosphamide, doxorubicin, vincristine and prednisone chemotherapy (ER-CHOP) in patients with previously untreated diffuse large B-cell lymphoma. Journal of Clinical Oncology. 2008;26:abstract number 8500.
Related News: Epratuzumab plus R-CHOP Highly Active in Diffuse Large B-Cell Lymphoma (11/28/2006)
Copyright Non-Hodgkin's Lymphoma Information Center on CancerConnect.com
Copyright © 2018 CancerConnect. All Rights Reserved.