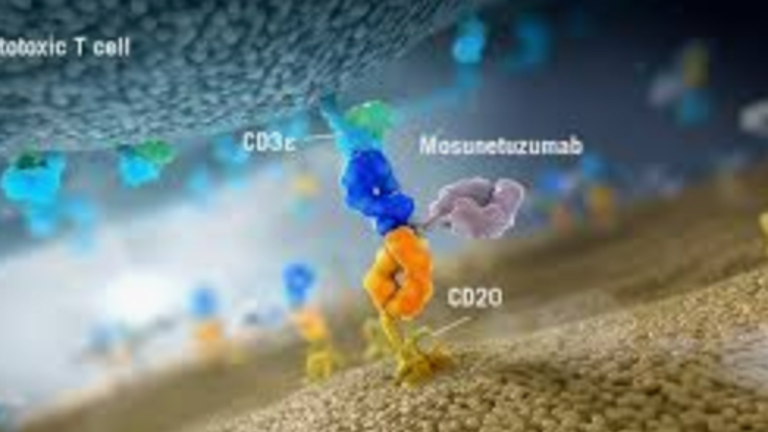 by Dr. C.H. Weaver M.D. 12/2020
Bispecific antibodies represent an innovative immunotherapy approach that helps the body's immune system target lymphoma cells and appears very promising. Bispecific antibodies have two arms. One arm of the drug attaches to a specific protein on the lymphoma cell. The other arm activates immune cells in the patient to kill the lymphoma cells. Several bispecific antibodies are in development for the treatment of non-Hodgkin lymphoma (NHL)
Bispecifics appear capable of inducing complete remissions in patients with refractory or resistant NHL including patients that have failed multiple therapies, stem cell transplantation or CAR T cell therapy. Despite recent advances in the treatment of NHL some patients still succumb to NHL and new treatments are needed.
Mosunetuzumab
Mosunetuzumab is an investigational CD20-CD3 T-cell engaging bispecific antibodies. Mosunetuzumab was designed to target the CD20 antigen on the surface of B-cells and the CD3 antigen on the surface of T-cells. This dual targeting activates and redirects a lymphoma patient's existing T-cells to engage and eliminate lymphoma targeted B-cells by releasing cytotoxic proteins into the B-cells. (1-3)
About the GO29781 Clinical Trial
The GO29781 clinical trial [NCT02500407] is a Phase I/Ib, multi-center, open-label, dose-escalation study designed to evaluate the safety of mosunetuzumab and determine optimal dosing in people with relapsed or refractory B-cell NHL. The clinical trial has evaluated over 270 patients with refractory or resistant NHL, including patients who had relapsed following, or are resistant to CAR T-cell therapy.
Mosunetuzumab Initial Summary Results
Objective response rate of 63% in slow-growing NHL including a 43% complete remission rate with 83% of patients with slow-growing NHL remaining in remission up to 26 months off initial treatment
Objective response rate of 37% in aggressive NHL including a 19% complete response rate with 71% of patients remaining in remission up to 16 months off initial treatment.
Objective response rate of 39% in CAR T cell therapy failures including a 22% complete response rate. In some patients molecular testing showed that the CAR T cells increased in number following treatment suggesting that mosunetuzumab may boost the effect of CAR treatment.
Notable side effects include cytokine release syndrome (CRS) in 29% and neurological adverse events occurred in 4% percent of patients. Only 3% required treatment of CRS with Actemra (tocilizumab).
Mosunetuzumab in the Elderly
Single-agent mosunetuzumab was effective and well tolerated as first-line treatment for elderly and unfit patients with diffuse large B-cell lymphoma, according to findings presented at the 2020 annual meeting of the American Society of Hematology. (3)
Researchers assessed mosunetuzumab among patients with untreated DLBCL or high-grade B-cell lymphomas who were not eligible to receive standard chemo-immunotherapy because they were at least 80 years old or had a comorbidity that made them unable to tolerate a full dose of chemo-immunotherapy.
Overall almost two-thirds of patients responded to treatment and about 45% of patients achieved a complete response after four cycles of therapy and all have maintained their response through the end of eight cycles.
Treatment-related side effects were minimal and were mostly related to cytokine release syndrome and infusion reactions, with rare fatigue and gastrointestinal adverse events. No fatal side effects were reported. In total, 7% of patients developed neutropenia and 7% of patients experienced infections. Six patients experienced cytokine release syndrome, all which resolved within 1-2 days.
Mosunetuzumab is currently only available in ongoing clinical trials and must still undergo approval by the FDA. Patients with resistant or refractory NHL may want to follow its development as it appears to represent a significant treatment advance.
Odronextamab
Findings for 136 patients with previously treated NHL were presented the December 2020 American Society of Hematology Annual Meeting. All patients had received at least one prior line of therapy and 80% were refractory to their most recent therapy.
All follicular lymphoma patients had some response to treatment and objective responses were reported in six of 11 patients with DLBCL and no prior CAR T-cell therapy and eight of 24 patients with prior CAR T-cell therapy. For individuals achieving a complete response, responses were durable and persisted for as long as 21 months at the time of the report.
Cytokine release syndrome (CRS) occurred in 64% of patients and reached a "severe" level in 7.5% of patients.
In November Regeneron paused new enrollment of patients with B-cell non-Hodgkin lymphomas in compliance with a U.S. Food and Drug Administration (FDA) partial clinical hold. The FDA requested that the company amend the trial protocols in order to further reduce the incidence of ≥Grade 3 CRS during step-up dosing. (4)
Epcoritamab
Epcoritamab reached the 90% response threshold in patients with DLBCL and FL, including patients previously treated with CAR T-cell therapy.
Subcutaneous administration distinguishes epcoritamab from competing therapies in the class. Besides being more convenient and less time consuming, subcutaneous administration leads to more gradual increases in plasma cytokine levels and lower peak levels, Hutchings explained, noting that potency studies showed T cell-mediated killing at low levels of CD20 expression.
Findings from a phase I/II trial involving adults with relapsed/refractory CD20-positive B-cell NHL and prior treatment with an anti-CD20 antibody were reported at ASH 2020. Investigators enrolled a total of 68 patients, including 48 with DLBCL and 12 with FL. Almost all the patients had received anthracyclines and alkylating agents, about 10% had undergone autologous stem-cell transplants, and 10% had received prior CAR T-cell therapy.
The investigators evaluated epcoritamab at varying doses and 15 of 22 (68%) of evaluable patients with DLBCL responded to the bispecific antibody, including CRs in 10 patients.
In Follicular lymphoma nine of 10 evaluable patients responded, including five CRs and two of four patients with mantle cell lymphoma responded to epcoritamab.
A Phase 3 study of epcoritamab in diffuse large B-cell lymphoma (DLBCL) is ongoing to evaluate subcutaneous epcoritamab, a fully-human IgG1-bispecific antibody designed to recognize and bind to both CD3 and CD20, versus investigators' choice of chemotherapy regimen (either bendamustine and rituximab or gemcitabine, oxaliplatin, and rituximab) in patients with relapsed or refractory DLBCL. Epcoritamab is being co-developed by Genmab and AbbVie. (5)
References:
Bannerji R, et al "Odronextamab (REGN1979), a Human CD20 x CD3 Bispecific Antibody, Induces Durable, Complete Responses in Patients with Highly Refractory B-Cell Non-Hodgkin Lymphoma, Including Patients Refractory to CAR T Therapy" ASH 2020; Abstract 400.