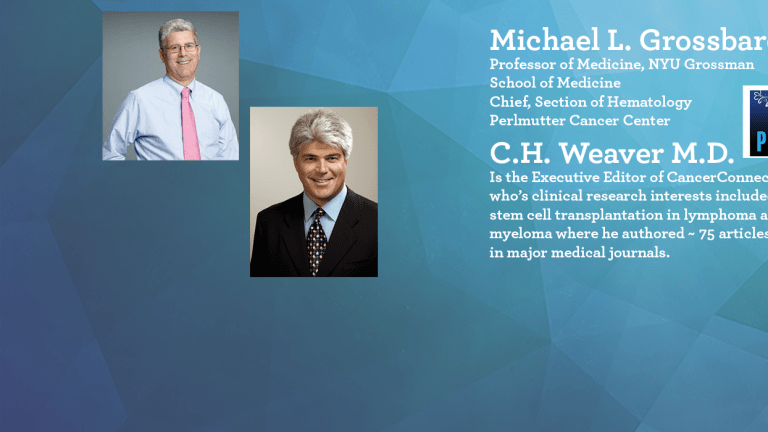 Ask The Experts About Lymphoma
Answers to questions about Lymphoma Treatment and COVID Vaccination.
The Personalized Medicine Foundation and CancerConnect are pleased to provide patients and caregivers the opportunity to ask questions about lymphoma. We have put together a panel of leading cancer experts to answer questions and publish a forum for the exchange of information.
Click here to submit your question.
Questions About Lymphoma Management
COVID related questions further down page
I am in remission from follicular lymphoma. Are there any characteristics of the lymphoma that help predict the likelihood of transformation? Phenotype? Mixed histology?
Transformation of follicular lymphoma represents a change to a more aggressive subtype, diffuse large B-cell lymphoma. Two major risk factors for transformation are the bulk of disease at presentation and the duration for which an individual has had the disease. Those patients with more extensive disease and those who have had follicular lymphoma for a long time are at greater risk of transformation. More information about transformation....
I was diagnosed with Follicular NHL stage 3A in 2009(age 59). Received R-CVP followed by Rituxan 2 yrs maintenance. have been in remission for 12 yrs. Am I considered cured? 
Most likely, but doctors don't typically think of "follicular" lymphomas as curable in the strictest sense of the term. Diffuse large cells are considered cured after being in remission for 5 years.  Follicular lymphomas however can recur many years after a remission. Your lymphoma could have had features that make cure more likely and cure may be your case.  Pure follicular's however tend to be very slow growing and can be put into remission again with any of the growing numbers of treatment options. 
Is there a treatment for Large B cell Non-Hodgkin Lymphoma similar to to Car-T cell treatment for Hodgkin Lymphoma?
Yes – CAR T can be used to treat any kind of lymphoma and is currently mainly used to treat refractor disease. A recent publication suggests CAR T is more effective than high dose chemotherapy and ASCT – data will be available shortly.
https://news.cancerconnect.com/non-hodgkins-lymphoma/car-t-cell-therapy-treatment-for-lymphoma-update
I am 76 years old with relapsed large cell lymphoma. My doctor recommended Monjuvi and Revlimid? I cant find much information about these drugs-is this a standard treatment?
This is a recently FDA approved treatment program that uses a new monoclonal antibody directed against B-cells. There are good response rates with this treatment and a good side effect profile.
I have been in remission from hodgkins lymphoma for almost 6 yrs. Does  recurrence risk continue to decrease?
The majority of recurrences of HL and non-low grade NHL occur within 24 months of treatment and individuals in remission for 5 years are generally considered to be cured.
Can breast silicone implants cause blood cancers like lymphoma or polycythemia vera?
A particular type of breast implants referred to as textured silicone implants have been associated with the development of a subtype of lymphoma in the breast known as anaplastic large cell lymphoma. This remains a rare entity with only 1000-2000 cases reported worldwide. The lymphoma can often be treated by removal of the implants which can lead to regression of the lymphoma. I am not aware of a relationship between silicone implants and polycythemia.
Bone Pain
I have completed R-CHOP chemotherapy 8 weeks ago. I have been feeling overall pain throughout my bones and muscles, which I know is expected after treatment. My understanding is the cause of the pain in my bones is from my immune system working hard to replenish itself. If I receive the Covid vaccine, can I expect this pain to worsen while my immune system learns what to make to fight Covid?
It is not common to have bone pain 8 weeks after completing R-CHOP chemotherapy. It is possible that this is related to Neulasta, Neupogen or a similar drug given to stimulate your white blood cells. This is not related to activation of your immune system and I would not expect a similar reaction to the COVID-19 vaccine.
I finished R-EPOCH  and Imbruvica, is bone and joint pain after chemo typical?
Your bone and joint pain a few weeks after chemotherapy can be related to the chemotherapy, to a drug like Neupogen or Neulasta or due to menopausal symptoms in a woman. This is likely to improve soon.
COVID Vaccine Related Questions
Are you recommending the vaccine to your patients with lymphoma?
Having cancer regardless of treatment status is a risk factor for worse outcome from infections including influenza and COVID-19. The short answer is yes it is recommended that individuals with lymphoma received the COVID-19 vaccine.  Lymphoma patients don't respond to the vaccine as well as individuals without cancer and the best response to vaccination occurs prior to therapy and after treatment is completed. None-the-less it is currently recommended that all individuals with lymphoma get vaccinated. 
Timing of vaccination
It is recommended that patients with lymphoma receive the COVID-19 vaccine, however there are some individuals who may need to wait to ensure that their immune system responds to the vaccine. The NCCN advises patients who have undergone an allogeneic or autologous transplant or chimeric antigen receptor T (CAR-T) cell therapy should wait a minimum of 3 months to receive the vaccine.1
Are both vaccine doses necessary?
According to data released on March 12th the Pfizer-BioNTech vaccine provides less protection in cancer patients after a single dose than in healthy individuals but the second dose of the vaccine at three weeks improves protection significantly.
Pfizer currently recommends 21 days between vaccine doses but because the UK's vaccine strategy currently involves a 12-week gap between doses doctors were able to assess vaccinated individual's immune response following a single dose.
The immune response to the vaccine was evaluated in 54 healthy volunteers and 151 elderly patients with cancer or leukemia by measuring blood antibody and T cells levels to determine the level of immune response generated against the coronavirus.Three weeks after one dose of the vaccine an antibody response was found in 39% of solid cancer patients and just 13% of people with blood cancer. The response in healthy volunteers was 97%.
In the solid cancer patients who received a second dose three weeks after the first, the antibody response shot up to 95% within two weeks of the boost. Further evidence of the need for a boost was shown by the fact that antibody levels only increased to 43% in people with solid cancers and 8% in those with blood cancer five weeks after their first dose. It was 100% in healthy volunteers.
The data provides the first real-world evidence of immune effectiveness following one dose of the Pfizer vaccine in immunocompromised patients. Following the first dose, most cancer patients remained immunologically unprotected up until at least five weeks following primary injection. The poor one dose effectiveness can be rescued with an early booster at day 21.
These results suggest that the vaccines may well not protect patients with cancer as well as those without cancer and that cancer patients should continue to observe social distancing and shielding. The study did not evaluate single dose vaccines but suggests delayed immune responses in cancer patients are probable.2
I was diagnosed with primary mediastinal large B cell lymphoma and am currently finished with 4 rounds of RCHOP and currently on my 2nd (out of 3) round of RICE. When will I be able to be vaccinated?
It's a good question – chemo definitely suppresses your immune systems ability to respond to vaccination for many months. Because the degree of suppression is quite variable it is currently recommended that you get vaccinated now with the understanding the vaccine will not be as effective as it is in people who have not been on cancer treatment. You will most likely need a booster or get vaccinated again in the future
Here is a little more information - https://news.cancerconnect.com/treatment-care/covid-19-vaccination-in-patients-with-blood-cancers
There is a great group of over individuals with NHL here that share information and support.https://cancerconnect.com/login/
I had a blood test for antibodies. I was told that I have no antibodies. What is the significance of this and what should I do?
It is well documented that lymphoma and myeloma patients have lower responses to vaccinations than individuals without these conditions. Response is worse when on therapy, especially treatments that impact B cells like Rituxan. If you have not been on prolonged maintenance one would expect near complete recovery of immune function but these conditions can have long lasting impacts on immune function as seems to be your situation. 
Currently we know that there is a low rate of anti-spike antibody production in patients who have been vaccinated within 6 months of Rituxan therapy. It is important to recognize that the spike antibody is not a validated assay for predicting response to the vaccine and does not assess T-cell function or cellular immunity which is important. That said most doctors are boosting their patients with an additional vaccine dose if they have not developed an anti-spike antibody post-vaccine. It is unclear whether to use the same mRNA vaccine or whether to use an alternative adenovirus based vaccine (J&J).
Is it safe to receive a COVID-19 vaccine if someone has undergone a stem cell transplant?
In patients who have had a stem cell transplant, their immune systems are incapable of reacting to a vaccine for at least three months following the actual transplant - most centers recommend delaying all vaccines for at least three months following stem cell transplant,
What is your approach to timing of the Covid vaccination for patients with cancer who have not have had prior Covid 19, and are about to start chemotherapy?
If possible to delay it is advised to delay starting chemo until 2 weeks after completing the Covid 19 vaccine series in order to max out the protective benefit from the vaccine.
I received Moderna and was tested for antibodies and am negative. Can I get re-vaccinated or a booster? 
It's unlikely the booster will help at this time. You may have some immunity from T cells which the antibody test doesn't measure. 
I have the Mantle cell type of lymphoma. I received my second vaccine dose two weeks ago. Someone told me I would only be good about 50% instead of 95% is this true?
Lymphoma patients definitely can have a lower vaccine response and 50% is possible. Lower response rates are more likely if you are on therapy or on maintenance.
Can I get the vaccine while receiving chemotherapy?
Yes. Having cancer regardless of treatment status is a risk factor for worse outcome from infections including influenza and COVID-19. Some individuals with suppressed immune systems may not respond to the vaccine as well as others but this is not a reason not to get the vaccine. Patients who received intensive cytotoxic chemotherapy and experienced a resulting decrease in absolute neutrophil count should wait until the neutrophil count recovers to receive the vaccine. It is also advised that patients who underwent a major surgery wait a few days to be vaccinated. All other patients with cancer, regardless of their type of treatment, should receive the vaccine as soon as it is made available to them, according to the NCCN. (1) The vaccine has not been evaluated in cancer patients specifically at this time.
Is there a difference between the Pfizer, Moderna and JNJ vaccines?
These Pfizer and Moderna vaccines initially appeared to have similar effectiveness. The Moderna COVID-19 vaccine may however be more effective than the Pfizer-BioNTech vaccine for patients with chronic lymphocytic leukemia (CLL), according to a study presented at the NCCN 2022 Annual Conference.4
Researchers found that patients with CLL were significantly more likely to have an antibody response to the Moderna vaccine, and there was a trend for patients with Waldenstrom's macroglobulinemia (WM) and other B cell lymphomas.
The rate of antibody response was 61% in CLL patients receiving the Moderna vaccine compared to 44% for those receiving the Pfizer-BioNTech vaccine. Among treated CLL patients, the antibody response rate was 51% with the Moderna vaccine and 29% with the Pfizer-BioNTech vaccine.
Should Rituxan Maintenance be held during COVID vaccination?
I assume you are asking whether holding Rituxan for three months will optimize the response to a COVID-19 vaccine. The answer to this is unknown but B-cell suppression typically lasts for at least 9 months after the completion of Rituximab. I would discuss with your oncologist whether Rituxan can be held safely for a prolonged period of time. If not, I would proceed with the COVID-19 vaccine whenever you can get it. Unfortunately, we still do not know the efficacy of the COVID vaccine for lymphoma patients who are actively receiving therapy.
It's been 2 1/2 years, has my immune system fully recovered to take the COVID-19 vaccine?
Assuming you are not on any type of maintenance therapy your immune system is completely or nearly completely recovered and the CDC and other MD groups would recommend vaccination at this time.
Should I get the Flu Vaccine as well? "I have follicular nhl in remission and am getting the Moderna vaccine this week.
There are no data regarding the timing of the flu vaccine and the COVID19 vaccine but I would probably not get the flu vaccine until at least a few weeks after the Moderna vaccine. My advice in the future would be to make sure you obtain the flu vaccine very year early in the flu season.
I've had multiple types of chemo, radiation and stem cell transplant. My immune system did not recover and I've been getting IVIG since 3/2020. Are there recommendations of when to get the vaccine?
There are no firm guidelines as to when to receive the COVID-19 vaccine in relation to an IVIG infusion. For my own patients, I am trying to do this at least 2-3 weeks after IVIG.​
How do you know after being vaccinated with the Covid 19 shots ( Moderna in my case) if you have produced antibodies against the Covid 19 virus? 
Unfortunately like many things in COIVD we are learning as we go and there is not a simple answer. Immunity to COVID comes from both the T and B cells in your immune system. The B cell "antibody" response can be measured with a blood test. This is the test that has been used to show cancer patients and those on treatment don't have as effective immune response as individuals without cancer. T cell response is not routinely measured at this time. No test will show you are 100% immune from COVID – remember in the best of circumstances the vaccine is 90% to 95% effective. 
Would there be any particular timing for a vaccination for a patient with marginal cell lymphoma, first Rituximab treatment March 2020, being followed by maintenance every 6 months (October 2020, May 2021 etc for 2 years) Pretty sure only mRNA is available.
We have no data on the optimal timing of COVID-19 vaccines for patients receiving Rituximab. The effects of Rituximab on B-cell numbers and the immune system last a long time and it is possible that the effectiveness of the vaccine may be lower in patients on Rituximab or other immunosuppressive agents, but it is still valuable to receive the vaccine. We and others are studying the question of the effectiveness of the COVID-19 vaccine in patients receiving therapy for lymphoma.
​I have a blood cancer and am taking hydroxyurea and have compromised immune system and take prolia for bones, is it ok to get covid vaccine. I am 83 yrs old in ok health.
The short answer is yes, the vaccines however were not evaluated in patients with blood disorders and compromised immune systems so we are not certain how effective they will be - the CDC is recommending cancer patients should get the vaccine. You should however discuss vaccination with the doctor.
I am on Revlimid 20 mg daily for 21 days and then 7 days off plus every 2 month infusion of Rituxan. Can I receive the Covid vaccine? Does it make sense to stop these drugs to get the vaccine?
Immune suppression from Rituxan lasts for many months after therapy. B lymphocytes are markedly decreased for at least 9 months after Rituxan dosing. As such there is no known advantage to holding Rituxan prior to the COVID-19 vaccine, it would probably need to be held for awhile if its going to have an impact. It is also unknown whether holding the revlimid will enhance your immune response. Holding these medications must also be balanced against the impact that their absence would have on controlling your disease. This can only be determined in discussion with the physician managing your cancer. You should however get the vaccine.
I am concerned about the safety of the two RNA vaccines in general. Are there any studies on the safety and efficacy in lymphoma patients and these vaccines.
So far data shows excellent safety, most of vaccines adverse events occur on short term historically and there had been no concerns with the mRNA vaccines and enough follow up now in terms of safety, we don't have data on efficacy among patients with MPN, there is zero harm as the vaccine does not contain any virus killed or attenuated.
What is your approach to timing of the Covid vaccination for patients with lymphoma who have not have had prior Covid 19, and are about to start chemotherapy?
If possible to delay, is it advised to delay starting chemo until 2 weeks after completing the Covid 19 vaccine series in order to max out the protective benefit from the vaccine. If starting Jakafi maybe delay starting Jakafi if possible by 2 weeks because it does affect T cell function.
My friend says that the Pfizer mRNA vaccine may cause covid19 illness in some people, is it true?
Absolutely not , there is no virus in the vaccine​.
Covid vaccination seems to cause adenopathy. I received the vaccine ...currently waiting for second dose...I have a PET SCan scheduled for recent diagnosis of follicular lymphoma for two weeks after second dose. Will the vaccine give false positive for more aggressive cancer?
It is very unlikely that the PET/CT will show findings consistent with a higher grade lymphoma. However, if you re concerned about this possibility, you can speak with your oncologist about deferring the PET/CT for another two weeks.
Multiple Myeloma
My spouse has multiple myeloma. In remission one year. Takes 10mg revlimid for 21 days & 40mg dexamethasone once a week. Dr wants to stop dexamethasone. Is this a good idea?
Your doctor obviously thinks so and it makes sense. Long term use of steroids is associated with suppression of the immune system and other side effects and Revlimid alone is good maintenance therapy.
The "Ask The Experts About COVID-19 and Cancer" Series
References
Preliminary Recommendations of the NCCN COVID-19 Vaccination Advisory Committee — National Cancer Center Network (NCCN)
Doukas PG, St. Pierre F, Boyer J, Nieves M, Ma S. Humoral immune response following COVID-19 vaccination in patients with chronic lymphocytic leukemia and other indolent lymphomas: A large, single-center observational study. Presented at NCCN 2022 Annual Conference; March 31 – April 2, 2022. Abstract CLO22-043.
About
Michael L. Grossbard M.D. Professor of Medicine is the NYU Grossman School of Medicine Chief, Section of Hematology Perlmutter Cancer Center
C.H. Weaver M.D. Is the Executive Editor of CancerConnect who's clinical research interests included stem cell transplantation in lymphoma and myeloma where he authored ~ 75 articles in major medical journals.
The Ask The Expert Series is made possible by support fromThe Personalized Medicine Foundation, Incyte Oncology, Abbvie, and CancerConnect. The "Ask The Expert" series is not medical advice nor is it a substitute for your doctor. It should serve as a guide to facilitate access to additional information and enhancement of a shared decision making process with your treating physician.