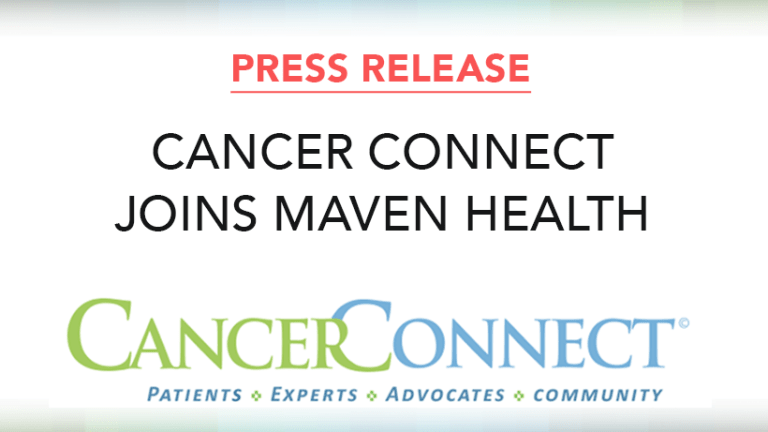 Cancer Connect Joins Maven Health Network
OMNI Health Media moves Cancer Connect to Maven Health increasing its reach and improving content and social offering
Maven Partners with Cancer Connect & OMNI Health Media To Launch Health Network Within Growing Maven Coalition
Gains access to ~50,000 million new consumers
SEATTLE, KETCHUM -- Digital media platform Maven (ticker symbol MVEN) is partnered with OMNI Health Media to launch the Maven Health Network (mavendoctors.io), an integrated group of channels focused on health, nutrition, and fitness as well as contemporary and alternative medicine. The recent acquisition of HubPages into the Maven brand is estimated to result in 50 million monthly visitors.
CancerConnect has been providing support and information to over 1 million cancer patients annually for 21 years. As a fully moderated online support community and rich information resource, CancerConnect) provides patients and caregivers a trusted destination to learn about the management of cancer and a community where cancer patients both derive and provide support. CancerConnect) can be accessed directly or through leading cancer care providers including Harvard – Dana Farber, Memorial Sloan Kettering Cancer Center, Roswell Park Cancer Institute, The Ohio State James Cancer Inst and a number of community clinics and advocacy groups.
"We are thrilled to complete the migration of the 10,000 + active members and 27,000 articles on Cancer Connect to Maven Health. As the lead developer of Maven Health," Dr. Charles Weaver, founder and medical editor of OMNI Health Media can now focus on building the network. "OMNI has been creating educational content and social communities for patients, doctors, advocates and leading institutions since 1997. Maven's technology allows us to better fulfill our mission of creating content, community and connections with their superior mobile app, state-of-the-art technology, and uniform ad-serving platform. With Maven, we see the opportunity to grow and keep up with the evolving marketplace."
The new network is taking shape, in addition to Cancer Connect, OMNI Health Media has migrated several of its leading educational resources and communities to Maven, and is in active discussion with other health verticals to join the network. They are:
TheSpineCommunity (Coming Soon)
TheGIConnection (Coming Soon)
Working with Maven, OMNI will continue building the network by recruiting and partnering with mavens in more than 40 common health condition arenas, creating stronger resources and communities around medical interests and conditions.
Dr. Weaver is a former cancer researcher, developer of the Physician Practice Management industry, and pioneer of internet-based cancer education. He received his medical training at the University of Pennsylvania, National Institutes of Health and Fred Hutchinson Cancer Research Center in Seattle.
"Dr. Weaver is a pioneer in the use of digital media to connect and inform patients and medical professionals and continues his legacy of forging new paths with this partnership," says Maven CEO James Heckman. "His deep connections in the medical industry, popular online resources, and dedicated engaged audience, make him a valuable addition to the Maven community. We look forward to the increased reach and leadership he'll develop with the Maven Health Network."
Maven is a coalition of mavens operating on a shared digital publishing, advertising and distribution platform, unified under a single media brand. Based in Seattle, Maven is publicly traded under the ticker symbol MVEN.
Maven (noun | ma·ven | ˈmā-vən): A professional, authentic authority, evangelist and recognized community leader for a specific topic, cause or organization.
About OMNI Health Media
OMNI Health Media (OMNI) is a leading specialty Website and Application developer and publisher of consumer health information. OMNI has developed CancerConnect, theGIConnection, theRAConnection, and theSpineCommunity. These social communities can be accessed directly or used by gastroenterologists, oncologists, and rheumatologists to provide support and build community on their websites for their patients in a safe, secure, moderated environment.
Originally established in 1997 as a cancer patient education resource, OMNI has consistently expanded its platform by integrating technologic advances with its health information content, applications and services. OMNI has been recognized for producing award-winning, multi-media content which reaches over 1.5 million health information seekers every month.
OMNI Health Media also produces and manages Women magazine, and The Web Chats with the Experts interactive series featuring thought leaders from institutions such as Ohio State University, Memorial Sloan-Kettering, Harvard, Roswell Park, UCSF, Roswell Park, and other prominent health centers.
AboutWomen: Total Health & WellnessMagazine
Women magazine is a premier total health and wellness magazine covering issues important to women, including regular features on arthritis, cancer, bone health, GI health, and heart health, as well as columns and tips covering nutrition, exercise, and emotional well-being. Women empowers readers to take charge of their health and recognizes the unique role women play in fostering the overall health of their families and friends.
Women magazine is available in all Rheumatology, Oncology, and Women's Health clinics, in leading retail outlets and as a benefit of membership to Rheumatology Nursing Society members.
Contact chweaver@OMNIhealthmedia.com