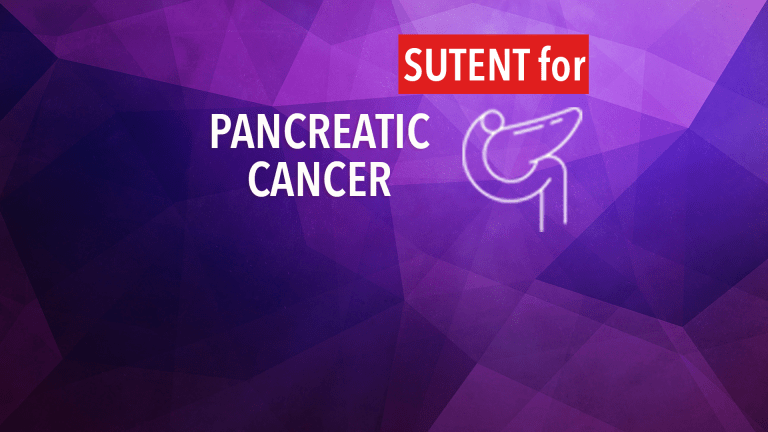 Sutent Approved for Pancreatic Neuroendocrine Tumors (PNET)
Sutent Approved for Pancreatic Neuroendocrine Tumors (PNET)
The US Food and Drug Administration has approved the targeted drug Sutent® (sunitinib) for the treatment pancreatic neuroendocrine tumors (PNET).
Pancreatic neuroendocrine tumors are an uncommon type of cancer that develops in the hormone-producing cells of the pancreas.
Sutent—which is taken orally—inhibits multiple biologic pathways involved in the growth, replication, and spread of cancer cells. It has been shown to be effective in the treatment of selected patients with kidney cancer and gastrointestinal stromal tumors (GIST), and is also being evaluated in the treatment of other types of cancer.
A Phase III clinical trial that contributed to the approval of Sutent for PNET involved 171 patients. The patients had PNET that could not be surgically removed or had spread to other parts of the body.
Study participants were assigned to treatment with either Sutent or a placebo. Patients in the Sutent group remained free of cancer progression longer than patients in the placebo group: 10.2 months versus 5.4 months, respectively.
The most common side effects among patients in the Sutent group were diarrhea, nausea, vomiting, fatigue, loss of appetite, high blood pressure, loss of energy (asthenia), abdominal pain, changes in hair color, inflammation of the mouth (stomatitis), and low white blood cell count (neutropenia).
This is the second drug to be approved for PNET in 2011. Afinitor® (everolimus) was approved earlier this month (May 2011). These drugs provide important new treatment options for patients with advanced disease.
Reference: FDA approves Sutent for rare type of pancreatic cancer. US Food and Drug Administration website. May 20, 2011.