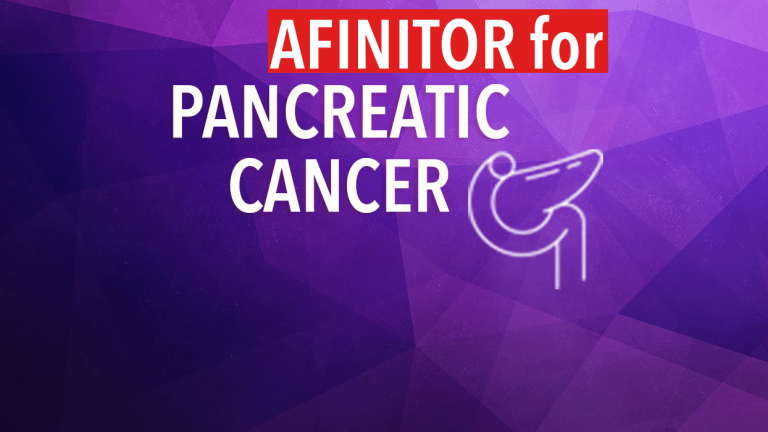 Afinitor Approved for Pancreatic Neuroendocrine Tumors
Afinitor Approved for Pancreatic Neuroendocrine Tumors
The US Food and Drug Administration has approved Afinitor® (everolimus) for the treatment of advanced pancreatic neuroendocrine tumors (PNET).
Pancreatic neuroendocrine tumors are a relatively uncommon type of cancer that develops in the hormone-producing cells of the pancreas.
Afinitor is an oral targeted therapy that works by inhibiting a protein known as the mammalian target of rapamycin (mTOR). The mTOR protein plays an important role in regulating cancer cell division and blood vessel growth. Afinitor is also used in the treatment of selected patients with kidney cancer or subependymal giant cell astrocytoma (SEGA).
A study that contributed to the approval of Afinitor for PNET involved 410 patients with advanced, low-grade or intermediate-grade pancreatic neuroendocrine tumors. Half the patients were treated with Afinitor and half were treated with a placebo.
Progression-free survival was 11 months among patients treated with Afinitor and 4.6 months among patients treated with placebo.
The most common side effects of Afinitor were stomatitis (inflammation of the lining of the mouth), rash, diarrhea, fatigue, swelling, abdominal pain, nausea, fever, and headache.
Deaths occurred in seven patients in the Afinitor group and one patient in the placebo group.
Afinitor was approved for the treatment of progressive (worsening) PNET in patients with locally advanced or metastatic disease that cannot be surgically removed. The safety and effectiveness of Afinitor for patients with carcinoid tumors has not been established.
Source: Everolimus 2011. US Food and Drug Administration website. May 5, 2011.