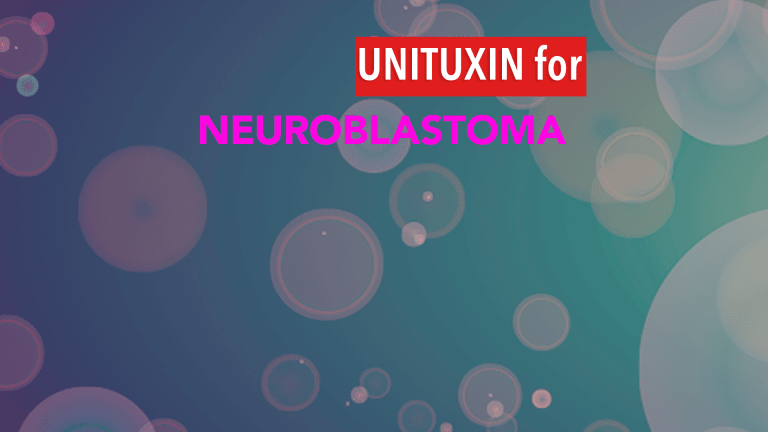 Unituxin® Approved for Treatment of Children with High-Risk Neuroblastoma
Unituxin® Approved for Treatment of Children with High-Risk Neuroblastoma
The U.S. Food and Drug Administration (FDA) has announced the first-ever drug approval for the treatment of children with high-risk neuroblastoma. In clinical trials Unituxin® (dinutuximab) has improved survival among children with this type of cancer who have responded to previous treatment.
Neuroblastoma is a type of cancer that develops in the nerve tissues of the adrenal gland, neck, chest, or spinal cord. Although neuroblastoma is rare (it affects roughly 650 children and adolescents in the United States each year), it is the most common cancer diagnosed in infants. Based on the age of the patient and the specific characteristics of the cancer, neuroblastoma is classified as low-, intermediate-, or high-risk. Patients with high-risk neuroblastoma typically receive high doses of chemotherapy as part of their treatment.
Unituxin is a type of immunotherapy drug known as a monoclonal antibody. It works by helping the body's immune system to find and destroy cancer cells. It's approved for use with other treatments (including chemotherapy, surgery, and radiation) for children who have responded to previous treatment.
Researchers recently conducted a clinical trial among 226 children with high-risk neuroblastoma who had responded to previous treatment. Outcomes of children who received Unituxin were compared with outcomes of children who did not receive Unituxin.
After three years, children who received Unituxin had better survival than those who didn't receive the drug. Sixty-three percent of those who received Unituxin were still alive at three years and didn't have tumor growth or recurrence, compared with 46% of those whose treatment did not include Unituxin. When researchers further analyzed the trial data, they found even greater improvement for treatment with Unituxin: 73% were still alive compared with 58% who did not receive the drug.
In order to make Unituxin available to appropriate patients as soon as safely possible, the FDA granted the drug priority review, which shortens the time for review of applications compared to the standard review period. The FDA also gave the drug orphan product designation, a designation for drugs intended to treat rare diseases.
Though approval of Unituxin is promising for the treatment of children with high-risk neuroblastoma, the drug is also associated with serious side effects. The FDA has given it their strongest side effect warning (a boxed warning). Unituxin can cause nerve pain and damage as well as life-threatening infusion reactions, such as upper airway swelling, difficulty breathing, and low blood pressure. Additional possible complications include infections, eye problems, electrolyte abnormalities and bone marrow suppression.
According to said Richard Pazdur, MD, director of the Office of Hematology and Oncology Products in the FDA's Center for Drug Evaluation and Research, "Unituxin fulfills a critical need by providing a treatment option that prolongs survival in children with high-risk neuroblastoma."
Reference: FDA Approves First Therapy for High-Risk Neuroblastoma. U.S. Food and Drug Administration [press release]. Available at: fda.gov/NewsEvents/Newsroom/PressAnnouncements/ucm437460.htm. Accessed April 1, 2015.