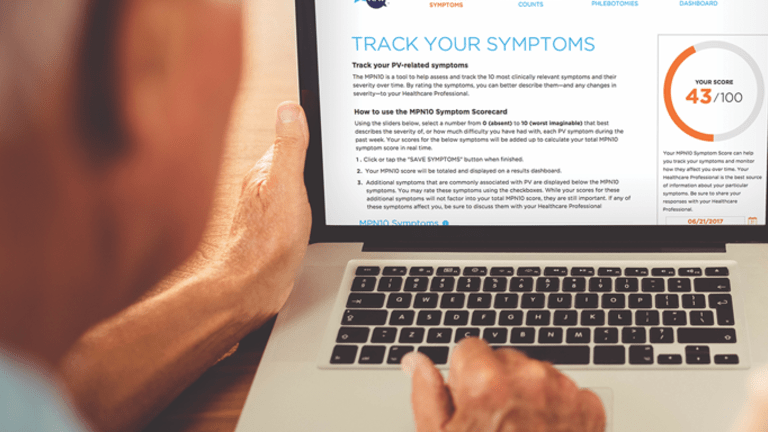 New Technologies Connect Polycythemia Vera Patients to Solutions
The PV Tracker helps patients effectively monitor their symptoms and manager their condition.
New Technologies Connect Polycythemia Vera Patients to Solutions
by Sharon Reynolds
Like most other 30-somethings across the country, Alisa Rouse pulls her smartphone from her pocket dozens of times a day, to check email, text friends, and call family. But also to log her symptoms as they occur: headaches, fatigue, itching, pain, and more.
Alisa lives with polycythemia vera (PV), a rare disease that causes the body to produce too many red blood cells, which in turn thickens the blood. This thickening causes the uncomfortable symptoms of PV. Diagnosed at the age of 16, Alisa has likely had the condition since birth—a rarity, since most patients develop PV later in life.
People with PV undergo regular blood draws to keep their number of red blood cells closer to normal. They also sometimes need to take medications to suppress blood-cell production. Alisa has to go to the doctor's regularly for blood tests, to make sure her treatments are keeping her disease as manageable as possible.
For years, she tried to track her symptoms and understand when they occurred in relation to her treatments, but found the process overwhelming. She tried a homemade spreadsheet, which required her to remember everything she had felt during the day when she was at home at her computer in the evening. Using a paper calendar posed the same problem, especially when she was feeling sick for days on end.
Finally, in late summer of 2017, a website called Voices of MPN, developed by Incyte Corporation, launched an online program called the PV Tracker Tool. The program allows Alisa to log her symptoms in real time from her phone, tracks changes in her blood counts over the weeks and months, and graphs all this information together in easy-to-read printouts for her doctor. The two can then sit down to review the feedback from the program to determine whether her current treatment schedule needs tweaking to keep her symptoms under control.
"As simple as the program is, it really covers what we patients need," says Alisa. "And since most of the people with PV are older, simple is going to be the best thing for them," she adds.