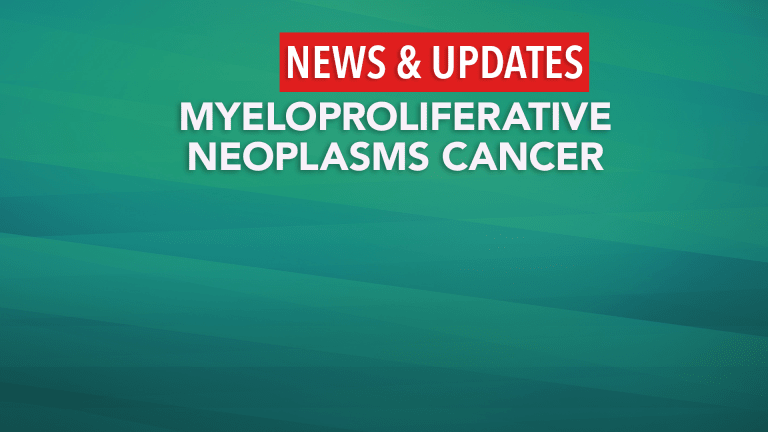 Myeloproliferative Neoplasms Greatly Affect Patient Quality of Life
Myeloproliferative Neoplasms Greatly Affect Patient Quality of Life.
According to results from the myeloproliferative neoplasms (MPN) Landmark survey, MPN's negatively affect the quality of life and overall health of patients even a year before their diagnosis.
Myeloproliferative neoplasms (MPN) are a related group of blood cancers. In these disorders, the bone marrow cells that produce blood cells develop and function abnormally. The three main types of MPN are polycythemia vera (PV), essential thrombocythemia (ET), and primary myelofibrosis (PMF). In addition to developing on its own, myelofibrosis may also develop as a result of ET or PMF.
Myeloproliferative neoplasms are most common in older adults. Out of every 100,000 people in the United States, an estimated 44 to 57 people have PV, and a similar number have ET. Myelofibrosis is less common, affecting 4 to 6 people per 100,000.
Researchers recently conducted a patient survey in order to better understand the impact of MPN symptoms on quality of life in 813 MPN patients.1
A majority of patients reported that their MPN interfered with their activities of daily living.
The majority of patients also reported that they felt as if their family/social life, relationship with their caregiver, or sex life was negatively affected by their MPN.
Many respondents reported that their MPN resulted in limited productivity, "including reduced work hours, calling in sick to work, and/or terminating their job."
Previous studies conducted with MPN patients by Cancer Connect have also revealed that many patients believe that their physicians may discount the severity of their symptoms and their impact on quality of life. The development of new treatment approaches to MPN's has markedly improved symptom control.
An international study was presented at the American Society of Hematology meetings last year that demonstrated that the symptom burden in patients with PV is substantial, independent of whether a patient has used hydroxyurea, has received phlebotomy, or has splenomegaly.2
A clinical study evaluating Jakafi (Ruxolitinib) versus Best Supportive Care initially demonstrated that Jakafi effectively alleviated symptoms and controlled hematocrit in PV patients with at least three debilitating features.3 This current study suggests that PV patients who have only one or two features may also benefit from treatment with a JAK2 inhibitor by demonstrating that the presence of each feature of PV was individually associated with a moderately high symptom burden and that symptoms incrementally increased in severity with the addition of the other features.
Taken together; these clinical trials continue to suggest that MPN symptoms negatively impact quality of life, are under appreciated and under treated despite the potential benefit from the newer JAK2 inhibitors to control their symptoms.
Reference:
1.Mesa R, Miller C, Thyne M, et al. Myeloproliferative neoplasms (MPNs) have a significant impact on patients' overall health and productivity: the MPN Landmark survey. BMC Cancer. Available at: bmccancer.biomedcentral.com/articles/10.1186/s12885-016-2208-2f. Accessed September 19, 2016.​
2.Geyer H, Scherber R, Kosiorek H, et al. Symptomatic profiles of patients with polycythemia vera: Implications of inadequately controlled disease. Journal of Clinical Oncology. Published online before print November 23, 2015, doi:10.1200/JCO.2015.62.9337.​
3.Vannucchi A, Kiladjian J, Grieshammer M, et al. Ruxolitinib versus standard therapy for the treatment of polycythemia vera. The New England Journal of Medicine. 2015; 372:426-435. January 29, 2015DOI: 10.1056/NEJMoa1409002