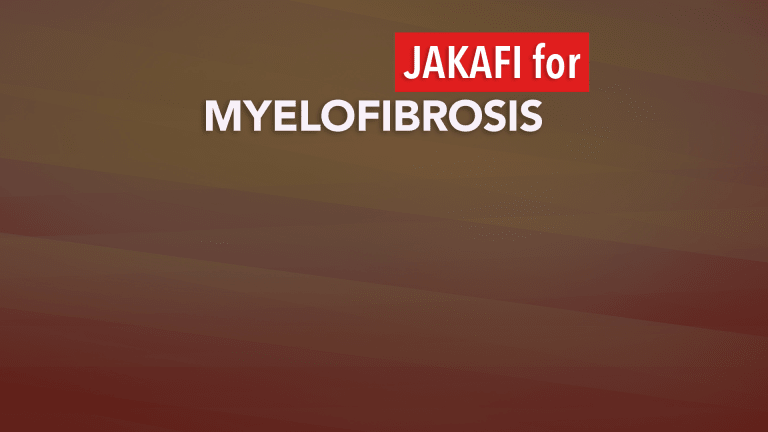 Long Term Survival in Myelofibrosis Improved with Early Use of Jakafi®
In addition to improving long term survival Jakafi® improves MF caused fatigue, spleenomegaly and kidney function.
by Dr. C.H. Weaver M. D. updated 12/2019
An analysis of 5-year data from two large clinical trials provide conclusive support that treatment with Jakafi® (ruxolitinib) improves long-term survival, compared to other treatment options for patients with myelofibrosis and is able to improve complications from myelofibrosis.
Perhaps even more importantly, the data suggests that treatment with Jakafi should be used much earlier in the course of a patient's disease because it provides a survival advantage over starting treatment with Jakafi at a later point in the disease.
About Myelofibrosis
Myelofibrosis (MF) is a type of blood cancer known as a myeloproliferative neoplasm that is chronic and progressive in nature. It involves the abnormal development and function of bone marrow cells that produce blood cells, and leads to the formation of scar tissue in the bone marrow. When the bone marrow becomes scarred, it is not able to produce adequate amounts of blood cells.
Myelofibrosis can cause anemia, enlargement of the spleen and liver, impact kidney function, fatigue, and other problems. In some patients MF progresses to acute myeloid leukemia, which is an aggressive type of leukemia. Myelofibrosis is rare and affects ~18,000 people in the U. S. Although it can occur at any age, it most commonly occurs in individuals over 65.
When MF develops on its own (and not as the result of another bone marrow disease), it's called primary myelofibrosis. Myelofibrosis can also result from a worsening of other bone marrow diseases, such as polycythemia vera and essential thrombocythemia.
The JAK1/JAK2 cellular pathway has demonstrated activity involved in the progression of MF. Subsequently, researchers have developed agents, such as Jakafi, that block the activity of the JAK1/JAK2 pathway, reducing or halting the negative effects caused by its activity.
Data from two large clinical trials, referred to as the COMFORT-I and COMFORT-II trials that included 301 patients with MF have consistently demonstrated improved survival with Jakafi over several analyses. Patients in the trials were treated with either best available treatment (BAT) according to their healthcare provider, placebo (inactive substitute), or Jakafi. Patients who experienced MPN progression while on BAT or placebo were allowed to begin treatment with Jakafi.
Patients were followed for approximately 5 years following initiation of therapy.
Median overall survival time was 5.3 years for patients treated with Jakafi, compared with 3.8 years for patients treated with BAT or receiving placebo.
The survival advantage achieved with Jakafi was greater among patients who were initially treated with Jakafi, compared with those who initially received BAT or placebo, and began treatment with Jakafi after progression of their disease. Median overall survival time was 5.3 years among patients initially treated with Jakafi compared with only 2.3 years for patients initially receiving BAT or placebo.
Subgroup analysis revealed that patients with certain characteristics have improved responses to Jakafi.
The researchers concluded that overall survival at 5 years is improved with Jakafi compared to BAT or placebo, which appears most pronounced among patients treated with Jakafi as initial therapy, compared to later in their disease course. Jakafi should be used earlier in the management of individuals with MF.
Jakafi has also been demonstrated to...
Significantly improve MF cause enlargement of the spleen.
Improve generalized symptoms of fatigue
Improve kidney function thought to result from MF. (7)
The data from these trials led to the U. S. Food and Drug Administration approval ofJakafi® for the treatment of myelofibrosis. Jakafi® is the first drug to be approved specifically for myelofibrosis. It is taken orally, and inhibits two enzymes—JAK1 and JAK2—that contribute to myelofibrosis.
Side effects of Jakafi® included low blood platelet levels, anemia, fatigue, diarrhea, shortness of breath, headache, dizziness, and nausea.
The early reports....
Jakafi Prolongs Survival in Primary Myelofibrosis
Jakafi® (ruxolitinib) prolongs survival in patients with intermediate- or high-risk primary myelofibrosis compared with patients who receive conventional therapy, according to the results of a study published in the journal Blood.
Jakafi—approved in 2011—is currently the only drug that has been approved specifically for myelofibrosis diseases. It is a targeted therapy known as a JAK inhibitor. Jakafi can help to relieve the signs and symptoms of myelofibrosis, such as enlargement of the spleen, night sweats, itching, and bone or muscle pain.
The international prognostic scoring system (IPSS) is a risk assessment tool used upon diagnosis of primary myelofibrosis. (During follow-up, the dynamic IPSS (DIPSS) and DIPSS-plus time-dependent models are used.) Patients with primary myelofibrosis who are categorized with intermediate-2 or high IPSS risk have a median life expectancy of 4 years or less.
There have been two prospective, randomized, phase III studies of Jakafi. The COMFORT-1 study compared Jakafi and placebo, while the COMFORT-2 study compared Jakafi and best available therapy. Both of these studies allowed crossover to Jakafi.
In the current study, researchers analyzed the cohort of Jakafi-naive patients used for developing the DIPSS. They compared survival from diagnosis of 100 PMF patients who received Jakafi (COMFORT-2 cohort) with that of a comparable group of 350 conventionally treated PMF patients (DIPSS cohort).
The analysis revealed that PMF patients with higher IPSS risks who receive Jakafi survive longer than those who receive conventional therapy. Median survival was 5 years in the COMFORT-2 cohort compared with 3.5 years in the DIPSS cohort. The 8-year survival probability from initial diagnosis was 32.2 percent for the COMFORT-2 cohort and 15.9% for the DIPSS cohort. After adjusting for age at diagnosis and IPSS risk at the time of entering the analysis, Jakafi still maintained an effect on survival.
The researchers concluded that patients treated with Jakafi at some point during their disease history survived longer than those who continued with conventional treatment throughout the whole duration of their disease. As a result, they speculated that Jakafi might affect the natural history of the disease.
Jakafi® Improves Survival and Quality of Life with Myelofibrosis
Among patients with intermediate- or high-risk myelofibrosis, Jakafi® (ruxolitinib) reduced spleen size, relieved symptoms, and improved overall survival. The results of this Phase III clinical trial were published in the New England Journal of Medicine.
Myelofibrosis is a chronic disease characterized by abnormal blood cell development and the formation of scar tissue in the bone marrow. Symptoms of myelofibrosis can include fatigue, shortness of breath, abdominal discomfort, pain under the ribs, feeling full, muscle and bone pain, itching, and night sweats. Most patients with myelofibrosis have an enlarged spleen, and many have an enlarged liver.
For people who are experiencing symptoms from myelofibrosis, previous approaches to treatment have included blood transfusions, drug therapy, radiation therapy, surgery to remove the spleen, or stem cell transplantation.
Jakafi® was the first drug approved specifically for myelofibrosis. It is taken orally and inhibits two enzymes—JAK1 and JAK2—that contribute to myelofibrosis.
The current study enrolled 309 patients from 89 centers in theUnited States. The patients had intermediate-2 or high-risk myelofibrosis. Half received Jakafi® and half received a placebo.
A substantial reduction in the size of the spleen (a 35 percent or greater reduction in volume) occurred in 42 percent of patients in the Jakafi® group and less than 1 percent of patients in the placebo group.
A 50 percent or greater reduction in total symptom score was experienced by 46 percent of patients in the Jakafi® group and 5 percent of patients in the placebo group.
After roughly one-year, 8 percent of patients in the Jakafi® group and 16 percent of patients in the placebo group had died.
Anemia and low platelet counts were more common in the Jakafi® group than in the placebo group, but could generally be managed.
Jakafi® did not reverse the damage that had been done to the bone marrow by myelofibrosis.
These results demonstrate that Jakafi® improves both quality and duration of life among patients with intermediate- or high-risk myelofibrosis. This is an important new treatment option for patients with this condition.
Jakafi Combinations in Myelofibrosis
Hydroxyurea in combination with Jakafi yielded a high clinical response rate in patients with hyperproliferative types of myelofibrosis.
A multi-center, observational study by Dr Pugliese and colleagues from the Department of Medicine and Surgery, Hematology and Hematopoietic Stem Cell Transplant Center, University of Naples Federico II, Italy, included 20 adults with intermediate- or high-risk primary MF, post-polycythemia vera MF, or post-essential thrombocythemia MF with hyperproliferative manifestations. These patients were given a combination therapy comprising Jakafi and Hydrea (hydroxyurea).8
A total of 8 (40%) patients had clinical responses of any type during Jakafie, whereas 17 (85%) had clinical responses during therapy with the Jakafi–Hydrea combination. After a median of 12.4 months, 16 of 20 patients receiving the combination had a hematologic response.
No clear survival advantages was established however longer follow up is necessary to determine the ultimate effectiveness of the combination.
References:
Verstovsek S, MesaRA, Gotlib J et al. A double-blind, placebo-controlled trial of ruxolitinib for myelofibrosis. New EnglandJournal of Medicine. 2012;366:799-807.
Verstovsek S, Mesa RA, Gotlib J et al. Long-Term Outcomes Of Ruxolitinib Therapy In Patients With Myelofibrosis: 3-Year Update From COMFORT-I. Presented at the 55th ASH Annual Meeting and Exposition. New Orleans, LA. December 7-10, 2013. Abstract 396.
Passamonti F, Maffioli M, Cervantes F, et al: Impact of ruxolitinib on the natural history of primary myelofibrosis: a comparison of the DIPSS and the COMFORT-2 cohorts. Blood. 2014; 123(12): 1833-1835.
Cervantes F, Vannucchi AM, Kiladjian JJ et al. Three-year efficacy, safety, and survival findings from COMFORT-II, a phase 3 study comparing ruxolitinib with best available therapy for myelofibrosis. Blood. Early online publication October 30, 2013.
FDA News Release. FDA approves first drug to treat a rare bone marrow disease. November 16, 2011.
Incyte News. Pooled Analysis of Five-Year Data from Two Phase 3 Studies Further Supports Overall Survival Advantage Observed in Patients with Myelofibrosis Treated With Jakafi® (ruxolitinib). Available at: incyte.com/media/recent-news.aspx. Accessed December 15, 2016.
Ann Hematol. 2019;98[7]:1611-1616
Cancer Med. 2019 Apr 17. Epub ahead of print.