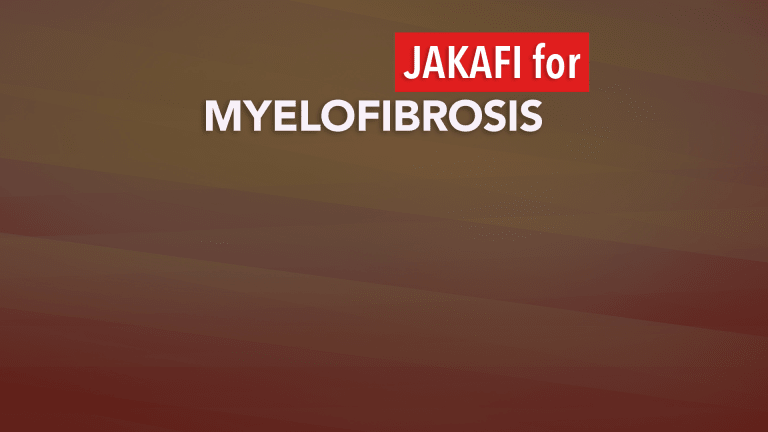 Jakafi Rechallenge May Improve Survival in Patients with Myelofibrosis
Retreatment of MF with Jakafi is a viable treatment strategy that appears to improve survival of MF patients.
Myelofibrosis (MF) is a chronic myeloproliferative neoplasm (MPN) that can arise de novo (primary MF) or after polycythemia vera (PPV MF) or essential thrombocythemia (PET MF). Clinically it is characterized by splenomegaly, progressive anemia, and constitutional symptoms, among other issues. These 3 problems are the most common in patients, and main reasons for initiation of therapy.
The goal of therapy is to control signs and symptoms of MF that are clinically relevant, affecting patients' everyday life. Splenomegaly from MF can be severe and negatively impact quality of life owing to symptoms such as pain, early satiety, bloating, and inability to bend, leading to weight loss, fatigue, and weakness. The presence of constitutional symptoms, such as unexplained fever, night sweats, itching, bone aches and pain, are predominant.
Standard therapy for symptomatic splenomegaly and general systemic MF-related symptoms has been a JAK inhibitor: Jakafi (ruxolitinib) which was approved in 2011 and fedratinib in 2019. In 10 years since its approval, Jakafi has been a mainstream of MF therapy, helping many MF patients. Good control of signs and symptoms of MF with Jakafi prolongs survival an average of 3 years. To date, there remains no approved treatment option for patients who progress on Jakafi.
There are however a small number of case reports and series of patients demonstrating a response to Jakafi re-challenge. A recent report of 219 patients that discontinued Jakafi, among which 60 were re-challenged suggests re-challenge with Jakafi may be of value. Jakafi re-challenge was mainly used in those patients that stopped first round with Jakafi due to intolerance, specifically those that experienced a decrease in blood cell count during initial treatment with Jakaf, leading to its discontinuation.
During the re-challenge, about half of the patients had spleen and symptom improvements. Notably, patients who were re-challenged with a Jakafi dose of more than 10 mg twice daily had a higher probability of achieving reductions of spleen length. The median duration of re-challenge therapy with Jakafi was close to two years, suggesting a possible survival advantage. Jakafi re-challenged patients had significantly longer survival than those not re-challenged, with median survival times of ~41 compared to 24 months. This finding complements the survival benefit results observed in the prior clinical studies with Jakafi and extends real‐world evidence of a survival advantage for patients treated with a Jakafi re-challenge, after initial treatment failure.
Reference