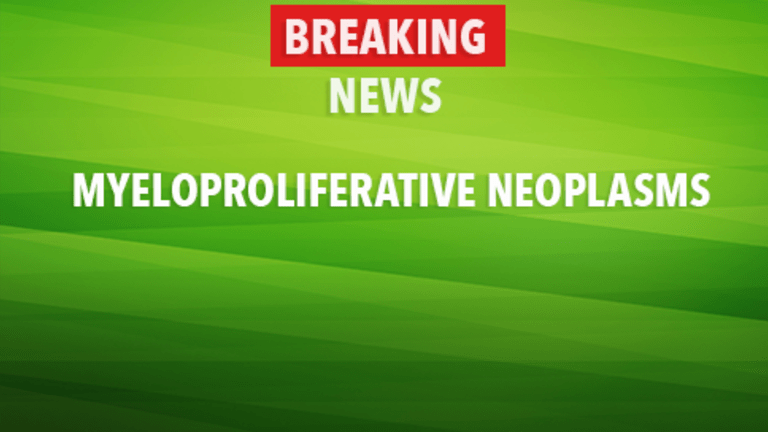 Jakafi® Appears Effective in the Treatment of Essential Thrombocythemia
CancerConnect News:
By interfering with protein signaling linked to blood cell production, Jakafi® (ruxolitinib) may be effective in the treatment of essential thrombocythemia (ET) in patients who progress on or can't tolerate Hydrea® (hydroxyurea). These findings were presented at the 56th American Hematological Society Annual Meeting and Exposition, December 6–9, 2014, in San Francisco, California.
Essential thrombocythemia belongs to a group of blood disorders called myeloproliferative neoplasms (MPN). In these disorders, the bone marrow cells that produce blood cells develop and function abnormally. In ET the bone marrow produces too many platelets (thrombocytes). Platelets are sticky, so an excess of them can clump together, making it hard for blood to flow. Patients with ET have an increased risk for clotting and increased bleeding, which can lead to serious conditions such as stroke or heart attack. Because early ET may not cause signs or symptoms, it may first be detected during a routine blood test. Signs and symptoms that ET may cause include: headache, burning or tingling in the hands or feet, redness and warmth of the hands or feet, and vision or hearing problems.
Jakafi is an oral inhibitor of the JAK1/JAK2 proteins that has shown clinical benefit in patients with other forms of MPN. Jakafi is the first FDA-approved treatment for patients with intermediate or high-risk myelofibrosis (MF), including primary MF, post–PV MF and post–ET MF. It works by reducing overactive signaling of JAK proteins; these proteins may play a role in the development of MPNs by causing the body to make the wrong number of blood cells.
Learn more about myeloproliferative neoplasms
In a recent study, researchers measured the long-term effectiveness and safety of Jakafi in patients with ET. Patients included in the study had ET that had progressed on treatment with Hydrea, a drug used to treat abnormal growth in MPN, or who were intolerant to Hydrea. Researchers monitored ET among patients by platelet and white blood cell counts, spleen size (normal of enlarged), and symptoms of ET including itching; bone pain; night sweats; weakness; and sensations of tingling, tickling, pricking, or burning.
Thirty-nine patients were enrolled at beginning of the study. Their median age was 51, and they'd had ET for a median of almost seven years. Median blood counts at enrollment were 849.0 × 109 per liter for platelets and 8.15 × 109 per liter for white blood cells. The majority of patients (72%) had received Jakafi for about two years.
Jakafi appeared to rapidly reduce platelet levels as soon as patients started therapy, and levels remained relatively low over time. For example, of the patients with a platelet count of more than 400 × 109 per liter at enrollment, progressively more patients had a platelet count below 400 × 109 per liter as the study went on. This level was achieved by approximately 3%, 11%, and 13% at months 3, 12, and 48, respectively. Patients with a platelet count above 600 × 109 per liter also had and lower counts throughout the study: 47% were under 600 × 109 per liter at three months, 40% at 12 months, and 57% at 48 months. White blood cell counts were also lowered overall: 100% with a count above 10 × 109 per liter had lower counts at the three-month mark and 73% were lower at 12 as well as 48 months.
Four patients had an enlarged spleen when they enrolled, and all had at least a 50% reduction at nine months. Patients also experienced reduced ET symptoms while taking Jakafi. Side effects were generally not severe, and the researchers considered therapy tolerable.
Jakafi appeared to effectively reduce platelet levels, as well as white blood cell counts and enlarged spleen, in patients with ET who had progressed on or couldn't tolerate Hydrea. Patients also experienced reduced physical symptoms. Based on these findings and its tolerable side effects, Jakafi is a promising treatment for patients with ET that progresses on or are intolerant to Hydrea.
Reference: Verstovsek S, Passamonti F, Rambaldi A, et al. Long-Term Results from a Phase II Open-Label Study of Ruxolitinib in Patients with Essential Thrombocythemia Refractory to or Intolerant of Hydroxyurea. Program and Abstracts of 56th American Hematological Society Annual Meeting and Exposition; December 6–9, 2014; San Francisco, California. Abstract 1847.
Copyright © 2018 CancerConnect. All Rights Reserved.