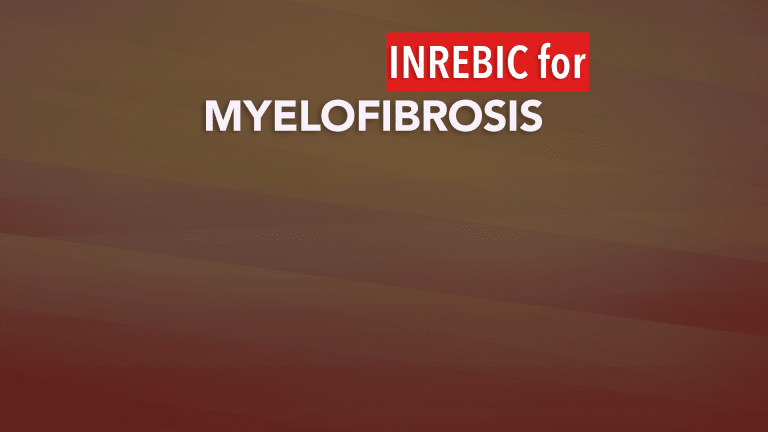 Inrebic (fedratinib) Treatment of Myelofibrosis
Inrebic represents a new treatment option for Jakafi-resistant Myelofibrosis and significantly reduces spleen volumes.
by Dr. C.H. Weaver M.D. updated 8/2021
Patients with myelofibrosis resistant or intolerant to Jakafi (ruxolitinib) now have an alternative treatment option with a novel JAK2-selective inhibitor Inrebic (fedratinib) according to the results of clinical study published in the medical journal Lancet and a submission to the US Food and Drug Administration which has led to the approval of Inrebic for the treatment of adult patients with intermediate-2 or high-risk primary or secondary (post-polycythemia vera or post-essential thrombocythemia) myelofibrosis.1,2
About Myelofibrosis
Myelofibrosis is a type of blood cancer known as a myeloproliferative neoplasm that is chronic and progressive in nature. It involves the abnormal development and function of bone marrow cells that produce blood cells and leads to the formation of scar tissue in the bone marrow. When the bone marrow becomes scarred it can't make enough blood cells and this can cause anemia, enlargement of the spleen and liver, fatigue, and other problems.
Myelofibrosis can result from a worsening of other bone marrow diseases, such as polycythemia vera and essential thrombocythemia or develop on its own – so called primary myelofibrosis.
Approved in 2011, the JAK inhibitor is a targeted therapy that improves survival and can help to relieve the signs and symptoms of myelofibrosis, such as enlargement of the spleen, night sweats, itching, and bone or muscle pain.2
Janus-associated kinases (JAK) 1 and 2 mediate the signaling of cytokines and growth factors important for blood production and immune function. The JAK1/JAK2 cellular pathway has demonstrated activity involved in the progression of Myelofibrosis. Medications such as Jakafi and Inrebic block the activity of the JAK1/JAK2 pathway which reduces the negative effects caused by its activity and are referred to as JAK inhibitors. Some patients treated with Jakafi do not achieve a reduction in spleen volume and about one-half will discontinue treatment after 3 to 5 years. Inrebic inhibits the JAK 2 kinase and may represent a treatment option for these patients.
JAKARTA2 Clinical Trial
Doctors investigated the effectiveness and safety of Inrebic in patients with either primary myelofibrosis or those developing myelofibrosis after polycythemia, or essential thrombocytopenia who were either intolerant or resistant to treatment with Jakafi by comparing Inrebic to a placebo.
Overall Inrebic was effective in reducing splenomegaly and symptom burden in patients who had previously discontinued Jakafi therapy due to either intolerance or resistance. By 6 months, 55% of all patients achieved a reduction in spleen size spleen. The 1-year and 18-month survival rates were 84% and 67%, respectively.4
JAKARTA - First Line Treatment
In JAKARTA, 96 patients were treated with Inrebic as initial therapy for MF and compared with 96 who received placebo. Inrebic improved the survival duration without disease progression to 23.2 months compared with 17.5 months for placebo. The 18-month survival rate was 87% for Inrebic and 80% for placebo.5
The U.S. FDA granted a Priority Review and subsequent full approval of Inrebic for treatment of selected individuals with myelofibrosis in August 2019.
References:
Janus kinase-2 inhibitor fedratinib in patients with myelofibrosis previously treated with ruxolitinib (JAKARTA-2): a single-arm, open-label, non-randomised, phase 2, multicentre study](https://www.thelancet.com/pdfs/journals/lanhae/PIIS2352-3026(17%2930088-1.pdf)
news.cancerconnect.com/5-year-survival-improved-early-use-jakafi-myelofibrosis/
U.S. FDA Approves INREBIC® (Fedratinib) as First New Treatment in Nearly a Decade for Patients With Myelofibrosis
4165 Fedratinib Induces Spleen Responses in Patients with Myeloproliferative Neoplasm-Associated Intermediate- or High-Risk Myelofibrosis (MF) Previously Exposed to Ruxolitinib (RUX), Regardless of Reason for Discontinuing RUX.

Harrison C, Kiladjian J, Verstovsek S, et al. Overall and progression-free survival in patients treated with fedratinib as first-line myelofibrosis (MF) therapy and after prior ruxolitinib: Results from the JAKARTA and JAKARTA2 trials. Presented at: the EHA2021 Virtual Congress; June 9-17, 2021; virtual. Oral Abstract S203.