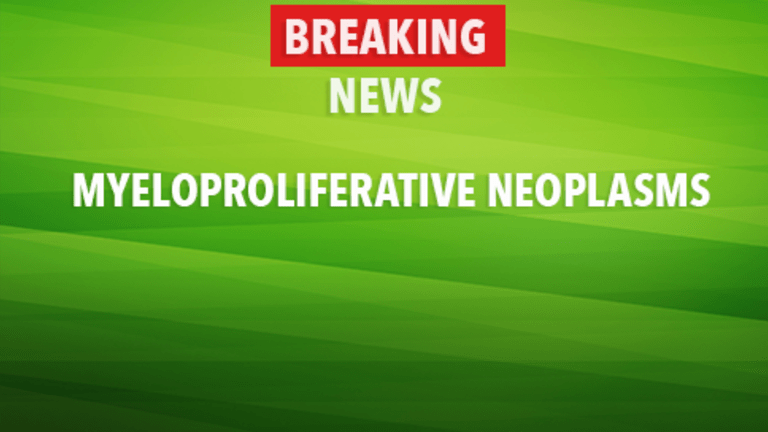 Incyte Announces Initiation of Clinical Trial Evaluating Jakafi®
Incyte Announces Initiation of Clinical Trial Evaluating Jakafi® for the Treatment of Essential Thrombocythemia.
Incyte Corporation announced that the first patient has been treated in the RESET pivotal trial evaluating Jakafi®  (ruxolitinib) compared to anagrelide for the treatment of patients with essential thrombocythemia (ET) who are resistant to or intolerant of hydroxyurea (HU).
"We are pleased to treat the first patient in our pivotal trial evaluating ruxolitinib as a treatment for ET, a rare blood cancer that can lead to life-threatening complications," said Steven Stein, M.D., Chief Medical Officer, Incyte. "We look forward to building on the clinical evidence for ruxolitinib and to advancing this trial to help address the needs of higher-risk patients with ET, who are resistant to or intolerant of HU and currently have limited treatment options."
ET is a rare, chronic blood cancer, part of a group of related blood cancers known as myeloproliferative neoplasms (MPNs), characterized by increased platelet production, a white cell count above the normal range, persistently elevated platelet counts with normal red blood cell mass and the absence of prominent bone marrow fibrosis.1 An increased platelet count can increase the risk of thrombosis. Thrombosis can, in turn, lead to serious health problems including heart attack or stroke. Vascular complications and transformation to myelofibrosis (MF) or acute myeloid leukemia (AML) are the major causes of increased morbidity and mortality in patients with ET.2,3
About the RESET Study
The randomized, double-blind, double-dummy pivotal study (NCT03123588) is evaluating the safety and efficacy of ruxolitinib versus anagrelide as a treatment of patients with ET. The study is expected to enroll approximately 120 patients, 18 years or older, diagnosed with ET who are resistant to or intolerant of HU, with a screening platelet count of >650 × 109/L and white blood cell (WBC) count of >11.0 × 109/L.
The primary endpoint of this study is the proportion of patients who achieve platelet and WBC control over 1 year of follow-up. Key secondary endpoints include safety and tolerability and the proportion of patients who achieve complete remission (CR) or partial remission (PR). For more information about the study, please visit .
About Jakafi®
Ruxolitinib is a first-in-class JAK1/JAK2 inhibitor approved by the U.S. Food and Drug Administration, as Jakafi® (ruxolitinib), for treatment of people with polycythemia vera (PV) who have had an inadequate response to or are intolerant of hydroxyurea.
Jakafi is also indicated for treatment of people with intermediate or high-risk myelofibrosis (MF), including primary MF, post-polycythemia vera MF, and post-essential thrombocythemia MF.
Connect With Patients on Jakfi at CancerConnect
References:
Tefferi A, Thiele J, Orazi A, et al. Proposals and rationale for revision of the World Health Organization diagnostic criteria for polycythemia vera, essential thrombocythemia, and primary myelofibrosis: recommendations from an ad hoc international expert panel. Blood 2007;110:1092-109
Passamonti F, Rumi E, Arcaini L, et al. Prognostic factors for thrombosis, myelofibrosis, and leukemia in essential thrombocythemia: a study of 605 patients. Haematologica 2008;93:1645-1651.
Besses C, Cervantes F, Pereira A, et al. Major vascular complications in essential thrombocythemia: a study of the predictive factors in a series of 148 patients. Leukemia 1999;13:150-154.
Copyright © 2018 CancerConnect. All Rights Reserved.