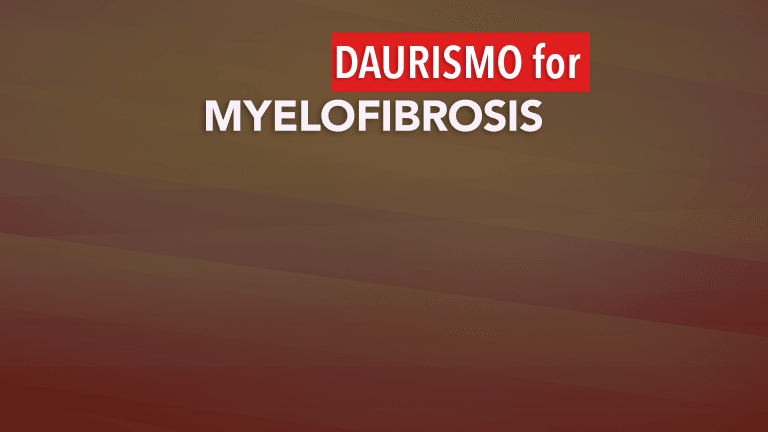 Daurismo Evaluated in Myelofibrosis
AML drug Daurismo evaluated in MF - further study warranted.
by Dr. C.H. Weaver M.D. 4/1/2019
The initial results evaluating Daurismo (glasdegib) in individuals with primary or secondary myelofibrosis (MF) suggest that it is safe with manageable side effects. Doctors from the Taussig Cancer Institute have published the results of a clinical trial evaluating Daurismo in patients previously treated with a JAK inhibitor.
Myelofibrosis (MF) is a type of blood cancer known as a myeloproliferative neoplasm that is chronic and progressive in nature. It involves the abnormal development and function of bone marrow cells that produce blood cells and leads to the formation of scar tissue in the bone marrow. When the bone marrow becomes scarred, it is not able to produce adequate amounts of blood cells leading to anemia, enlargement of the spleen and liver, fatigue, and other problems. Myelofibrosis is rare and affects ~18,000 people in the U. S. and new treatments are needed.
About Daurismo (glasdegib)
Daurismo is a "Hedgehog pathway inhibitor". The Hedgehog signaling pathway plays an essential role in embryogenesis, the process by which human embryos are developed. In adults, the abnormal activation of the hedgehog pathway appears to contribute to the development and persistence of cancer stem cells. Daurismo disruption of this pathway prevents the development and survival of these cancer stem cells.
The early phase clinical trial enrolled 21 patients with MF who had previously been treated with at least 1 JAK inhibitor to receive treatment with oral Daurismo 100 mg once daily until no clinical benefit was observed.
All 21 patients who received treatment experienced side effects, the most common of which were loss of taste (61.9%), muscle spasms (57.1%), hair loss (38.1%), fatigue (33.3%), and decreased appetite (33.3%).
Patients experienced modest benefit. A total of 10% of patients had a ≥50% reduction in their total symptom score at 12 weeks from, and roughly 40% of patients had ≥20% reduction. One patient had an anemic response and one experienced significant improvement in spleen volume.
Join The Cancer Connect MF Patient Community & Connect With Others
The researchers concluded that "the safety profile of Daurismo monotherapy was manageable in patients with primary/secondary MF but further study is necessary."
Reference:Leuk Res. 2019;79:38-44).