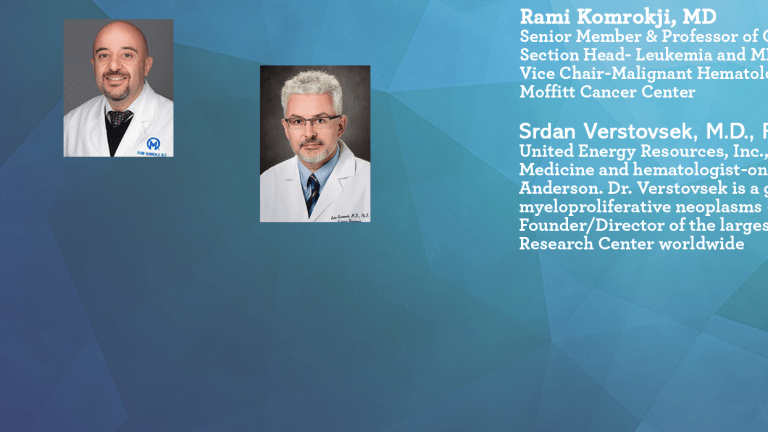 Ask The Experts About  Myeloproliferative Neoplasms (MF - PV - ET)
PV, ET and MF are effectively treated during the COVID-19 pandemic - ask the experts about how best to manage your MPN.
The Personalized Medicine Foundation and CancerConnect are pleased to provide patients and caregivers the opportunity to ask questions about the management of MPN's during COVID-19. We have put together a panel of leading experts to answer questions and publish a forum for the exchange of information.
Rami Komrokji, MD is a Senior Member & Professor of Oncologic Sciences and the Section Head- Leukemia and MDS, Vice Chair-Malignant Hematology Department, Moffitt Cancer Center, a NCI Designated Cancer Center.
Srdan Verstovsek MD, PhD is the United Energy Resources, Inc., Professor of Medicine and hematologist-oncologist at MD Anderson. Dr. Verstovsek is a global leader in myeloproliferative neoplasms (MPN) and the Founder/Director of the largest MPN Clinical Research Center worldwide
Click here to submit your question. Dr Komrokji's and Verstovesk's answers to submitted questions….
Treatment Related Questions
What percent of patients with PV progress to myelofibrosis? How fast does this occur?
Transformation to myelofibrosis in PV patients takes time, and one needs to observe patients for a couple of decades to understand this risk well. Studies show that Hydroxyurea does not increase the risk of transformation to myelofibrosis. Therefore, we would typically say that transformation to myelofibrosis is late complication of PV. If we follow younger PV patients we start seeing transformation to MF at about 8 years reaching 25% at 20 years. At the time of transformation the risk of early death from MF is evaluated in those that have transformed. If prognosis is less than 5 years, then referral for a stem cell transplant is considered – although many new medications are in development.
For general population of PV patients, we have this type of results:
I have read that the death rate for blood cancer patients who contract covid is about 28% and that in MPN patients it is even higher, is this true?
Early on in the pandemic, a high death rate was reported in patients who had a COVID-19 infection and who were undergoing active treatment for a hematologic malignancy. In general, with more knowledge about the management of COVID infections along with the use of therapies including steroids, remdesivir, monoclonal antibodies and convalescent serum this death rate appears to be getting lower than initially reported.
Unfortunately death rate for patients with hematological (blood and bone marrow) cancers is very high. There is no solid information to suggest that MPN patients have an even higher risk of death. Very recent meta-analysis (study that evaluates all published reports on this matter together) reported no major differences among patients with different hematological cancers. Of course, risk of serious complications in patients with MPN may depend on many factors, for example, age of the patient, other medical problems, already present complications for MPN itself, and others. Best is to prevent getting infected, and if infected, report to your oncologist/hematologist to be closely monitored.
What is Hydroxyurea resistance vs intolerance for ET or PV patients mean? Does having a drug holiday resolve this?
In general resistance means that the cancer has mutated in a way that prevents a drug from continuing to work - this is why cancer is hard to cure. Intolerance means the healthy cells in your body can no longer tolerated a treatment due to side effects.
I was diagnosed with an mpn about 4 yrs ago and just started reblozyl(first shot). Can i simultaneously take deferasirix 400mg or will the Reblozyl clash with the chelation? 
Both can be used together.
I am curious if anyone with MF taking any medication or clinical trial has documented evidence of reversal of BM fibrosis?
With majority of therapies for myelofibrosis, either commercially available or investigational, there are always patients that have documentation of a change in bone marrow fibrosis over time. this has been reported for patients treated with JAK inhibitors ruxolitinib or fedratinib, the only approved therapies for patients with myelofibrosis in the US. Ongoing studies, for example, with investigational agents called imetelstat, bomedemstat, pelabresib, PRM-151, and alisertib, also report changes in bone marrow fibrosis. Commercially available agents, like lenalidomide, that are used in myelofibrosis off label, also can cause changes in bone marrow fibrosis. in none of these reports was there any conclusive evidence that a change in bone marrow fibrosis was directly related to a significant clinical benefit. We are yet to establish such a connection with certainty.
I have PV and have skipped my last 2 phlebotomy appointments because I am nervous about going to clinic and getting COVID. How long can I skip phleblotomy?
If phlebotomy is needed it is important not to skip, the goal is maintain HCT < 45 (studies correlate outcome in terms of heart attacks, strokes and lung or leg clots with tight control of HCT). If patient is on treatment one option is titrating the treatment to better control counts, if only phlebotomy is done I would suggest not to skip and if no contraindication for baby asprin to take that as well.
I have had PV for 4 years and am on Jakafi. Is there any reason I can't use telemedicine appointments for the foreseeable future? How best could I communicate the status of my spleen via televisit? A large spleen has been one of my main problems.
AT MDACC we consider an in person visit to be mandatory - systems are in place for all patients to be evaluated safely.
Is interferon immunotherapy safe to take if you test positive for COVID?
Interferon is biological agent that is used as therapy for some patients with MPNs. Its many activities include activity on the immune system; interferon is an immune booster, and therefore, one should not stop taking it during COVID infection (the same applies to any other therapy, indeed, no therapy that is in place to control signs and symptoms of MPN should be stopped or modified unless absolutely necessary and under strict monitoring of treating physician).
I am 71 with Jak2+ ET. Last platelet count 566, has been between 459 and 550 for last 3 years. My hematologist said he may put me on HU at next apt. He did not know that interferons are used for mpn's. Seems to me that Pegasys or Ropeg would be a better option since it might slow progression, hematological and molecular while HU does not. Also, does everyone with ET or PV eventually progress to MF or AML, is that how this ends?
HU is standard and advised for you, I agree. Only 10-15% of ET patients progress to MF/AML, and that is after having disease for 15+ years.
I have PV and am struggling with side effects from Jakafi. I am afraid to discontinue the medication during the pandemic. Are there any new meds easier to tolerate? I have sensitivity reactions and gut issues. Also, any way to address my low iron?
Ropeg the pegylated interferon is probably the only drug that may alter natural history of disease, different side effect profile, low iron is needed to prevent over production of red blood cells so we usually don't recommend replacing iron. For patients needing phlebotomy there is a study with a hepcidin mimetic drug that eliminates needs for phlebotomy and improves iron.
Can breast silicone implants cause blood cancers like polycythemia vera?
A particular type of breast implants referred to as textured silicone implants have been associated with the development of a subtype of lymphoma in the breast known as anaplastic large cell lymphoma. This remains a rare entity with only 1000-2000 cases reported worldwide. The lymphoma can often be treated by removal of the implants which can lead to regression of the lymphoma. I am not aware of a relationship between silicone implants and polycythemia.
Questions About Mutations
Can anyone explain what the ASXL1 mutation entails and and should we be watching for certain symptoms?
Patients with myeloproliferative neoplasms (MPN) typically have one of the 3 mutations (mutations in genes JAK2, CALR or MPL) that is associated with underlying biological problem in MPN, which is hyperactive growth stimulus in bone marrow cells (co call hyperactive JAK-STAT pathway) so they grow without control. Some patients with MPN, particularly those with myelofibrosis, may have other mutations in disease cells. This is where ASxl1 comes in play; we don't know what this mutation does to a cell but its presence may provide prognostic information. Its presence dose not cause any specific symptoms; no need to watch for them. What we know is that those with this mutation may have more aggressive disease, more prone to clinical complications, and shorter life duration. Some of the newer prognostic scoring system for calculating risk of death for patients with myelofibrosis, include presence of ASXL1 as one of the bad prognostic factors.
I am looking for treatment options for Intermediate Myelofibrosis with SRFS2 gene mutation other than a bone marrow transplant that have demonstrated some clonal reversal. I don't want to get a transplant during the pandemic. I know that the Momentum study is one as is a trial with interferon and Jakafi.
SRSF2 is regarded high risk mutation , transplant is only curative option , most of the treatments have not be shown to alter natural history of disease. Interferon if not severe fibrosis maybe the only drug that can alter natural history. We have been doing transplants safely during pandemic but it is not emergent to go to transplant .
COVID Vaccine Related Questions
Are you recommending the vaccine to your patients with PV, ET or MF?
Having cancer regardless of treatment status is a risk factor for worse outcome from infections including influenza and COVID-19. The short answer is yes now that COVID-19 vaccines are widely available. In terms of prioritization, and according to CDC guidelines, cancer patients will be part of the phase II wave of vaccination which will occur sometime in February. The vaccine is given in 2 doses at 21 days interval and we expect patients receiving the vaccine to be immune 2-3 weeks after their second dose of vaccine. Learn more about vaccination here.
Should I receive a "booster" vaccination?
The United States Food and Drug Administration amended the emergency use authorizations for the Moderna and the Pfizer-BioNTech Covid-19 vaccine to allow people with compromised immune systems unable to mount an adequate immune response against the virus to get a third "booster" dose. The hope is that the booster dose will provide patients with improved protection similar to people without weakened immune systems. The amended EUAs apply only to third doses of the Pfizer and Moderna vaccines. New research in immunocompromised patients shows that the Moderna vaccine increases antibody levels.
How do you know after being vaccinated with the Covid 19 shots ( Moderna in my case) if you have produced antibodies against the Covid 19 virus? Is there a test I should have done?
Here is what we know https://news.cancerconnect.com/myeloproliferative-neoplasms-mpn/mpn-covid-vaccine-effectiveness
Immunity to COVID comes from both the T and B cells in your immune system. The B cell "antibody" response can be measured with a blood test. This is the test that has been used to show cancer patients and those on treatment don't have as effective immune response as individuals without cancer. T cell response is not routinely measured at this time. 
Update-MPN patients get effective T and B cell response to vaccination. Read more....
I have ET, PV, MF and am on hydroxyrea....Is it ok to get the vaccine?​
The short answer is yes the vaccines are approved for general use. The vaccines however were not evaluated in patients with blood disorders and compromised immune systems so we are not certain how effective they will be - the CDC is recommending cancer patients should get the vaccine. You should however discuss vaccination with the doctor managing your CMML.
I have myelofibrosis and I've received 2 doses of the Moderna mRNA vaccine. Unfortunately I did not get a great response. Given the generally high fatality rate for MF from COVID infection it seems like a "no brainer" to get a 3rd shot in hopes of achieving an adequate antibody titer. How can I get this done within the formal confines of medicine?
Some docs are recommending a "booster" vaccine in this situation and the FDA approved a "booster" in August 2021. Remember you will have some t cell immunity from the vaccine that can't be measured. The recommended timing for the booster is approximately 8 months after completion of initial vaccination.
https://news.cancerconnect.com/myeloproliferative-neoplasms-mpn/mpn-covid-vaccine-effectiveness
I have PV and have been fully vaccinated with Pfizer vaccine. Am I at risk from Vaccine breakthrough catching Covid or the delta variant? 
 Yes albeit a very modest risk. In individuals without PV the vaccines are only 95% effective so all individuals remain at some risk of COVID – delta and other variants will continue to emerge and evolve. Vaccines will protect against some of these variants but not all of them and it is possible that vaccines will need to evovve to meet the changing shape of the virus.
Hi! I am 37 years, I have E.T with CALR Gene, now my platlets are at 670k, im also pregnant with 18 weeks, is it safe to have covid vaccine, my doctor suggest to wait, but im so afraid
It is recommended to all patients with any type of myeloproliferative disease of the bone marrow (ET is one of them) to receive a vaccine. Age of the patient, presence of one or the other mutations, or platelet numbers do not matter. So, from an ET standpoint, vaccination is suggested. Currently the CDC also recommends vaccination during pregnancy – they are published here; CDC vaccine recommendations during pregnancy
I am concerned about the safety of the two RNA vaccines in general. Are they continued to be studied for safety even as people are getting them. Are there any studies on the safety and efficacy in MPN patients and these vaccines.
So far data shows excellent safety for all 3 vaccines, most of vaccines adverse events occur on short term historically and there had been no concerns with the mRNA vaccines and enough follow up now in terms of safety, we don't have data on efficacy among patients with MPN, there is zero harm as the vaccine does not contain any virus killed or attenuated.
What is your approach to timing of the Covid vaccination for patients with MF who have not have had prior Covid 19, and are about to start chemotherapy?
If possible it is advised but not essential to delay starting chemotherapy until 2 weeks after completing the Covid 19 vaccine series in order to max out the protective benefit from the vaccine. Consider delaying starting chemotherapy if possible by 2 weeks.
When should the COVID vaccine be given before starting chemo or after chemo? Is their data to support this recommendation?
When chemotherapy is mentioned as a therapeutic choice for patients with MPN, then we typically think about hydroxyurea or Jakafi. These are commonly used to control elevated blood count in patients with essential thrombocythemia or polycythemia vera, or to control enlarged spleen in patients with myelofibrosis (these days JAK inhibitor ruxolitinib has been preferred for this task). hydroxyurea is very mild chemotherapy agent and is not considered immunosuppressive, therefore, not affecting immune system (good immune system is needed in a patient given a vaccine). Therefore, a COVID vaccine can be administered to patient before starting hydroxyurea, while on hydroxyurea, or after hydroxyurea; simply there is no connection between hydroxyurea use and vaccination. Other forms of chemotherapy are very rarely used in MPN and discussion about vaccination in such unusual situation require individual counseling.
Is it safe to get the vaccine during radiation therapy ?
Radiation therapy in patients with myeloproliferative neoplasms is extremely rarely used, and this would be in myelofibrosis patients that have terribly enlarged spleen not responding to any other therapy, in which case radiation is given over limited number of days (e.g. 7-10 days) to the spleen specifically (not to the whole body). while there is no experience giving vaccine to such patients while receiving radiation, one may wait for 10 days and provide vaccine once radiation has been done.
Is it safe to get the vaccine close to phlebotomy?
Everyone is encouraged to receive a vaccine to protect themselves. I am not aware of any information that connects administration of a vaccine with increased risks associated with phlebotomy.
Hi I'm 59 and half. Very healthy but for years my platelets were high. Above 440. I received the vaccine first dose had physical platelets inc to 600. So internist sent me to oncologist to rule out bone marrow disorder. This was 2 weeks after physical dr rechecked platelets and J2 platelets came back 800. And jackR2 was abnormal. I think it's the vaccine. Your thought?
There is no connection between vaccines and bone marrow neoplasms. This was pure coincidence.
My friend says that the Pfizer mRNA vaccine may cause covid19 illness in some people, is it true?
Absolutely not , there is no virus in the vaccine​.
Can SARS Pfizer vaccination potentially exacerbate undiagnosed or newly Chronic Myeloproliferative disorders in elderly patients ? or this is purely coincidental.
There is no scientific possibility for a vaccine to cause a neoplasm of the bone marrow. This is therefore purely coincidental.
Questions About ET
Am 48 year male .. ET and zak 2+... On hydroxyurea 3 day in week with ecoasprin 75 daily from last 6 years.... Recently I dignosed with granuloma .. in chest and stomach... Doctors view' is sercoidosis. There is also suspect but not sure that it's due to hydroxyurea.. pls suggest.. and also suggest for replacement of hydroxyurea if required.
I am very sorry to hear about new developments and hope that granulomas/sarcoidosis will be successfully treated. I am not sure about connection between hydroxyurea and sarcoidosis. Alternative to hydroxyurea are two medications, anagrelide and interferon, or one can simply stop hydroxyurea, if this is medically appropriate. One may consider a visit to an ET specialist (this would be called MPN – myeloproliferative neoplasm – specialist) for a second opinion on what to do. Dr V
I was diagnosed with ET several years ago. My platelets were too high for about five years, then they went back to the normal range, and they've stayed there. I've read about a couple of doctors who received the first vaccine, and a week or so later, they died from a blood clot. Should I get the vaccine or not? If I do get the vaccine, should I take aspirin for a couple of weeks to hopefully prevent any blood clots?
Everyone is encouraged to receive a vaccine to protect themselves. I am not aware of any information that connects administration of a vaccine with increased risk of blood clot, and therefore I see no reason to take aspirin with vaccine for stated purpose. I am sorry to hear about two doctors that died from blood clots, which may not necessarily be connected with a vaccine.
I have Essential thrombocythemia. I have a fish allergy, I'm allergic to bee stings and I am allergic to the TB test tuberculin. I carry a couple of epi pens. Should I get the covid-19 vaccine? I can't seem to get a clear answer.
Yes you can get the vaccine but do so in a controlled environment where you can be monitored. Discuss how best to do this with your doctor.
I have myelofibrosis and I am curious, should my 10 mg two times a day dose of Jakafi be adjusted when I get the covid 19 vaccine?
There is no need to adjust the dose of Jakafi and medications used to treat PV and MF should be continued as prescribed by your doctor. Always discuss any changes you might be considering with your healthcare provider. Medications are administered at a specific dose and schedule designed to achieve the best results.
Has anyone with ET on hydrea and aspirin been advised not to get the COVID vaccine?
No there is no contraindication to get the vaccine
The "Ask The Experts About COVID-19 and Cancer" Series
Previously from the PMF and Cancer Connect
The Ask The Expert Series is made possible by support fromThe Personalized Medicine Foundation, Incyte Oncology, Abbvie, and CancerConnect. The "Ask The Expert" series is not medical advice nor is it a substitute for your doctor. It should serve as a guide to facilitate access to additional information and enhancement of a shared decision making process with your treating physician.