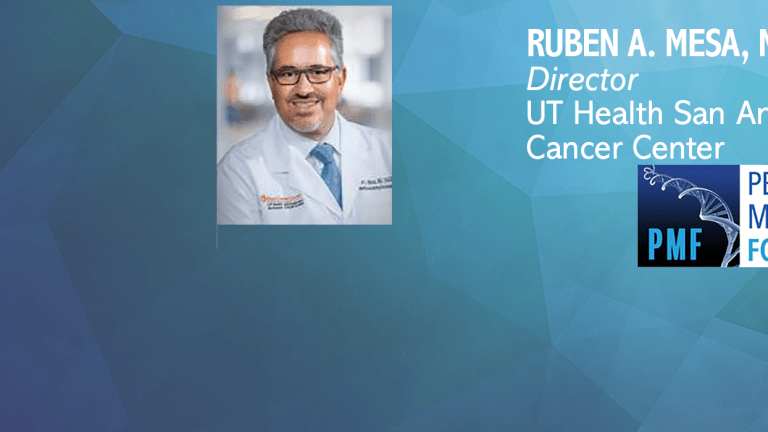 Ask the Expert Advances in the Management of Myeloproliferative Neoplasms
Dr. Ruben Mesa, Mays Cancer Center answered questions about the management of polycythemia vera and myelofibrosis.
Myeloproliferatrive neoplasm (MPN) expert, Ruben A. Mesa, M.D., Director, UT Health San Antonio Cancer Center answered submitted questions about myeloproliferative neoplasms, including polycythemia vera (PV), essential thrombocythemia (ET) and myelofibrosis (MF). Dr Mesa is committed to improving therapies and quality of life for patients with MPN's and Cancer Connect and the Personalized Medicine Foundation are grateful to his participation in the "Ask The Expert" series.
Dr Mesa's answers to submitted questions….
Myeloproliferative Neoplasms
Are people with an MPN's more susceptible to other cancers or other health conditions?
In brief, yes to some degree. We know MPN patients are at baseline more prone to skin cancers (non melanoma), and this can be increased further with impact of therapy (likely hydroxyurea and Jakafi (ruxolinitib)) each increase this risk somewhat). Although it is tough to separate the risk of other cancers from the impact of the advancing age of MPN patients (increasing age increases risks of cancers), the risk of other solid cancers (breast, lung, colon, lymphoma) is likely increased some but not dramatically. The key is to have good primary care, take care of yourselves, have age and risk appropriate screening, good dermatological care and use your SPF 50+ sunscreen.
Are n-acetylcysteine and magnesium of potential benefit for MPNs?
N-acetylcyteine may have some anti-inflammatory benefits based on laboratory studies of Dr. Angela Fleischman in particular. Upcoming trials are planned. We don't know yet whether it is beneficial for MPN patients.
I am 65 on Hydrea, what vaccinations should I have received? Should I get the Flu shot?
In general we seek MPN patients to get all the appropriate primary care for their age, despite their MPN. So yes all standard vaccines – pneumonia, flu shot etc. should be received. The prior live shingles vaccine was felt to not be ideal for MPN patients, but now there is an inactivated vaccine for shingles "shingrex" which although not tested specifically in MPN patients should be safe.
Polycythemia Vera
What is the correct hematocrit number for women and men with PV? Are every ones PV symptoms related to that number? It seems like my doctor always says my "numbers" are great so no change in treatment is necessary but my symptoms are not any better.
What is the optimal Hct level for women with PV? I have read that HCT of 42 but I cannot get my hemo/onc to keep me at 42-he insists that 45 is where he wants me. I feel so much better at 42.
The starting goal for Hct is <45% however some patients feel better at 42% or even 40%. The target blood count should be adjusted to the level where you feel the best.
The standard guidelines for goals in PV treatment include
control of Hct with ideally minimal phlebotomies to below at least 45% (lower sometimes needed for symptom control)
control of white cell count <10 x 10(9)/L 3)
3)control of platelets <400 x 10(9)/L
control of PV associated symptoms.
If only one of these is controlled, or even just the first 3 "i.e. counts look great", but PV symptoms are still a problem then an unmet gap exists.
I was diagnosed with PV in 2017 and I only see a hematologist once per year as a veteran. To visit an MPN specialist I have to request it which I did but it was turned down. I have never had a bone marrow biopsy. Do I need to see a specialist, and should I have a bone marrow biopsy at some point?
The current guidelines for diagnosis of PV does mandate a baseline bone marrow aspirate and biopsy. Standard of care would be blood counts at least every 2 months depending on phleb frequency, visit a physician/provider every 3-6 months (at a minimum). I do think visiting an MPN specialist to establish the diagnosis, prognosis and treatment plan sounds prudent.
What causes the sensation PV patients experience tingling?
Probably more than one cause, but most commonly associated with high counts and likely impaired blood flow in very small blood vessels when the HCT, WBC and or platelets are too high.
Myelofibrosis
I have had MF for 3 years and my doctor has not yet started treatment. He says because I can't get a bone marrow transplant and my MF is progressing slowly he prefers to "watch and wait" before treating me with the only drug available. I have fatigue and other symptoms that he doesn't take very seriously but they are troublesome to me and I would like to feel better. I read about a new drug call Inrebic that has just been approved. Since there are now 2 medications to treat MF, is there any reason I can't get Inrebic?
Both Jakafi and Inrebic (fedratinib) are now approved and reasonable to use for treatment of symptomatic patients with myelofibrosis. Waiting for treatment is not required - when to start therapy is a decision between yourself and your physician. If you feel you are not on the same page you might benefit discussing this with your physician and/or seek a second opinion.
I am 67 years old with MF and currently on Jakafi for almost 6 years and my doctor thinks I need to switch treatment to a new medication called Inrebic? What is a "black box warning" and Wernicke's encephalopathy?
A black box warning is just when a potential side effect warrants special attention. Inrebic is approved now (over 2 weeks). Wernickes is a rare encephalopathy (a confusion state arising from a deficiency in vitamin B1) which occurred in 1 of 900 patients treated with Inrebic, and there were 7 others with a similar side effects. To try and protect against that rare side effect patients take vitamin B1 and are monitored for their B1 levels. Once doing all that the risk of that side effect should be quite low.
Diagnosed with ET 1997, MF 2005. I have enlarged spleen, stable blood counts and have been on Jakafi for over 1 year. I'm turning 40 soon and visiting a transplant team to discuss timing of a transplant early next year. I have two brothers that are a match. The magic question seems to be when to have a SCT. I've been lucky to be stable this long. How do I agree to a transplant when I'm well?
When to have a transplant is a deeply complex and personal question, a deep discussion between yourself and your healthcare team. What I can say about transplant are the following 1) likely the younger you are when you have one the better 2) likely the likelihood of success is greatest when the patient is doing well rather than when the disease is progressing. I share with patients frequently the best time for transplant is before you fell you "need" the transplant. I hope this helps, but know what a hard decision this is.
I am 59 years old and have had MF for 3 years. Platelets 900 000, WBC recently risen to 14 from 11 HgB 14, Hct is under control with phlebotomies every 3 months. No drugs yet. I have a question regarding interferon. I read some statements that Interferon prior to SCT can increase the risk of GvHD. Is there a higher risk of GvHD after taking interferon?
In short, there is no association I am aware of between INF use and GVHD. In terms of the MF the disease sounds very active to be just observed based on US based guidelines. Suggest you review the NCCN MPN patient guidelines and discuss with your physician.
If interferon delays disease progression, would it be helpful for me to take it to delay SCT with Interferon or would it be better to take the chance for SCT in the early 60th. Then I would prefer not to take any meds to keep the organs healthy.
Interferon is felt to possibly delay progression in MPNs, perhaps less likely for ET/PV to turn into MF or help early MF delay progression to advanced MF. INF is clearly an option for ET and PV based on US based NCCN guidelines, in MF its role is more subtle and less clear a role for MF pre transplant. Suggest discussing with your physician, or obtain a second opinion from an MPN specialist where all disease factors can be considered..
Does genomic biomarker testing using Foundation One or other tests play any role in the management of MPN's?
There are various myeloid panels of 40-1500 genes to look beyond the MPN "driver mutations" of JAK2 V617F, CALR, and MPL. Several additional genes such as ASXL1, EZH2, IDH 1 and 2, etc. have various prognostic implications – most impactful on disease treatment for MF and of less clear value in treatment decisions on PV or ET. I suggest these panels be ordered through your physician, who needs to order for a specific reason, help you interpret the results, and aid your shared decision making for your disease.
What are the key ongoing clinical trials evaluating new treatments for MF that patients should be aware of?
MF has the most available trials for individuals when Jakafi has stopped working. Ongoing trials include Jakafi combinations and other jak inhibitors (Inrebic, momelotinib, pacritinib).
Essential Thrombocythemia
I have E.T. and am on Hydrea medication. I also have Osteopenia. I have been taking Caltrate with vitamin D for several years. I recently read an article that said Vitamin D and immune cells contribute to Myelofibrosis. Is that correct should I consider not taking Vitamin D?
The role of VIT D is unclear as it relates to the bone marrow micro environment however there is no evidence that taking standard recommended doses of VIT D with Calcium for osteoporosis would be harmful for MF patients. I think as long as you don't take doses higher than normal there should not be any increased risk.
What are the key ongoing clinical trials evaluating new treatments for MPN's that patients should be aware of?
The role for clinical trials is especially important when current options are not working for you and there are trials for those with ET or PV where initial treatment is not working well.
There are many ongoing clinical trials for MPNs.
The Ask The Expert Series is made possible by support from The Personalized Medicine Foundation, Incyte Oncology, Abbvie, and CancerConnect. The "Ask The Expert" series is not medical advice nor is it a substitute for your doctor. It should serve as a guide to facilitate access to additional information and enhancement of a shared decision making process with your treating physician.