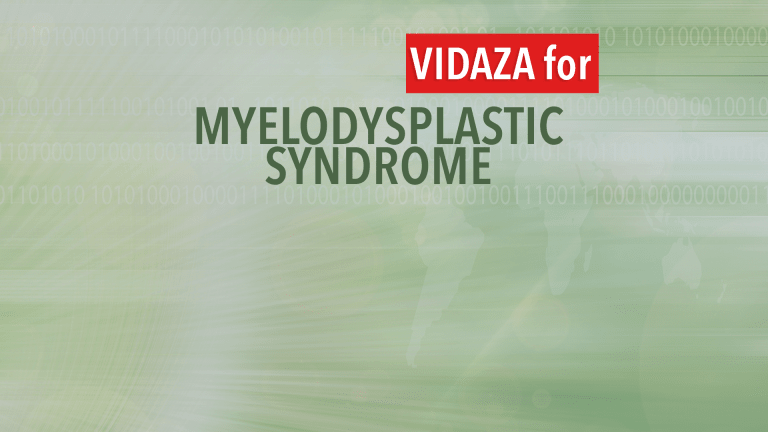 Vidaza Improves Survival in High-risk Myelodysplastic Syndrome
Vidaza Improves Survival in High-risk Myelodysplastic Syndrome
According to results recently presented at the 2007 annual meeting of the American Society of Hematology (ASH), the agent Vidaza® (azacitidine) improves survival among patients with high-risk myelodysplastic syndrome (MDS).
Myelodysplastic syndromes are a group of blood (hematologic) disorders that are diagnosed in 10,000 to 20,000 individuals annually in the United States. MDS occurs when immature blood cells do not mature properly and cannot perform their intended function. They instead crowd out normal blood cells in the bone marrow, often keeping other cells from performing their intended functions. High-risk MDS refers to MDS that is difficult to treat and has a high risk of recurrence following therapy.
Patients with MDS often have to undergo transfusions to replace their low levels of blood cells. As well, many patients must be treated with agents that stimulate the production of specific blood cells and/or antibiotics.
MDS patients who are able to tolerate chemotherapy have some treatment options; however, no specific chemotherapy agent has demonstrated a clear survival benefit in MDS.
In 2004 Vidaza became the first agent approved for the treatment of MDS. It works by targeting aspects of DNA expression to ultimately kill cancer cells. Vidaza has demonstrated the ability to reduce or prevent the need for blood transfusions in MDS; however, its effects on survival have not been clearly established.
Researchers from France recently conducted a clinical trial including 358 patients with high-risk MDS. Patients were treated with either Vidaza or standard care, which included chemotherapy or transfusions plus antibiotics and agents to improve immune cell production.
Median overall survival was 24.4 months for patients treated with Vidaza compared with 15 months for those treated with conventional care.
At two years survival was nearly 51% for patients treated with Vidaza compared with 26.2% for those treated with conventional care.
Only 10–13% of patients achieved complete disappearances of detectable cancer.
Significantly more patients treated with Vidaza did not need transfusions compared with those treated with conventional therapy.
The researchers concluded that treatment with Vidaza significantly improves survival compared with conventional therapy in high-risk MDS. The authors stated that Vidaza should be considered initial standard of care for patients with this disease.
Patients with high-risk MDS may wish to speak with their physician regarding their risks and benefits of treatment with Vidaza.
Reference: Fenaux P, et al. Azacitidine (AZA) Treatment Prolongs Overall Survival (OS) in Higher-Risk MDS Patients Compared with Conventional Care Regimens (CCR): Results of the AZA-001 Phase III Study. Proceedings from the American Society of Hematology 49th Annual Meeting and Exposition.. Presented December 11, 2007. Abstract 817.