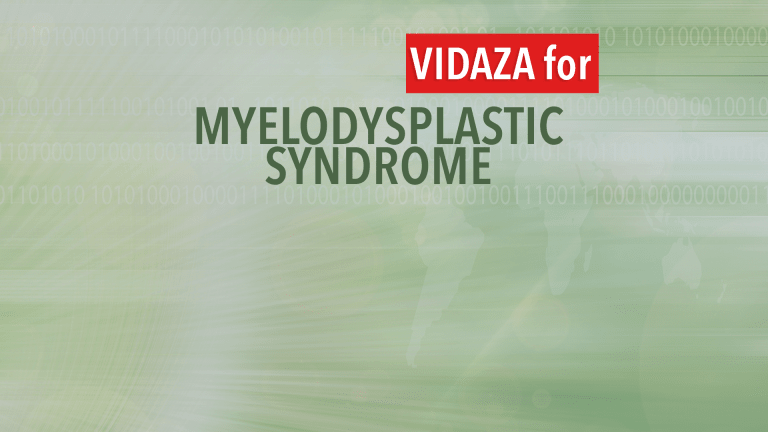 Vidaza® Approved for High-risk MDS
Vidaza® Approved for High-risk MDS
The US Food and Drug Administration (FDA) has approved Vidaza® (azacitadine) for the treatment of high-risk myelodysplastic syndromes. Vidaza is already approved for MDS that is categorized into all five French American British (FAB) subtypes. This information was recently released in a press release by Celgene Corporation.
Myelodysplastic syndromes are a group of blood (hematologic) disorders that are diagnosed in 10,000 to 20,000 individuals annually in the United States. MDS occurs when immature blood cells do not mature properly and cannot perform their intended function. They instead crowd out normal blood cells in the bone marrow, often keeping other cells from performing their intended functions. High-risk MDS refers to MDS that is difficult to treat and has a high risk of recurrence following therapy.
Patients with MDS often have to undergo transfusions to replace their low levels of blood cells. As well, many patients must be treated with agents that stimulate the production of specific blood cells and/or antibiotics.
MDS patients who are able to tolerate chemotherapy have some treatment options; however, no specific chemotherapy agent has demonstrated a clear survival benefit in MDS.
In 2004 Vidaza became the first agent approved for the treatment of MDS. It works by targeting aspects of DNA expression to ultimately kill cancer cells. Vidaza has demonstrated the ability to reduce or prevent the need for blood transfusions in MDS and has recently demonstrated the ability to prolong survival in higher-risk patients with MDS.
Patients with higher-risk MDS may wish to speak with their physician regarding their individual risks and benefits of all available therapeutic options, including Vidaza.
**Reference:**Celgene Corporation.VIDAZA(R) Receives Expanded FDA Approval to Include Overall Survival in Higher-Risk MDS [press release]. Available at: ir.celgene.com/phoenix.zhtml?c=111960&p=irol-newsArticle&ID=1189296&highlight=. Accessed August 21, 2008.