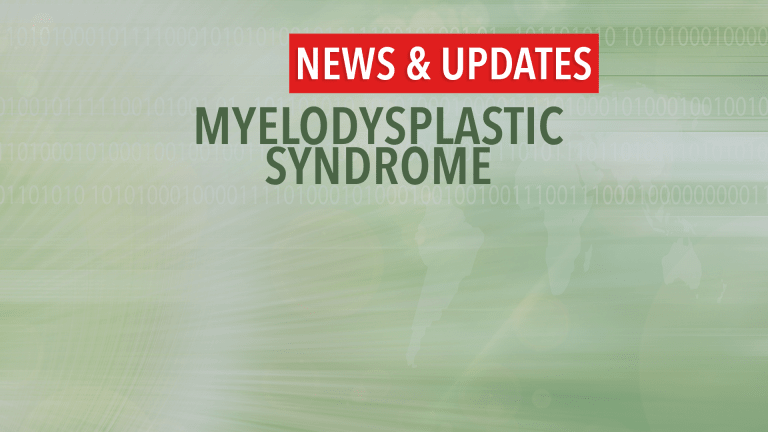 Stem Cell Transplant - Successful Treatment for Myelodysplastic Syndromes
Stem Cell Transplant May Be Successful for Older Persons with Myelodysplastic Syndromes
by Dr. C.H. Weaver M.D. updated 12/2020
A procedure called a stem cell transplantation has been known to be a curative option for a significant number of young persons with myelodysplastic syndrome, a condition that develops into leukemia for many years. Because a stem cell transplantation (SCT) carries with it substantial risks, older persons, who are more likely to suffer life-threatening complications after such a procedure, often do not pursue this treatment option. Rsearchers at Fred Hutchinson Cancer Research Center previously reported that a SCT can be successful in a number of older persons with myelodysplastic syndromes and this week according to the results of an analyses released at the 62nd American Society of Hematology (ASH) Annual Meeting and Exposition Allogeneic hematopoietic stem cell transplantation (HSCT) should be offered to all patients with high-risk MDS who are aged 50 to 75 years and for whom a suitable donor can be identified. This conclusion was based on findings of a multi-center, biologic assignment trial in older persons with high-risk MDS conducted by the Blood and Marrow Transplant Clinical Trials Network.
About MDS
MDS is a family of diseases in which the bone marrow produces an insufficient supply of healthy blood cells. Treatments vary depending on the specific type of MDS a patient has; donor stem cell transplants have generally been used for patients with a high risk of mortality with standard treatments.
Pivotal Trial Confirms Benefit
In the 2020 trial results released at ASH eligible patients aged 50 to 75 years with higher-risk de novo MDS (IPSS Intermediate-2 [Int-2] or High) who were candidates for reduced-intensity conditioning (RIC) allogeneic HSCT were enrolled in a trial comparing HSCT to no HSCT. Overall, 384 participants were enrolled. Patient and disease characteristics were well balanced between patients receiving and not receiving the HSCT.
Survival was significantly higher for patients treated with HSCT. Overall 48% of patients treated with HSCT were alive 3 years from treatment compared to 27% of those not able to find a suitable donor for HSCT. The researchers concluded that for patients with higher risk MDS aged 50 to 75 years, finding a suitable donor for transplantation is associated with a marked survival advantage, even in those above the age of 65. Accordingly, transplantation should be included as an integral part of MDS management, with early referral to a transplant center for evaluation, and to begin a donor search.
Genetic Profiling can Guide Stem Cell Transplantation
A single blood test and basic information about a patient's medical status can indicate which patients with myelodysplastic syndrome (MDS) are likely to benefit from a stem cell transplant, and the intensity of pre-transplant chemotherapy and/or radiation therapy that is likely to produce the best results, according to new research by scientists at Dana-Farber Cancer Institute and Brigham and Women's Hospital.
In a study published in the New England Journal of Medicine, the investigators report that genetically profiling a patient's blood cells, while factoring in a patient's age and other factors, can predict the patient's response to a stem cell transplant and help doctors select the most effective combination of pre-transplant therapies. The findings are based on an analysis of blood samples from 1,514 patients with MDS, ranging in age from six months to more than 70 years, performed in collaboration with investigators from the Center for Blood and Marrow Transplant Research.
"Although donor stem cell transplantation is the only curative therapy for MDS, many patients die after transplantation, largely due to relapse of the disease or complications relating to the transplant itself," said the study's lead author. "As physicians, one of our major challenges is to be able to predict which patients are most likely to benefit from a transplant. Improving our ability to identify patients who are most likely to have a relapse or to experience life-threatening complications from a transplant could lead to better pre-transplant therapies and strategies for preventing relapse."
Researchers have long known that the specific genetic mutations within MDS patients' blood cells are closely related to the course the disease takes. The current study sought to discover whether mutations also can be used to predict how patients will fare following a donor stem cell transplant.
Analysis of the data showed that the single most important characteristic of a patient's MDS was whether their blood cells carried a mutation in the gene TP53. These patients tended to survive for a shorter time after a transplant, and also relapse more quickly, than patients whose cells lacked that mutation. This was true whether patients received standard "conditioning" therapy (which includes chemo- and/or radiation therapy) prior to transplant or received reduced-intensity conditioning, which uses lower doses of these therapies. Based on these results, doctors at Dana-Farber are now working on new strategies to overcome the challenges posed by TP53 mutations in MDS.
In patients 40 years old and over whose MDS didn't carry TP53 mutations, those with mutations in RAS pathway genes or the JAK2 gene tended to have a shorter survival than those without RAS or JAK2mutations. In contrast to TP53 mutations, the adverse effect of RAS mutations on survival and risk of relapse was evident only in reduced-intensity conditioning. This suggests that these patients may benefit from higher intensity conditioning regimens, the researchers indicated.
The study also yielded key insights about the biology of MDS in specific groups of patients. Surprisingly, one in 25 patients with MDS between the ages of 18 and 40 were found to have mutations associated with Shwachman-Diamond syndrome (a rare inherited disorder that often affects the bone marrow, pancreas, and skeletal system), but most of them had not previously been diagnosed with it. In each case, the patients' blood cells had acquired a TP53 mutation, suggesting not only how MDS develops in patients with Schwachman-Diamond syndrome but also what underlies their poor prognosis after transplantation.
The researchers also analyzed patients whose MDS arose as a result of previous cancer therapy (therapy-related MDS). They found that TP53 mutations and mutations in PPM1D, a gene that regulates TP53function, were far more common in these patients than in those whose disease occurred in the absence of previous cancer treatment.
"In deciding whether a stem cell transplant is appropriate for a patient with MDS, it's always necessary to balance the potential benefit with the risk of complications," Lindsley remarked. "Our findings offer physicians a guide – based on the genetic profile of the disease and certain clinical factors – to identifying patients for whom a transplant is appropriate, and the intensity of treatment most likely to be effective."4
Reduced Intensity Transplants
Hematopoietic Stem Cell Transplant (SCT) is a standard and potentially curative treatment for individuals with MDS or acute myeloid leukemia (AML). Historically only high dose myeloablative treatment regimens were utilized since they were thought necessary to eradicate the malignant cells in the bone marrow. In recent years, SCT physicians have increasingly used reduced intensity treatment regimens with the goal of reducing side effects and offering the treatment to the more side effect prone older patients with MDS or AML.
Research now suggests that patients receive greater benefit from the more intensive treatment than the reduced intensity regimens. The recent report compares the survival and relapse rates, treatment-related mortality, graft-versus-host disease (GVHD), and quality of life 18 months after treatment with either a reduced-intensity or myeloablative conditioning regimen for patients with MDS or AML. The researchers had planned to enroll 356 patients in the trial, but the study was stopped early when half the patients had been enrolled because the independent data safety monitoring committee saw a clear benefit for the myeloablative strategy.
As expected, acute GVHD in the first 100 days after transplant was lower for reduced-intensity conditioning (31.6% versus 44.7%) as was treatment-related mortality (4.4% versus 15.8%) compared to myeloablative. Overall, however, by 18 months after treatment only 67.7% of patients treated with reduced-intensity regimens survived compared with 77.4% of those receiving myeloablative regimens. The relapse rate for reduced-intensity patients was 48.3% compared with only 13.5% for those getting the myeloablative regimens.
The authors of the study concluded that myeloablative conditioning remains the treatment of choice to prepare patients with MDS or AML for treatment with SCT. Research efforts are ongoing to improve the effectiveness of reduced intensity regimens and reduce the side effects associated with myeloablative treatments. Patients considering SCT should carefully discuss the potential benefits and risk of both transplant approaches with their treating physician as various factors including age and condition of the patient can influence regimen selection.5
What About Patients with Secondary or Treatment Induced MDS?
Researchers from the European Bone Marrow Transplantation Registry evaluated HSCT in 70 persons who had myelodysplastic syndrome or leukemia as the result of previous treatment for cancer. Forty-seven percent of the patients had received both chemotherapy and radiation therapy, and 27% had progression of disease from myelodysplastic syndrome to acute leukemia. All patients were treated with an allogeneic HSCT with some stem cell donors being related and some being unrelated to the patient. The results showed that 23% survived free of cancer. The treatment outcomes did not differ with regard to whether the donor was related to the patient or not. These findings suggest that an allogeneic stem cell transplant offers some persons with treatment-related myelodysplastic syndrome or leukemia a chance for cure.
Earlier FHCRC Results
Researchers at the Fred Hutchinson Cancer Research Center treated 50 patients, 55 years of age and older, with high-dose chemotherapy and total-body radiation therapy, followed by an allogeneic or syngeneic stem cell transplantation. The stem cells were obtained from the bone marrow of identical twins or other family members for 44 patients, and of unrelated donors for 6 patients. All patients initially received high-dose chemotherapy with cyclophosphamide as well as total-body radiation therapy. Patients later received additional chemotherapy with cyclophosphamide and busulfan. They then underwent the SCT procedure.
Results showed the overall survival rate at 35%, with 8% of patients dying in the first 3 weeks of complications related to the SCT. However, a more favorable outcome was found for a certain group of patients. Those persons with additional cell abnormalities had a greater chance of relapsing, while those without the additional abnormalities did better. Those without additional cell abnormalities, and therefore at lowest risk for relapse, had a 100% survival rate after the SCT. Those at intermediate and high risk had survival rates ranging from 30 to 54%. The researchers also speculated that improvements occurred over time for some persons because of the addition of busulfan later in the treatment regimen. They also suggested that adjusting the levels of busulfan in the blood during the cyclophosphamide/busulfan regimen may have improved the treatment outcomes.
Persons who have a myelodysplastic syndrome should be evaluated at a cancer center with expertise in the use of high-dose chemotherapy and SCT.
References:
Blood, Vol 95, No 4, pp 1188-1194, 2000
Nakamura R, Saber W, Martens MJ, et al. A multi-center biologic assignment trial comparing reduced intensity allogeneic hematopoietic cell transplantation to hypomethylating therapy or best supportive care in patients aged 50-75 with advanced myelodysplastic syndrome: blood and marrow transplant. Presented at: American Society of Hematology (ASH) 62nd Annual Meeting and Exposition; December 5-8, 2020. Abstract 75.
Journal of Clinical Oncology, Vol 18, No 5, pp 963-971, 2000
Scott B, Pasquini M, Logan B, et al. "Results of a phase III randomized, multi-center study of allogeneic stem cell transplantation after high versus reduced intensity conditioning in patients with myelodysplastic syndrome (MDS) or acute myeloid leukemia (AML): Blood and marrow transplant clinical trials network (BMT CTN) 0901". American Society of Hematology. ASH 2015; Abstract LBA-8.