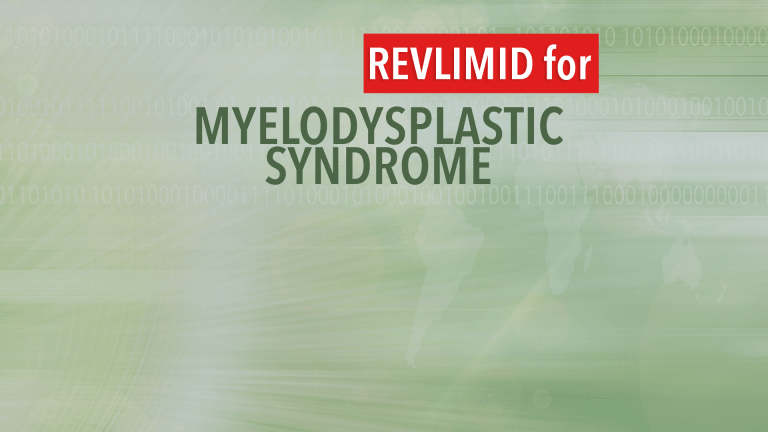 Revlimid® Reduces Need for Blood Transfusions in Some Myelodysplastic Syndromes
Revlimid® Reduces Need for Blood Transfusions in Some Myelodysplastic Syndromes
The agent Revlimid (lenalidomide) reduces the need for blood transfusions among patients with lower-risk, non-del (5q) myelodysplastic syndromes who are dependent upon red blood cell transfusions, but are not eligible for erythropoiesis-stimulating agents. These results were recently published in the Journal of Clinical Oncology.
Myelodysplastic syndromes (MDS) refer to a group of diseases in which too many immature blood cells are produced in a patient's bone marrow. The blood cells, which can be either red blood cells, white blood cells, or platelets, tend to remain in an immature state and therefore, are not able to carry out their intended functions.
Treatment for MDS varies greatly, from supportive care measures, to aggressive stem cell transplants. The differences in treatment choices are dependent upon several disease and patient variables.
Among patients with MDS whose red blood cells (RBCs) are not properly maturing, agents referred to as erythropoiesis-stimulating agents might be used (which stimulate the production of RBCs) and/or RBC transfusions may be used to maintain normal levels of these cells in the body. RBC transfusions are procedures in which donated RBCs are infused into the patient at scheduled intervals, depending upon the severity of the patients RBC levels.
Some patients with MDS, however, have demonstrated significant improvements with the use of lenalidomide in maintaining functional levels of RBCs. Lenalidomide is currently approved by the United States Food and Drug Administration (FDA) for the treatment of some types of multiple myeloma, MDS, and mantle cell lymphoma. It is thought to produce its effects through stimulation of the immune system to attack the abnormal blood cells, as well as reduce blood vessel development to the sites of the cancer thereby reducing nourishment to the cancer cells. Clinical trials are ongoing to help researchers explore optimal utilization of lenalidomide for the treatment of different diseases.

Researchers recently conducted a phase III, international clinical trial to evaluate the effectiveness of lenalidomide among patients with MDS that was dependent upon RBC transfusions for maintenance of adequate RBC levels. Patients had lower-risk, non-del (5q) MDS; were dependent upon RBC transfusions; and were not eligible for, or did not respond to, erythropoiesis-stimulating agents.
The trial included 239 patients who were treated with either lenalidomide, or placebo.
Nearly 27% of patients treated with lenalidomide did not require an RBC transfusion for at least 8 weeks, compared with only 2.5% of patients who received placebo.
The median duration of time that responding patients did not require an RBC transfusion was nearly 31 weeks.
Among patients who ultimately responded to treatment with lenalidomide, 90% responded within 16 weeks of treatment.
On assessment at 112 days from initiation of treatment, patients treated lenalidomide required less RBCs on their infusion than those who received placebo.
Patients who did not require an RBC transfusion for at least 8 weeks reported a significant improvement in health quality of life (HRQoL) measures.
The most common side effects associated with treatment with lenalidomide were low levels of white blood cells and platelets.
The researchers concluded that "Lenalidomide yields sustained [eliminating the need for RBC transfusions] in 26.9% of RBC transfusion–dependent patients with lower-risk non-del(5q) myelodysplastic syndromes ineligible for or refractory to erythropoiesis-stimulating agents. Response to lenalidomide was associated with improved HRQoL. Treatment-emergent adverse event data were consistent with the known safety profile of lenalidomide."
Patients with MDS who require RBC transfusions may wish to speak with their physician regarding their individual risks, benefits, and eligibility for treatment with lenalidomide.
Reference: Santini V, Almeida A, Giagounidis A, et al. Randomized phase III study of lenalidomide versus placebo in RBC transfusion-dependent patients with lower-risk non-del(5q) myelodysplastic syndromes and ineligible for or refractory to erythropoiesis-stimulating agents. Journal of Clinical Oncology. 2016; 34 (25): 2988-2996.  doi: 10.1200/JCO.2015.66.0118. Available here. Accessed August 29, 2016.