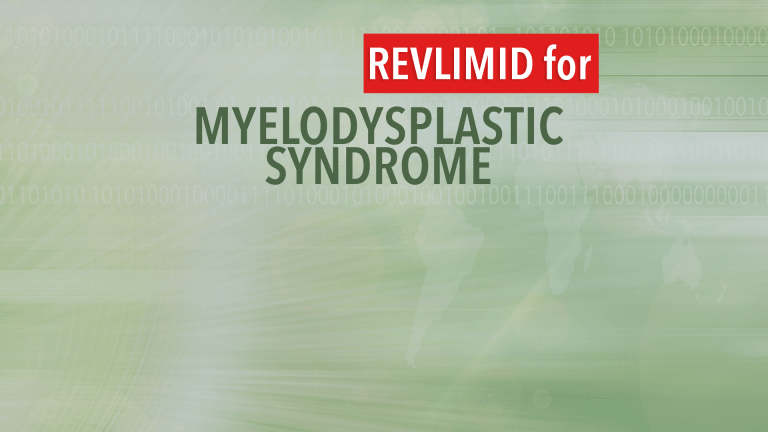 Revlimid® Effective for Patients with Myelodysplastic Syndromes with Deletion
Revlimid® Effective for Patients with Myelodysplastic Syndromes with 5q31 Deletion
According to an article recently published in the New England Journal of Medicine, the agent Revlimid® (lenalidomide) is effective for the treatment of patients with myelodysplastic syndromes (MDS) with the 5q31 deletion.
Myelodysplastic syndromes are a group of blood (hematologic) disorders that are diagnosed in 10,000 to 20,000 individuals annually in the U.S. MDS occurs when immature blood cells do not mature properly and cannot perform their intended function. They instead crowd out normal blood cells in the bone marrow, often inhibiting other cells from performing their intended functions.
MDS can also develop into an aggressive form of leukemia-acute myeloid leukemia (AML). Preventing or delaying MDS from developing into AML is an important consideration because long-term survival for AML is not favorable.
The different classifications of MDS range from low-risk to high-risk. Low-risk patients often have less aggressive disease, which may be managed with blood transfusions (referred to as transfusion-dependent); this requires the infusion of a donor's red blood cells (cells that deliver oxygen throughout the body) or infusion of a donor's platelets (cells that help the blood to clot appropriately). High-risk patients may need more aggressive management of their disease. Researchers take into account specific genetic abnormalities, such as a 5q31 deletion, when considering treatment for MDS.
Researchers from the Myelodysplastic Syndrome-003 Study Investigators recently conducted a clinical trial to evaluate the agent Revlimid in the treatment of patients with MDS and the 5q31 deletion. These patients were required to have blood cell transfusions prior to treatment with Revlimid. Following treatment with Revlimid:
67% of patients no longer required the use of blood cell transfusions;
76% of patients overall had a reduced need for blood cell transfusions;
The response to Revlimid occurred in approximately five weeks; and
Nearly two-thirds of the patients had an improvement in their genetic abnormalities.
Low levels of immune cells and platelets were the most common side effects of Revlimid.
The researchers concluded that Revlimid can significantly reduce the need for blood cell transfusions and improve genetic abnormalities among MDS patients with the 5q31 deletion who require blood transfusions. Patients with this type of MDS may wish to speak with their physician about their individual risks and benefits of treatment with Revlimid.
Reference: List A, Dewald G, Bennett J, et al. Lenalidomide in the Myelodysplastic Syndrome with Chromosome 5q Deletion. New EnglandJournal of Medicine . 2006; 355:1456-1465.