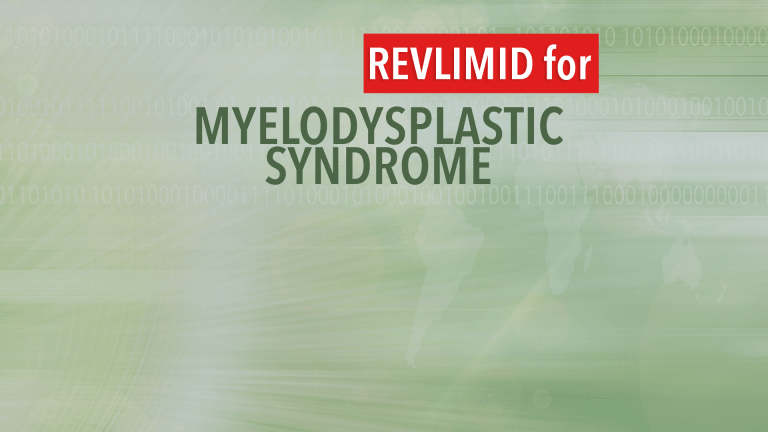 Revlimid™ Effective for Low-Risk Myelodysplastic Syndromes
Revlimid™ Effective for Low-Risk Myelodysplastic Syndromes
According to a recent article published in the New England Journal of Medicine, the agent Revlimid™ (lenalidomide, CC5013) appears to be effective treatment in patients with myelodysplastic syndromes.
MDS is a disease in which the cells in a person's bone marrow are not functioning normally. The bone marrow (and circulating blood) contains early blood-forming cells called stem cells, which grow and mature into the 3 blood cell types: white blood cells, which protect the body from infection; red blood cells, which carry oxygen to the tissues; and platelets, which help the blood to clot. In the case of MDS, not enough normal blood cells are being produced and/or the blood cells die prematurely. This condition is sometimes referred to as a pre-leukemia or "smoldering" leukemia because it often develops into acute myeloid leukemia, an aggressive type of cancer. Some patients with MDS are at an increased risk of developing acute leukemia and are referred to as "high-risk". Other patients with MDS are at a low risk of developing acute leukemia and are referred to as "low-risk". Risk factors include genetic abnormalities of the blood cells, a high number of immature blood cells (called blasts) in the bone marrow, or decreasing numbers of red blood cells, white blood cells, or platelets. There are five different stages, or extent, of MDS that include (in order of disease progression) refractory anemia, refractory anemia with ringed sideroblasts, refractory anemia with excess blasts, refractory anemia with excess blasts in transition, and chronic myelomonocytic leukemia. Patients often have to undergo blood transfusions because their levels of blood cells become too low. These patients are referred to as "transfusion-dependent".
Standard treatment for MDS can include a range of therapies, from observation and supportive care to an aggressive stem cell transplant, depending upon whether a patient is considered to be high or low risk, as well as the medical condition and age of the patient. However, there has not been an FDA-approved therapy specifically for MDS until Vidaza™. Several agents, including Revlimid™ are being evaluated in clinical trials for the treatment of MDS. Revlimid™ is an agent that prevents the growth of arteries and capillaries that carry nutrients to cancer cells. The deprivation of nutrients to cancer cells halts the progression and growth of cancer cells.
Researchers recently conducted a multi-institution trial that evaluated Revlimid™ in the treatment of MDS. This trial included 43 patients, 38 of whom were considered low- or intermediate-risk. Thirty-three patients had not responded to, or had stopped responding to prior treatment with erythropoietin or thalidomide. Anti-cancer responses following treatment with Revlimid™ were achieved in 68% of patients with low-risk MDS, in 50% of patients with intermediate-risk MDS, and in 20% of patients with high-risk MDS. Over half of the patients who were transfusion-dependent did not have to receive transfusions after treatment with Revlimid™. At 81 weeks of follow-up, the average duration of anti-cancer resonses had not yet been reached. Treatment with Revlimid™ was generally well tolerated.

The researchers concluded that Revlimid™ appears to be an effective treatment option in patients with MDS, even for those who do not respond to standard treatment options. Patients with MDS may wish to discuss their individual risks and benefits of participating in a clinical trial further evaluating Revlimid™. Sources of information regarding ongoing clinical trials include the National Cancer Institute (cancer.gov). Personalized clinical trial searches are also performed on behalf of patients. There are good prospects of Revlimid™ being approved by the FDA in the near future.
Reference: List A, Kurtin S, Roe DJ, et al. Efficacy of lenalidomide in myelodysplastic syndromes. New England Journal of Medicine. 2005;352:549-557.