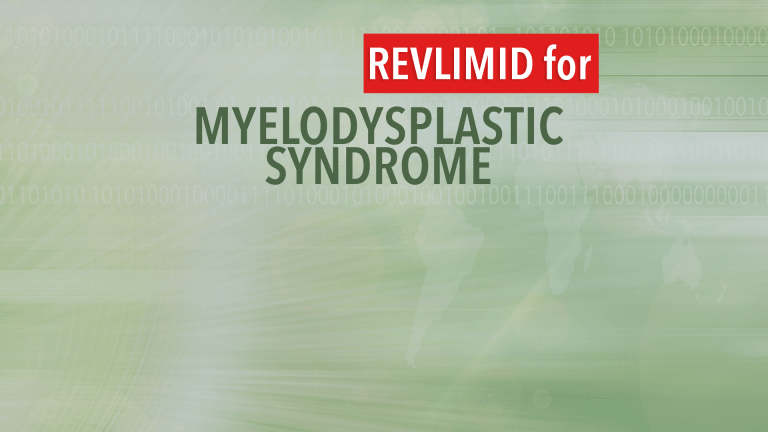 Revlimid® Approved for Myelodysplastic Syndromes
Revlimid® Approved for Myelodysplastic Syndromes
The U.S. Food and Drug Administration (FDA) has approved Revlimid® (lenalidomide) for the treatment of patients with myelodysplastic syndromes (MDS). The indication for the approval includes patients who are considered transfusion-dependent with low or intermediate-1 risk MDS that has a deletion 5q cytogenetic abnormality.
Myelodysplastic syndromes are a group of blood (hematologic) disorders that are diagnosed in 10,000–20,000 individuals annually in the U.S. MDS occurs when immature blood cells do not mature properly. Consequently, these blood cells are never able to perform their intended function; they crowd out normal blood cells in the bone marrow, often inhibiting other cells from performing their intended functions.
The different classifications of MDS range from low-risk to high-risk. Low-risk patients often have less aggressive disease and may be managed with blood transfusions (referred to as transfusion-dependent) or agents that stimulate red blood cell growth, such as Aranesp®. High-risk patients may need more aggressive management for treatment of their disease.
There are also several genetic abnormalities associated with MDS, including a fairly common abnormality referred to as the deletion 5q (del 5q) abnormality. Approximately 20%–30% of patients diagnosed with MDS have del5q MDS.
Revlimid is an immunomodulatory drug (IMiDs). It provides anticancer activity through several biological pathways, making it difficult for cancer cells to spread and grow.
The clinical trial prompting FDA approval of Revlimid included 148 patients diagnosed with del 5q MDS. Patients who were treated with Revlimid required significantly fewer blood transfusions to treat anemia. Furthermore, Revlimid is a generally well tolerated agent.
Patients who have been diagnosed with low or intermediate-1 risk MDS associated with the del 5q abnormality who are transfusion dependent may wish to speak with their physician regarding their individual risks and benefits of treatment with Revlimid.
Reference: Celgene Corporation. FDA Grants REVLIMID(R) NDA Approval. Available at: ir.celgene.com/phoenix.zhtml?c=111960&p=irol-newsArticle&ID=799116&highlight=. Accessed December 2005.