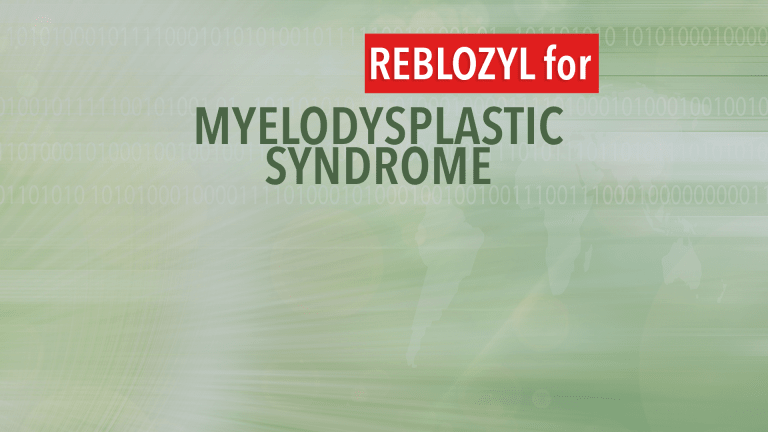 Reblozyl® Approved to Treat Anemia for Lower-Risk Myelodysplastic Syndromes
Reblozyl regulates late-stage red blood cell maturation to relieve patients from the burden of regular RBC transfusions
by Dr. C.H. Weaver M.D. 4/2020
The U.S. Food and Drug Administration (FDA) has approved Reblozyl® (luspatercept-aamt), the first and only erythroid maturation agent (EMA), for the treatment of anemia failing an erythropoiesis stimulating agent and requiring 2 or more red blood cell (RBC) units over 8 weeks in adult patients with very low- to intermediate-risk myelodysplastic syndromes with ring sideroblasts (MDS-RS) or with myelodysplastic/myeloproliferative neoplasm with ring sideroblasts and thrombocytosis (MDS/MPN-RS-T).(1)
About MDS
Myelodysplastic syndromes (MDS) are a group of closely related blood cancers characterized by ineffective production of healthy red blood cells, white blood cells and platelets, which can lead to anemia and frequent or severe infections. (2) People with MDS who develop anemia often require regular blood transfusions to increase the number of healthy red blood cells in circulation. Frequent transfusions are associated with an increased risk of iron overload, transfusion reactions and infections.
About Reblozyl® (luspatercept-aamt)
Reblozyl is an erythroid maturation agent which promotes late-stage red blood cell maturation.
The approval of Reblozyl was based on the findings of MEDALIST clinical trial, which evaluated Reblozyl in RBC transfusion dependent patients with very low-, low- and intermediate-risk non-del(5q) myelodysplastic syndrome with ring sideroblasts who were either refractory or intolerant to prior erythropoiesis-stimulating agent (ESA) therapy or were ESA naïve and unlikely to respond due to endogenous serum erythropoietin ≥200 U/L, and had no prior treatment with disease modifying agents.
A significantly greater proportion of patients achieved independence from RBC transfusions for at least eight weeks and at least 12 weeks of independence from transfusions within the first 24 and 48 weeks of the study.
References:
A Phase 3, Double-blind, Randomized Study to Compare the Efficacy and Safety of Luspatercept (ACE-536) Versus Placebo for the Treatment of Anemia Due to the IPSS-R Very Low, Low, or Intermediate Risk Myelodysplastic Syndromes in Subjects With Ring Sideroblasts Who Require Red Blood Cell Transfusions. Available at . Accessed February 2020.