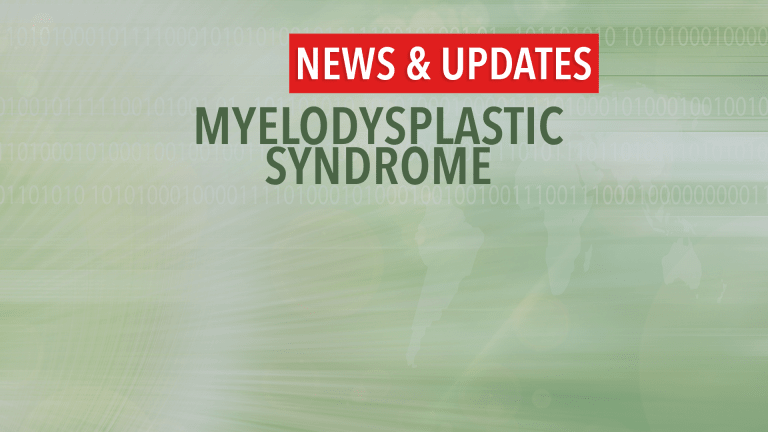 Guadecitabine Treatment for Myelodysplastic Syndromes
Guadecitabine hypomethylating agent shows promise for intermediate-, high-risk myelodysplastic syndrome
by Dr. C.H. Weaver M.D. 7/2019
Guadecitabine demonstrated clinical activity with acceptable toxicity among patients with intermediate- and high-risk myelodysplastic syndrome, according to randomized phase 2 clinical trial result published in TheLancet Haematology.
Myelodysplastic syndrome remains a challenging chronic myeloid disease associated with significant morbidity initially resulting from progressive low blood counts and their resulting complications, and ultimately progression to Acute Myeloid Leukemia.
About Guadecitabine (SGI-110)
Guadecitabine is a second-generation hypomethylating agent whose active metabolite is Dacogen (decitabine) but which is more resistant than direct decitabine (given IV) to degradation by cytidine deaminase. Guadecitabine is administered subcutaneously and slowly releases its active decitabine metabolite resulting in prolonged exposure time.
The Lancet article reported on the outcomes of 105 patients with intermediate- or high-risk myelodysplastic syndromes or chronic myelomonocytic leukemia who were treated with one of two doses of guadecitabine. Patients had either not been treated previously with a hypomethylating agent or had relapsed or refractory disease after receiving a hypomethylating agent.
Patients on the trial have now been followed an average of 3.2 years and 47% of individuals responded to treatment. Overall 51% of treatment naïve and 43% of individuals with relapsed or refractory disease responded to therapy with guadecitabine.
The lower-dose and higher-dose groups had similar rates of complete response (11% vs. 14%), however more patients in the higher-dose group had a marrow complete response compared with the lower-dose group (33% vs. 11%).
Fifteen of the 58 blood cell transfusion dependent patients became transfusion-independent for at least 8 weeks, and nine remained transfusion-independent for at least 16 weeks. The average survival duration was 611 days for the 90 mg/m² group and 703 days among hypomethylating agent treatment-naive patients.
Guadecitabine appears to be a potentially important new treatment option for patients with myelodysplastic syndromes who have failed a hypomethylating agent, and those benefits might extend to patients with myeloproliferative neoplasm-myelodysplastic syndrome overlap or even myelofibrosis.
Whether guadecitabine should be considered as frontline therapy ahead of commercially available hypomethylating agents would require a randomized trial, however, the results from this trial would suggest at least equivalent — if not superior results
References:
[Adés L, et al. Lancet Haematol. 2019;doi:10.1016/S2352-3026(19)30079-1](https://www.thelancet.com/journals/lanhae/article/PIIS2352-3026(19%2930079-1/fulltext).
[Garcia-Manero G, et al. Lancet Haematol. 2019;doi:10.1016/S2352-3026(19)30029-8](https://www.thelancet.com/journals/lanhae/article/PIIS2352-3026(19%2930029-8/fulltext).