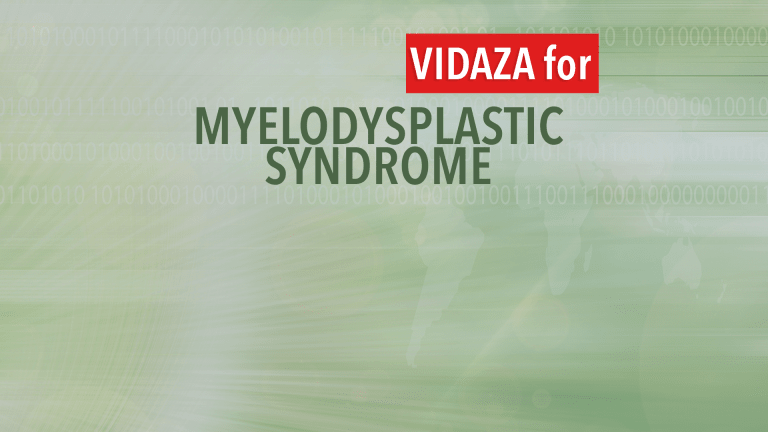 Further Evidence that Vidaza® Reduces Need for Transfusions in MDS
Further Evidence that Vidaza® Reduces Need for Transfusions in Myelodysplastic Syndromes
According to results recently presented at the 42nd annual meeting of the American Society of Clinical Oncology (ASCO), further evaluation of data demonstrates that the agent Vidaza® (azacitadine) reduces the need for red blood cell and platelet transfusions in a significant portion of patients with myelodysplastic syndromes (MDS).
Myelodysplastic syndromes are a group of blood (hematologic) disorders that are diagnosed in 10,000 to 20,000 individuals annually in the U.S. MDS occurs when immature blood cells do not mature properly and are never able to perform their intended function. They instead crowd out normal blood cells in the bone marrow, often inhibiting other cells from performing their intended functions.
MDS can also develop into an aggressive form of leukemia, acute myelogenous leukemia (AML). Preventing or delaying the development of MDS into AML is an important consideration since long-term survival for AML is not favorable.
The different classifications of MDS range from low-risk to high-risk. Low-risk patients often have less aggressive disease that may be managed with blood transfusions (referred to as transfusion-dependent), which require the infusion of a donor's red blood cells (cells that deliver oxygen throughout the body) or infusion of a donor's platelets (cells that help the blood to clot appropriately). High-risk patients may need more aggressive management of their disease.
Since blood transfusions are time consuming, require medical resources, increase medical costs, and are associated with the potential of infection, pain, and other reactions, reducing or preventing the need for transfusions in patients with MDS is a major consideration.
Vidaza is the first ever agent to be approved for the treatment of MDS. Vidaza has previously demonstrated a reduction in the need for transfusions among patients with MDS. However, researchers wanted to further evaluate the effectiveness of Vidaza by studying data from three large clinical trials in which patients with MDS were treated with Vidaza.
The data included a total of 268 patients who were involved in Cancer and Leukemia Group B (CALGB) studies, all of whom were transfusion dependent prior to treatment with Vidaza. "Transfusion independent" in this analysis referred to patients who did not require a transfusion for at least 56 days.
Among patients who were treated with the recommended subcutaneous administration of Vidaza, between 36% and 53% became red blood cell transfusion independent.
Among patients treated with subcutaneous administration of Vidaza, 45%-69% became platelet transfusion independent.
The median duration of transfusion independence over all three studies was approximately 5–8.4 months for red blood cell transfusions and approximately 4–9.5 months for platelet transfusions.
The researchers concluded that further data evaluation has added evidence supporting the use of Vidaza among patients with transfusion-dependent MDS. Treatment with Vidaza allows a significant portion of patients to not require red blood cell or platelet transfusions. Patients with transfusion-dependent MDS may wish to speak with their physician regarding their individual risks and benefits of treatment with Vidaza.
Reference: Silverman L, Peterson, Holland J, et al. Transfusion Independencein Patients with Myelodysplastic Syndromes Treated with Azacitidine. Proceedings from the 42nd annual meeting of the American Society of Clinical Oncology. June 2006. Abstract #6576.