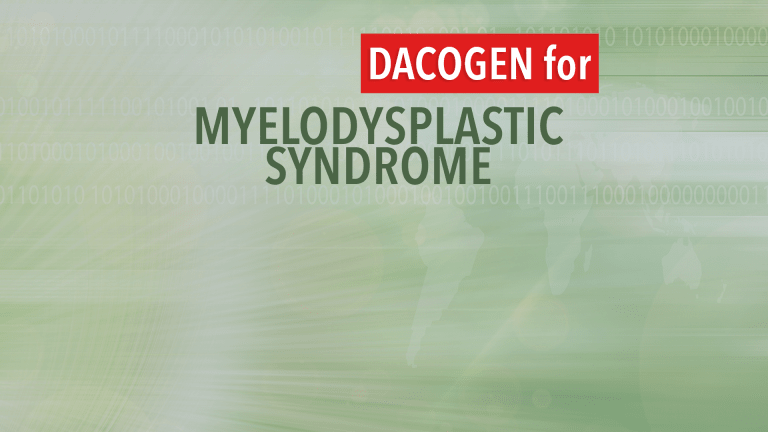 Dacogen™ Effective in Myelodysplastic Syndromes
Dacogen™ can be used as single drug or in combination for the treatment of Myelodysplastic Syndromes including CMML.
by Dr. C.H. Weaver M.D. updated 6/2022
Dacogen™ (decitabine) provides promising anti-cancer activity in the treatment of myelodysplastic syndromes including chronic myelomonocytic leukemia.1-4
About Myelodysplastic Syndromes (MDS)
MDS is a disease in which the cells in a person's bone marrow are not functioning normally. The bone marrow (and circulating blood) contains early blood-forming cells called stem cells, which grow and mature into the 3 blood cell types: white blood cells, which protect the body from infection; red blood cells, which carry oxygen to the tissues; and platelets, which help the blood to clot. In the case of MDS, not enough normal blood cells are being produced and/or the blood cells die prematurely. This condition is sometimes referred to as a pre-leukemia or "smoldering" leukemia because it often develops into acute myeloid leukemia (AML), an aggressive type of cancer. Some patients with MDS also have additional abnormalities, including genetic abnormalities of the blood cells, a high number of immature blood cells (called blasts) in the bone marrow, or decreasing numbers of red blood cells, white blood cells, or platelets. These individuals are at a higher risk for a more rapid progression to leukemia than are those who have more favorable cell features.
There are five different stages, or extent, of MDS that include (in order of disease progression) refractory anemia, refractory anemia with ringed sideroblasts, refractory anemia with excess blasts, refractory anemia with excess blasts in transition, and chronic myelomonocytic leukemia.
Standard treatment for MDS can include a range of therapies, from observation and supportive care to stem cell transplant, depending upon the extent or aggressiveness of the disease, as well as the medical condition and age of the patient.
About Dacogen
Dacogen is a DNA "demethylating" agents. Methylation of DNA is a major mechanism that regulates gene expression in cells. When there is an increase in DNA methylation this can result in the blockage of the activity of "suppressor genes" that regulate cell division and growth. When suppressor genes are blocked, cell division becomes unregulated, allowing or promoting cancer.
Decitabine's anticancer effects are believed to be twofold. One way that it works is by demethylation or interfering with the methylation of DNA. By this process of demethylation, normal function to the tumor suppressor genes is restored, thus restoring control over cell growth.
Researchers from the MD Anderson Cancer Center conducted a clinical trial that is the last phase prior to FDA review. Patients in this trial had been diagnosed with MDS and were treated with either Dacogen™ plus supportive care or supportive care alone and all patients were then directly compared.
This trial included 170 patients with MDS; 21% of whom had received prior therapy. Patients were treated with either Dacogen or supportive care consisting of red blood cell transfusions, platelet transfusions, and/or agents to stimulate the growth of red blood cells when necessary.
Dacogen improved outcomes compared to best supportive care:

Overall anticancer responses were achieved in 17% of patients treated with decitabine, compared with 0% in patients treated with supportive care.
Hematologic (blood) improvement occurred in 12% of patients treated with Dacogen, compared with 7% of patients treated with supportive care.
Anticancer responses lasted for a median of 10.3 months.
The median duration of time to the development of AML or death was 12.1 months for patients treated with decitabine versus 7.8 months for those treated with supportive care.
Patients with intermediate or high-risk MDS (higher risk of disease progression) and those with MDS that was not associated with treatment from a previous cancer obtained the greatest benefit.
Survival was improved among patients who achieved responses to decitabine compared to patients who did not respond to decitabine (23.5 months versus 13.7 months, respectively).
Quality of life was reported as greater among patients treated with decitabine versus those treated with supportive care measures.
Severe neutropenia (low levels of immune cells) and thrombocytopenia (low levels of platelets) were common side effects of decitabine.
The researchers concluded that decitabine appears to help delay the progression of MDS to AML, provides long-lasting anticancer responses, and improves quality of life among patients with MDS.2
Dacogne Combinations
The combination of the sintilimab immunotherapy and Dacogen produced and objective response rate of 62% in patients with higher-risk MDS, according to preliminary results from a phase 2 trial presented at the 2022 EHA Congress. Several patients experienced a complete remission in this first study to evaluate the safety and efficacy of anti–PD-1 antibody plus Dacogenin patients with untreated higher-risk MDS.5
Re-Treatment with Dacogen
Researchers have also evaluated the effectiveness of re-treatment with Dacogen™ in patients with MDS. This trial included 22 patients who initially achieved anti-cancer responses to Dacogen™ and experienced a recurrence of cancer. They were re-treated with Dacogen™ at an average of approximately 11 months after their first course of therapy with Dacogen™. Overall, following an average of 3 courses of re-treatment with Dacogen™, overall anti-cancer responses were achieved in 45% of patients.3 The researchers concluded that these interim results indicate that re-treatment with Dacogen™ provides high anti-cancer activity in patients who respond to initial treatment with Dacogen™.
Dacogen in Chronic Myelomonocytic Leukemia
According to an article published in the journal Cancer, Dacogen™ provides significant anticancer activity in the treatment of chronic myelomonocytic leukemia. Chronic myelomonocytic leukemia (CMML) is considered to be a separate clinical entity, but possesses features of both myelodysplastic syndromes (MDS) and myeloproliferative disorders. CMML is a type of leukemia that is characterized by the abnormal production or maturation of immune cells. Patients with CMML ultimately suffer from low levels of red blood cells (anemia), low levels of platelets (which increase risk for bleeding), and an increase in immune cells that do not function properly.
Dacogen provides anticancer activity by disrupting cellular processes so that cancer cells stop growing. Although it is not currently approved for CMML, clinical trials are evaluating its effectiveness for the treatment of various cancers.Researchers from M.D. Anderson recently conducted a clinical trial to evaluate Dacogen in the treatment of CMML. This study included 19 patients with CMML; 14 participants were 60 years of age or older, and the oldest patient was 82 years. Ten of these patients had received no prior chemotherapy.
58% achieved a complete disappearance of detectable cancer.
The median survival was 19 months.
The researchers concluded that Dacogen appears effective in the treatment of CMML. The researchers also stated that Dacogen may be used as therapy prior to an allogeneic stem cell transplant. Patients with CMML may wish to speak with their physician regarding their individual risks and benefits of participation in a clinical trial further evaluating Dacogen or other novel therapeutic agents.4
References:
Issa J-P, et al. First Report of the Phase III North American Trial of Decitabine in Advanced Myelodysplastic Syndrome (MDS). Proceedings from the 2004 annual meeting of the American Society of Hematology. Presented Sunday, December 5, 2004, 4:30 PM. Abstract Number: 67
Kantarjian H, Isaa J-P, Rosenfeld C, et al. Decitabine improves patient outcomes in myelodysplastic syndromes. Cancer. 2006. Early on-line publication. DOI: 10.1002/cncr 21796.
Lübbert M, Wijermans P, Rüter B. Re-Treatment with Low-Dose 5-Aza-2′-Deoxycytidine Decitabine) Results in Second Remissions of Previously Responsive MDS Patients. Proceedings from the 46th annual meeting of the American Society of Hematology. Presented Saturday, December 4, 2004, 6:00 PM. Abstract #1447.
Aribi A, Borthakur G, Ravandi F, et al. Activity of decitabine, a hypomethylating agent, in chronic myelomonocytic leukemia. Cancer. 2007;109:713-717.
Wang J, Li S, Chang Y, et al. Anti–PD-1 antibody (sintilimab) plus decitabine as first-line treatment for patients with higher-risk myelodysplastic syndrome (MDS): preliminary results from a single-arm, open-label, phase II study. Presented at: EHA 2022 Hybrid Congress; June 9-12, 2022; Vienna, Austria. Abstract 7052.