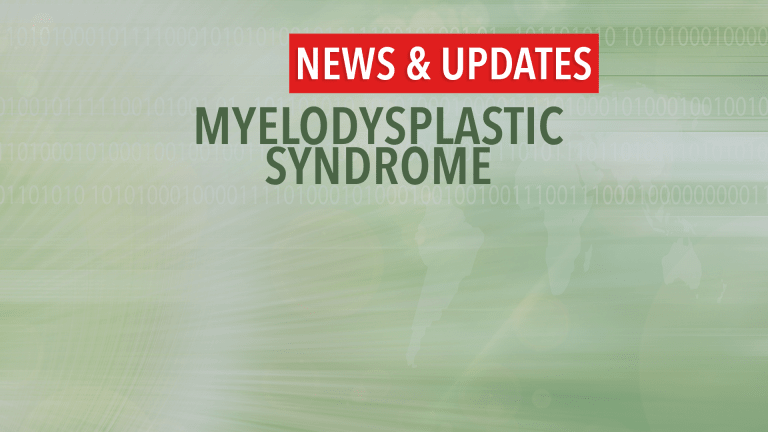 Autologous Stem Cell Transplants Prove Promising in Myelodysplastic Syndromes
Autologous Stem Cell Transplants Prove Promising in Myelodysplastic Syndromes
According to a recent article published in the journal Blood, autologous stem cell transplants appear promising for the treatment of myelodysplastic syndromes or acute myelogenous leukemia secondary to a myelodysplastic syndrome.
A myelodysplastic syndrome is a disease in which the cells in a person's bone marrow are not functioning normally. The bone marrow (and circulating blood) contains early blood-forming cells called
stem cells, which grow and mature into the 3 blood cell types: white blood cells, which protect the body from infection; red blood cells, which carry oxygen to the tissues; and platelets, which help the blood to clot. In the case of myelodysplastic syndromes, not enough normal blood cells are being produced and/or the blood cells die prematurely. This condition is sometimes referred to as a pre-leukemia or "smoldering" leukemia because it often develops into acute myelogenous leukemia.
Historically, it was thought that the only curative option for patients with myelodysplastic syndromes (MDS) was high-dose chemotherapy and an allogeneic stem cell transplant. High-dose chemotherapy (HDC) kills more cancer cells than standard chemotherapy; however, it also causes more damage to the blood cells, particularly those in the bone marrow. A stem cell transplant (SCT) is a procedure that remedies this problem by replacing the stem cells that are destroyed by high-dose chemotherapy with healthy stem cells, thereby allowing more rapid recovery and production of the red blood cells, white blood cells and platelets that the body needs. Autologous SCTs utilize the patient's own stem cells, while allogeneic transplants involve the collection of a donor's stem cells. The donor stem cells also mount an attack against cancer cells, augmenting anti-cancer effects.

Unfortunately, many patients are not able to undergo an allogeneic stem cell transplant due to side effects of the procedure or the absence of an existing matched donor. Therefore, researchers from Europe conducted a multi-center clinical trial to determine the efficacy of an autologous stem cell transplant in patients with MDS or acute myelogenous leukemia (AML) secondary to MDS. Patients were first treated with initial moderate-dose chemotherapy followed by one round of high-dose chemotherapy. After high-dose chemotherapy, patients with a matched donor were treated with an allogeneic transplant and those with no matched donor were treated with an autologous transplant. Four years following transplantation, there was no evidence of cancer in 31% of patients treated with an allogeneic transplant and 27% of patients treated with an autologous transplant. For patients who achieved a complete remission during initial therapy and received a transplant during their remission, 36% of those treated with an allogeneic transplant and 33% of those treated with an autologous transplant had no evidence of cancer 4 years following therapy.
These results are the first indication that treatment with autologous stem cell transplants may achieve long-term survival for patients with MDS or AML secondary to MDS. This trial also reiterates the efficacy of allogeneic stem cell transplants for patients with these diseases. Patients with MDS or AML following MDS with no suitable donor may wish to speak with their physician about the risks and benefits of treatment with an autologous stem cell transplant or the participation in a clinical trial evaluating novel therapeutic approaches. Sources of information regarding ongoing clinical trials include comprehensive, easy-to-use listing services provided by the National Cancer Institute ( cancer.gov). ( Blood, Vol 98, No 8, pp 2326-2331, 2001)