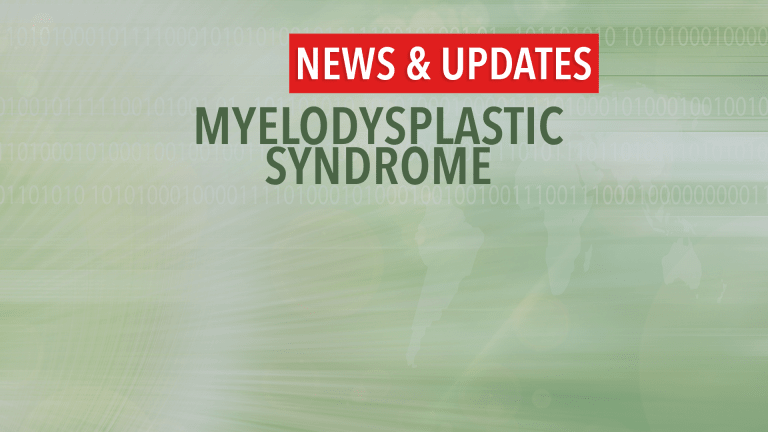 AMG 531 May Be Effective in Treating Thrombocytopenia in Patients with MDS
AMG 531 May Be Effective in Treating Thrombocytopenia in Patients with MDS
According to results recently presented at the 2007 annual meeting of the American Society of Clinical Oncology (ASCO), the investigative agent AMG 531 may reduce the need for platelet transfusions among patients with myelodysplastic syndromes who have thrombocytopenia.
Myelodysplastic syndromes (MDS) are a group of blood (hematologic) disorders that are diagnosed in 10,000 to 20,000 individuals annually in the U.S. MDS occurs when immature blood cells do not mature properly and cannot perform their intended function. They instead crowd out normal blood cells in the bone marrow, often keeping other cells from performing their intended functions.
Specific blood cells that may be impaired in MDS cases are platelets or thrombocytes. These types of cells help blood clot to prevent excessive bleeding. Low levels of thrombocytes results in a condition called thrombocytopenia. Patients with thrombocytopenia may require transfusions of platelets from donors-a procedure associated such disadvantages as medical costs, time, a potential reaction to the donor platelets, and potential infection. In order to avoid these undesirable consequences, researchers have been evaluating ways to stimulate the body to produce platelets and reverse thrombocytopenia among patients with MDS.
AMG 531 is an investigative agent that stimulates the body to produce platelets and thus reduce or reverse thrombocytopenia. Researchers associated with the AMG 531 in Myelodysplastic Syndrome Study Group recently conducted a clinical trial to evaluate AMG 531 among patients with MDS who had thrombocytopenia. This trial included 28 patients, nine of whom had to receive platelet transfusions to reduce thrombocytopenia.
61% of patients had an elevated level of platelets following therapy with AMG 531.
Nearly half of the patients maintained elevated levels of platelets for eight or more weeks.
The researchers concluded that AMG 531 appears to provide promising activity among patients with MDS who have thrombocytopenia. Ultimately, AMG 531 may significantly reduce the need for platelet transfusions and prevent bleeding in this group of patients. Future clinical trials are planned to further evaluate AMG 531 in this setting. Patients with MDS who have thrombocytopenia may wish to speak with their physician regarding their individual risks and benefits of participating in a clinical trial further evaluating AMG 531 or other novel therapeutic approaches. Sources of information regarding ongoing clinical trials include the National Cancer Institute (cancer.gov).
Reference: Kantarjian HM, Giles FJ, Fenauz P, et al. Evaluating safety and efficacy of AMG 531 for the treatment of thrombocytopenic patients with myelodysplastic syndrome (MDS): Preliminary results of a Phase 1-2 study. Proceedings from the 2007 annual meeting of the American Society of Clinical Oncology. Abstract 7032.