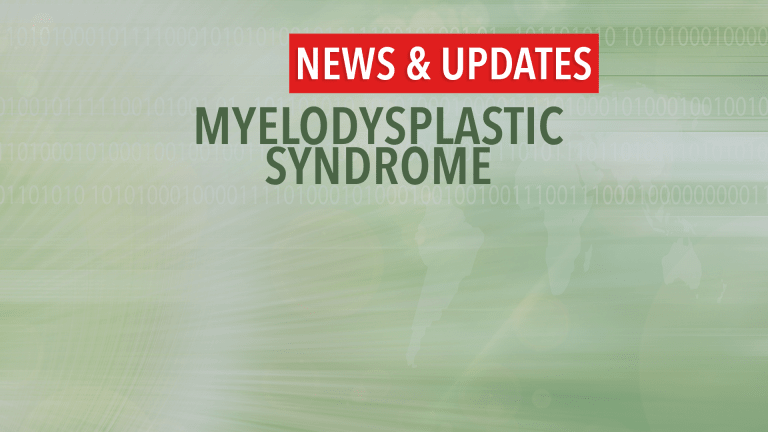 Aggressive Chemotherapy Increases Remission in Patients with High-Risk MDS
Aggressive Chemotherapy Increases Remission in Patients with High-Risk Myelodysplastic Syndrome
Myelodysplastic syndromes are a group of diseases characterized by an inability to produce new blood cells. Myelodysplasia is sometimes referred to as pre-leukemia because myelodysplastic syndromes begin in the bone marrow stem cells and eventually progress to acute leukemia.
The myelodysplastic syndromes are really several different diseases, each with a different prognosis. The majority of cases of myelodysplastic syndrome are without known cause. However, some myelodysplastic syndromes develop after treatment with chemotherapy or radiation therapy for cancer, and are referred to as secondary myelodysplasia or leukemia. The average duration of survival following diagnosis with myelodysplasia ranges from 4-5 months to 5 years. The major factor in determining survival is the rapidity of progression to acute myeloid leukemia.
The outcomes for patients with advanced myelodysplastic syndromes including; refractory anemia with excess blasts and refractory anemia with excess blasts in transformation is poor. Currently, allogeneic stem cell transplantation is the only curative therapy; however, patients may also benefit from other types of treatment. For example, autologous transplantation is being explored in patients who achieve a complete remission.
Physicians in Italy have treated 42 patients with advanced myelodysplastic syndrome (10 with refractory anemia with excess blasts in transformation and 10 patients with refractory anemia with excess blasts) utilizing a chemotherapy program of fludarabine, cytarabine and Neupogen®. Neupogen® is a white blood cell growth factor that reduces the severity of chemotherapy-induced neutropenia (decreased white blood cells). The average age of the patients was 61 years (27-74).
Overall, 79% of patients with this advanced stage of myelodysplastic syndrome achieved a complete remission and patients survived an average of 18 months after initiating treatment. In comparison to other treatments for myelodysplastic syndrome, the therapy was well tolerated with 9% of patients dying from complications of treatment.
Fludarabine, cytarabine and Neupogen® appears effective for inducing remissions in patients with high-risk myelodysplastic syndrome. The doctors speculate that patients who achieve a complete remission would be suitable candidates for autologous bone marrow or blood stem cell transplants. It's not clear however what the outcomes would be after allogeneic or autologous transplantation after treatment with this regimen. ( Cancer, Vol 86, pp 2006-13, 1999 ).