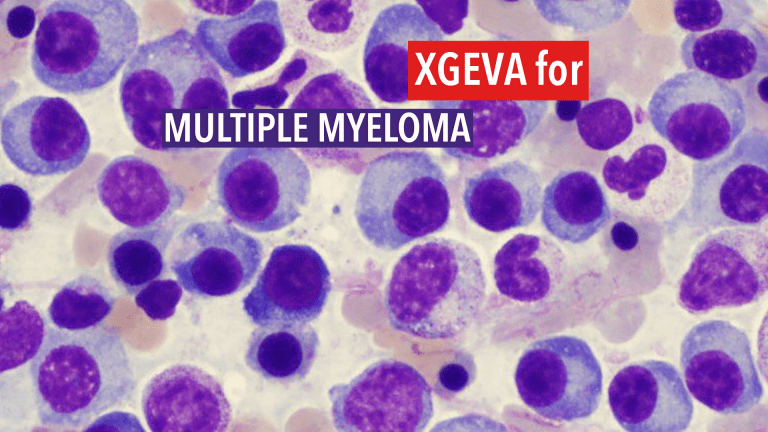 Xgeva Treatment of Multiple Myeloma Prevents Bone Complications
Xgeva prevents bone complications and can delay the time to myeloma progression.
by Dr. C.H. Weaver M.D. updated 4/2019
The US Food and Drug Administration (FDA) has expanded the approval of Xgeva (denosumab) for the prevention of skeletal-related events in patients with bone metastasis from multiple myeloma.
In multiple myeloma, plasma cells infiltrate the bone marrow, spreading into the cavities of all the large bones of the body. In a majority of patients with multiple myeloma, the bones develop multiple holes, referred to as osteolytic lesions, that cause the bones to be fragile and subject to fracture.1
Xgeva is a drug that targets a protein known as the RANK ligand. This protein regulates the activity of osteoclasts (cells that break down bone). Xgeva has been approved for the treatment of postmenopausal osteoporosis and for the management of bone metastases and treatment-related bone loss.
In multiple myeloma up to 40% of patients remain untreated for the prevention of bone complications, and the percentage is highest among patients with renal impairment at the time of diagnosis. Historically, the bisphosphonate drug Zometa (zoledronic acid) has been commonly used to reduce the risk of bone complications in multiple myeloma. Xgeva, unlike Zometa is not cleared through the kidneys and therefor offers multiple myeloma patients bone protection with a convenient subcutaneous administration.(1)
The current FDA approval of Xgeva is based on data from a comparative clinical trial in which 1718 patients were treated with either Xgeva or Zometa and directly compared. Results of the study showed that Xgeva was non-inferior to Zometa in delaying the time to development of bone complications in patients with multiple myeloma. The median time to the first bone complication was similar between the treatments however the median progression-free survival was 10.7 month higher for the Xgeva treated patients who also experienced a trend in improved overall survival. (2)
Xgeva replaced Zometa as the standard of care for patients with multiple myeloma since it was approved. Xgeva is equally effective at delaying bone complications and may delay the time to myeloma progression and represents a better treatment option for individuals with impaired kidney function.
References
1.American Cancer Society. Multiple myeloma. Available at: https://www.cancer.org/cancer/multiple-myeloma/about.html. Accessed on July 12, 2017.
https://www.cancer.org/cancer/multiple-myeloma/about.html.
2.Denosumab More Effective Than Zometa at Delaying Bone Complications