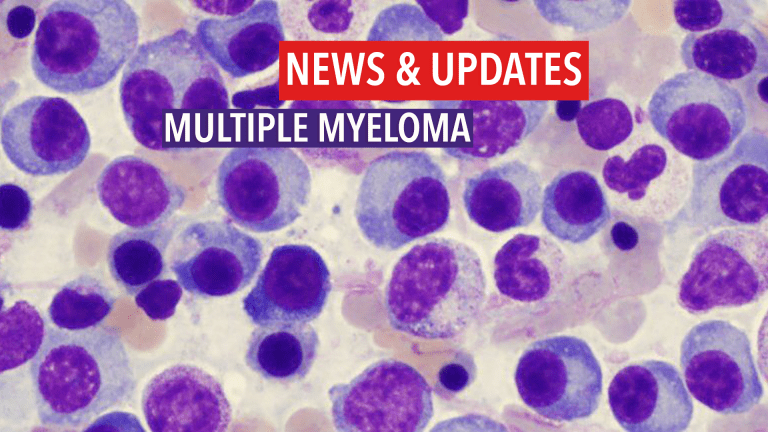 Talquetamab for Multiple Myeloma
Talquetamab is a CPRC5DxCD3 Bispecific Antibody being developed for the treatment of myeloma - early results promising.
by Dr. C.H. Weaver M.D. updated 8/2022
Results from the Phase I study of talquetamab (JNJ-64407564), a G protein-coupled receptor family C group 5 member D (GPRC5D) x CD3 bispecific antibody therapy in development by Janssen, were updated in August, 2022.  This early phase clinical study evaluated the safety and technical feasibility of talquetamab as a treatment for patients with progressive multiple myeloma.1
About Talquetamab (JNJ-64407564)
Talquetamab is a first-in-class investigational bispecific antibody targeting both GPRC5D, a novel multiple myeloma target, and CD3, the T-cell receptor. CD3 is involved in activating T-cells and GPRC5D is highly expressed on multiple myeloma cells. The binding of both activates the immune system to attach the myeloma cells. Results from preclinical studies in mouse models demonstrate that talquetamab induces T-cell-mediated killing of GPRC5D-expressing multiple myeloma cells through the recruitment and activation of CD3-positive T-cells and inhibits tumor formation and growth.2-5
Updated results from the study show that heavily pretreated patients with multiple myeloma treated with talquetamab at the recommended subcutaneous dose achieved high overall responses that deepened over time.6 With a median follow-up of nine months 70% of evaluable patients achieved a response to treatment and, 53% achieved a very good partial response or better. The median duration of response has not been reached.
Talquetamab had moderate side effects. A low white blood count (neutropenia) occurred in 42% of the patients and Cytokine release syndrome (CRS) in 64%. The CRS was low-grade without associated mortality. Phase trial confirmed a 70% response rate in patients with advanced disease. 
These early results are encouraging, and the developer has announced that dose expansion is on-going and that a Phase II clinical trial for talquetamab is planned.
The Phase 2 TRiMM-2 Clinical Trail Evaluating Talquetamab in Combination with Darzalex is ongoing.7
References
Abstract 290. ASH 2020. December 5, 2020. A Phase 1, First-in-Human Study of Talquetamab, a G Protein-Coupled Receptor Family C Group 5 Member D (GPRC5D) x CD3 Bispecific Antibody, in Patients with Relapsed and/or Refractory Multiple Myeloma (RRMM).
Labrijn AF et al. Proc Natl Acad Sci USA. 2013;110:5145.
Cohen, Y., et al. Hematology. 2013 Nov; 18(6):348-51d
Kumar SK, et al. Leukemia. 2012 Jan; 26(1):149-57.