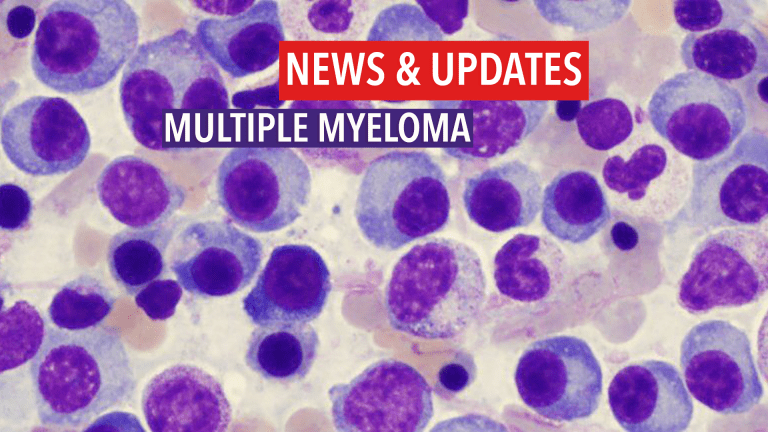 T-cell Receptor Therapy Achieves Encouraging Clinical Responses in MM Patients
Investigational T-cell Receptor Therapy Achieves Encouraging Clinical Responses in Multiple Myeloma Patients
Results from a clinical trial investigating a new T cell receptor (TCR) therapy that uses a person's own immune system to recognize and destroy cancer cells demonstrated a clinical response in 80 percent of multiple myeloma patients with advanced disease after undergoing autologous stem cell transplants (ASCT). This time, researchers modified T cells to attack cancer cells expressing NY-ESO-1, an antigen found in nearly 60 percent of multiple myelomas and previously shown to be associated with tumor growth and poor prognosis.
The results of the study were published this week in the journal Nature Medicine from researchers at Penn's Abramson Cancer Center, including senior author Carl H. June, MD**,** the Richard W. Vague Professor in Immunotherapy in the department of Pathology and Laboratory Medicine and director of Translational Research in the ACC, the University of Maryland School of Medicine, and Adaptimmune Therapeutics plc (Adaptimmune).
In the phase I/II clinical trial of 20 patients, the engineered cells were deemed safe, trafficked to the site of the tumor (bone marrow), and persisted in 90 percent of the patients who reached two years follow up after infusion, the research team found. Significant anti-tumor activity was observed as well: nearly 70 percent had a near complete or complete response within three months post treatment, which compares favorably with the expected responses (less than 40 percent) in patients without high-risk disease following an ASCT.
This is the first published report of lentiviral vector mediated TCR therapy that has shown persistence beyond one month, June said. "This study shows us that these TCR specific T cells are safe and feasible in patients expressing NY-ESO-1," he said. "But it also revealed encouraging anti-tumor activity and showed impressive durable T cell persistence."
For the study, patients received an average of 2.4 billion NY-ESO-engineered CD3 T cells two days after an ASCT. The investigational treatment begins by removing patients' T cells via an apheresis process similar to blood donation, then genetically reprogramming them using a cell production process originally developed by Penn's Clinical Cell and Vaccine Production Facility. After being infused back into patients' bodies, these newly built cells both multiply and seek out a peptide expressed by the antigens NY-ESO-1 and LAGE-1 found in multiple myeloma cancer cells.
With a median follow up of 21.1 months, 15 of the 20 patients were surviving and 10 remained progression free, the researchers report.
Fourteen people had near complete responses, while two had a very good partial response, two had a partial response, one had stable disease, and one had progressive disease. As of April 2015, with a median follow up of 30.1 months, the media progression free survival was 19.1 months and the median overall survival had increased to 32.1 months.
What's more, none of the patients experienced macrophage activate syndrome or cytokine release syndrome, an infusion reaction observed in other gene therapy trials characterized by fever, nausea, chills, hypotension or a rash. There were no treatment-related fatalities.
Relapse was associated with a loss of gene-modified T cells, the authors report, which suggests that methods for sustaining long-term persistence of engineered T cells in more patients may improve outcomes.
"This is an important step in immunotherapy research for multiple myeloma, a tough-to-beat cancer that is largely incurable, with a five-year survival rate of approximately 50 percent—highlighting the need for new approaches to improve therapeutic options including after an ASCT," said Edward Stadtmauer, MD, a professor of Medicine and section chief of Hematologic Malignancies in the ACC, and co-lead author. "I look forward to building upon this encouraging data and continuing to add to the growing body of research showing the promise of precision immunotherapies for blood cancers and more."
Penn co-authors include Bruce L. Levine, Don L. Siegel, Naseem Kerr, Minnal Gupta, Irina Kulikovskaya, Jeffrey Kinklestein, Brendan Weiss, Alfred Garfall, Simon F. Lacey, and Dan T. Vogl. Other authors include Michael Kalos, Aaron P. Rapoport, Gwendolyn K. Binder-Scholl, Olga Goloubeva, Dan T. Vogel, , Ashraf Z. Badros, Sanjoy K. Sinha, Shari Kronsberg, Sarah Bond, Luca Melchiori, Joanna E. Brewer, Alan D. Bennett, Andrew B. Gerry, Nicholas J. Pumphrey, Daniel Williams, Helen K. Tayton- Martin, Lilliam Ribeiro, Tom Holdich, Saul Yanovich, Nancy Hardy, Jean Yared, Sunita Philip, Sandra Westphal, and Bent K. Jakobsen.
This work was supported in part by grant from the National Institutes of Health (R01-CA166961), a Senior Investigator Award for the Multiple Myeloma Research Foundation, and Adaptimmune.
Source: Penn Medicine Press Release