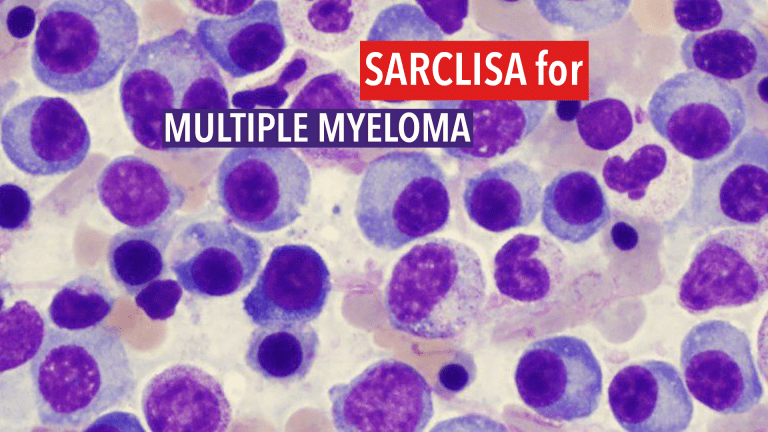 Sarclisa (isatuximab) – Anti CD38 Targeted Therapy for Myeloma
Sarclisa precision cancer medicine improves survival in advanced Multiple Myeloma - leads to FDA approval
by Dr. C.H. Weaver M.D. 5/2022
Updates from the phase III ICARIA-MM, and IKEMA clinical trials released in May 2022 demonstrate that the addition of the anti-CD38 monoclonal antibody Sarclisa (isatuximab) to standard two drug treatment combinations significantly delay myeloma progression and prolong survival.3,4,7,8 These trial results led to US Food and Drug Administration approval of Sarclisa in March of 2020.5
Two phase 3 trials have demonstrated superior results with Sarclisa combination therapy over standard of care regimens, adding to the growing body of evidence that anti-CD38 monoclonal antibody has the potential to make a meaningful difference for patients.
Multiple myeloma is the second most common hematologic malignancy, with more than 138,000 individuals diagnosed worldwide each year. Multiple myeloma remains incurable in the vast majority of patients, resulting in significant disease burden.1,2
About Sarclisa (isatuximab)
Sarclisa is a precision cancer medicine that targets a specific part of the CD38 antigen expressed on myeloma cells and is capable of triggering multiple, distinct mechanisms of action that are believed to promote programmed tumor cell death (apoptosis). CD38 is highly and uniformly expressed on multiple myeloma cells and is a cell surface receptor target for antibody-based therapeutics in multiple myeloma and other malignancies.
The current study evaluated the benefit of Sarclisa in combination with the standard of care on prolonging progression free survival as compared to standard of care in patients with relapsed/refractory multiple myeloma.
IKEMA Clinical Trial
Results from the Phase 3 IKEMA trial adding Sarclisa to Carfilzomib and Dexamethasone in recurrent myeloma found that Sarclisa reduced the risk of disease progression or death by 47% and doubled survival duration without myeloma progression compared to standard treatment with carfilzomib and dexamethasone (Kd) alone.8
The Phase 3 IKEMA clinical trial enrolled 302 patients with relapsed MM across 69 centers spanning 16 countries. All study participants had received one to three prior anti-myeloma therapies. There was no significant difference in the overall response rate between the 2 regimens however the number of patients that survived 2 years without myeloma progression improved from 46% to 69% with the addition of Sarclisa.7
This is the second Phase 3 trial to demonstrate superior results with Sarclisa combination therapy over a standard of care regimen, adding to the growing body of evidence that anti-CD38 monoclonal antibody has the potential to make a meaningful difference for patients. Trial uipdate released in May 2022 showed that average time cancer progression increased from 21 to 42 months when Sarclisa was added to carfilzomib and dexamethasone. 
About ICARIA-MM
The phase III randomized, open-label, multicenter ICARIA-MM trial included 307 patients with relapsed/refractory MM who had received at least two prior lines of therapy (including lenalidomide and a proteasome inhibitor [PI]). Participants also had disease that was refractory to their last therapy.3,4
Patients were treated with either Sarclisa plus Pd (n=154) or Pd alone (n=153) until disease progression or unacceptable toxicity and directly compared.
After an average follow-up period of 11.6 months from initiation of treatment the average time to cancer progression was 11.5 months with Sarclisa compared with 6.5 months for Pd. The overall survival duration has not yet been reached in either group. Overall 72% of Sarclisa treated patients survive one year from treatment compared to 63% for prednisone alone.
Dr. Richardson and colleagues from Dana Farber Cancer Institute concluded that the addition of Sarclisa to Pd resulted in significant improvement in overall and depth of response. Responses occurred more rapidly in the Sarclisa and nearly twice as many patients in the Sarclisa group achieved at least a partial response.
Treatment appeared to be well tolerated, Dr. Richardson and colleagues reported, with patients receiving Sarclisa for a median of 41 weeks, compared with 24 weeks in the Pd alone group.Together, these safety and efficacy results suggest that Sarclisa plus Pd is "an important new treatment option for the management of relapsed/refractory MM." 
References:
Kazandjian. Multiple myeloma epidemiology and survival: A unique malignancy. Semin Oncol. 2016;43(6):676-681. doi:10.1053/j/seminoncol.2016.11.00.
Cowan AJ, Allen C, BaracA, et al. Global Burden of Multiple Myeloma: A Systematic Analysis for the Global Burden of Disease Study 2016. JAMA Oncol. 2018;4(9):1221–1227. doi:10.1001/jamaoncol.2018.2128
pharmatimes.com/news/isatuximab_shows_positive_results_in_phase_iii_trial_for_multiple_myeloma_1277416
Richardson PG, Attal M, Rajkumar SV, et al. A phase III randomized, open label, multicenter study comparing isatuximab, pomalidomide, and low-dose dexamethasone versus pomalidomide and low-dose dexamethasone in patients with relapsed/refractory multiple myeloma (RRMM). Abstract #8004. Presented at the 2019 ASCO Annual Meeting, June 2, 2019; Chicago, IL.
morningstar.com/news/globe-newswire/1000321742/sanofi-fda-approves-sarclisa-isatuximab-irfc-for-patients-with-relapsed-refractory-multiple-myeloma
Sarclisa® (isatuximab) Phase 3 IKEMA trial meets primary endpoint early in patients with relapsed multiple myeloma

Moreau P, Dimopoulos MA, Mikhael J, et al. Isatuximab, carfilzomib, and dexamethasone in relapsed multiple myeloma (IKEMA): a multicentre, open-label, randomized phase 3 trial. Lancet. Published Online June 4, 2021. doi: 10.1016/S0140-6736(21)00592-4

https://www.sanofi.com/en/media-room/press-releases/2022/2022-05-15-09-30-00-2443369