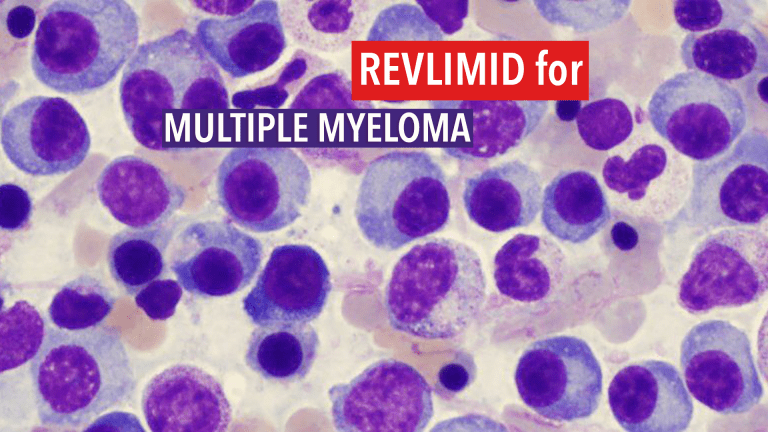 Revlimid Linked with Second Primary Malignancies in Patients with Myeloma
Revlimid Linked with Second Primary Malignancies in Patients with Myeloma
Revlimid® (lenalidomide)—particulary when used in combination with oral melphalan—is associated with an increased risk of second primary malignancies in patients with myeloma, according to the results of a study published in The Lancet Oncology.
Multiple myeloma is a cancer of plasma cells (white blood cells that produce antibodies). In 2013, there were an estimated 22,350 new diagnoses of multiple myeloma in the United States.
Revlimid is an oral medication that can stop or slow the growth of myeloma within the bone marrow. It has been approved in combination with dexamethasone for multiple myeloma patients who have received at least one prior therapy—however, it has been linked to second primary malignancies.
To evaluate the risk for second primary malignancies in this patient populations, researchers conducted a meta-analysis that included data from seven phase III studies conducted between 2000 and 2012. The analysis included data from 3,218 patients with newly diagnosed multiple myeloma—2,620 of these patients had received Revlimid and 598 had not. All patients who received Revlimid received melphalan-based regimens.
Cumulative incidences of all second primary malignancies at 5 years were 6.9 percent in patients who received Revlimid and 4.8 percent in those who did not. There was no significant difference in the cumulative 5-year incidence of solid secondary primary malignancies—3.8 percent in the Revlimid group versus 3.4 percent in the non-Revlimid group; however, there was increased risk of hematologic (blood) second primary malignancies in the Revlimid group—3.1 percent versus 1.4 percent.
Exposure to Revlimid plus oral melphalan significantly increased the risk of hematological second primary malignancy when compared to melphalan alone. In contrast, there was no increased risk associated with the use of Revlimid and dexamethasone or Revlimid and cyclophosphamide.
The researchers concluded that patients with newly diagnosed multiple myeloma are at an increased risk of hematological second primary malignancies when they receive Revlimid in combination with oral melphalan. They recommend considering alternatives such as dexamethasone and cyclophosphamide instead of oral melphalan.
Reference:
Palumbo A, Bringhen S, Kumar SK, et al: Second primary malignancies with lenalidomide therapy for newly diagnosed myeloma: a meta-analysis of individual patient data. The Lancet Oncology. 2014; 15(3): 333-342.