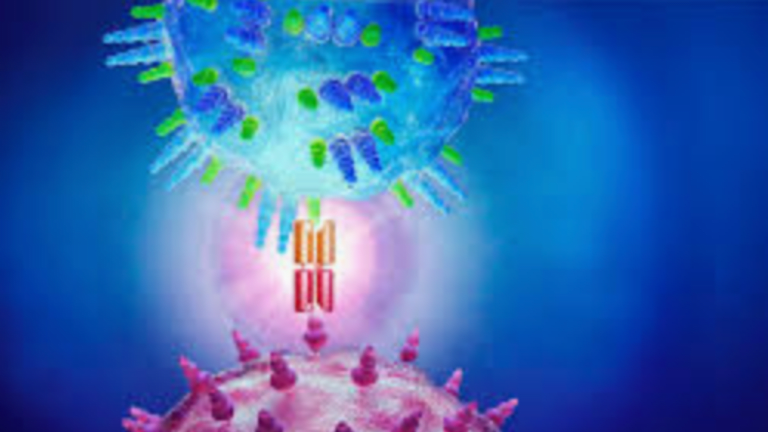 Bispecific Antibodies in Multiple Myeloma
Clinical results for Bispecific Antibodies appear promising for treatment of advanced myeloma
by Dr. C.H. Weaver M.D. 8/2022
Bispecific antibody constructs represent an innovative immunotherapy approach that helps the body's immune system target cancer cells and appears very promising for the treatment of multiple myeloma. Bispecific antibodies or BiTE which is short for "bispecific T cell engager" are antibodies with two arms. One arm of the drug attaches to a specific protein on the cancer cell. The other arm of the BiTE activates immune cells in the patient to kill the cancer cells.1
There are several bispecific antibodies currently in development for the treatment of mulitple myeloma and clinical trial results were updated at the 2022 International Myeloma Society Annual Meeting.
Tecvayli (Teclistamab) 
Teclistamab is a bispecific antibody administered subcutaneously that targets both the B Cell maturation antigen (BCMA) present on multiple myeloma cellsBCMA and CD3. BCMA is expressed at high levels on multiple myeloma cells and teclistamab redirects CD3-positive T-cells to BCMA-expressing myeloma cells to kill the targeted cells.
Tecvauyli was evaluated in 165 refractory myeloma patients, many of whom were triple-class refractory (77%). Overall 63% of patients responded to treatment including a 6.7% complete response rate. Common side effects included infections (76%), cytokine release syndrome (CRS; 72.%), and neutropenia (71%).6
REGN 5458
REGN5458 is a BCMA x CD3 bispecific antibody designed to bind to the BCMA present on multiple myeloma cells and the CD3 receptor on T-cells, bridging them together and activating T-cell killing of the cancerous myeloma cells. REGN5458 was invented using Regeneron's next generation VelocImmune® "human antibody mouse" technology, together with its VelociBi™ platform. These allow for the creation of bispecific antibodies that closely resemble natural human antibodies with no linkers or artificial sequences.1
Initial results evaluating REGN5458 were presented at the American Society of Hematology Annual Meeting in December 2019 and were updated at the 2022 International Myeloma Society Annual Meeting. Several dose levels of REGN5458 were evaluated in refractory myeloma patients previously treated with a median of seven lines of prior systemic therapy, all of whom had failed CD38 antibody treatment. Responses were observed in 57% of patients, including 75% treated at the highest administered REGN5458 dose.
The new results from the Phase 1 portion of the Phase 1/2 trial in patients with relapsed/refractory multiple myeloma found a 51% overall response rate across all dose groups, rising to 75% in patients who received higher doses of REGN5458 (200-800 mg).2
8 months from the time of response, there was a 90% probability of being event-free (95% CI: 73%, 97%), defined by the absence of disease progression or death. The estimated median duration of response had not yet been reached at the time of data cutoff.
Responses occurred rapidly, usually within the first month of treatment, and continue to deepen with longer treatment; the higher dose groups currently have substantially shorter follow up.
Cytokine release syndrome (CRS) was reported in 38% of patients (n=28), the majority of which were mild. The other most common side effects were fatigue, fever, nausea, and anemia. There were 5 deaths in the trial, all due to infection; none were considered related to the study medication by investigators. REGN5458 is currently under clinical development and its safety and efficacy have not been fully evaluated by any regulatory authority.
Elranatamab 
Elranatamab is also a BCMA x CD3 bispecific antibody designed to bind to BCMA on multiple myeloma cells and the CD3 receptor on T-cells. Examined in 94 myeloma patients who were overwhelmingly triple-class refractory, the overall response rate was 61%. The most common side effects were CRS (60%), infections (52%), and anemia (44%).
Talquetamab (JNJ-64407564)
Talquetamab is a G protein-coupled receptor family C group 5 member D (GPRC5D) x CD3 bispecific antibody therapy in development by Janssen. Study results suggest similar response rates and side effects to other bispecifics being developed in myeloma. 
ABBV-383
ABBV-383 is a BCMA × CD3 T-cell–engaging bispecific monoclonal IgG4 antibody.4,5 Among 58 evaluable patients in a dose-expansion and dose-escalation clinical trial the objective response rate was 60%. A very good partial response (VGPR) rate or better was reported for 43% of responders with a complete or stringent complete response (CR/sCR) reported among 29%. 
Cytokine release syndrome was observed in 72% of patients, with 48% of events being mile and 2% being grade 3 or higher. Serious CRS was documented in 16 patients. 
Cevostamab 
Cevostamab is a T-cell engaging bispecific antibody designed to target FcRH5 on myeloma cells and CD3 on T cells. FcRH5 is a unique and differentiated target, expressed on nearly all myeloma cells. Cevostamab has a structure similar to that of a natural human antibody in that it has two 'Fab' regions, but is different from naturally-occurring antibodies in that one 'Fab' region targets FcRH5 and the other 'Fab' region targets CD3. This dual targeting activates and re-directs a patient's existing T cells to engage and eliminate target FcRH5-expressing myeloma cells by releasing cytotoxic proteins into the myeloma cells.
References:
Leukemia; 2019; DOI:10.1038/s41375-019-0435-7
https://www.prnewswire.com/news-releases/new-regn5458-bcmaxcd3-phase-1-data-show-75-response-rate-at-highest-dose-levels-studied-in-patients-with-heavily-pretreated-multiple-myeloma-301442629.html

Zonder JA, Richter J, Bumma N, et al. Early, deep, and durable responses, and low rates of cytokine release syndrome with REGN5458, a BCMAxCD3 bispecific antibody, in a phase 1/2 first-in-human study in patients with relapsed/refractory multiple myeloma (RRMM). Presented at: 19th Annual International Myeloma Society Meeting; August 25-27, 2022; Los Angeles, CA. Abstract OAB-056.

Voorhees P, Shah N, D'Souza A, et al. Updated Results of a Phase 1, First-in-Human Study of ABBV-383, a BCMA × CD3 Bispecific T-Cell Redirecting Antibody, in Patients with Relapsed/Refractory Multiple Myeloma. Presented at: 19th International Myeloma Society Annual Meeting. August 25-27, 2022; Los Angeles, CA. Abstract OAB-055 

Buelow ,Choudry P, Clarke S, et al. Pre-clinical development of TNB-383B, a fully human T-cell engaging bispecific antibody targeting BCMA for the treatment of multiple myeloma. J Clin Oncol. 2018;36(suppl 15):8034. doi:10.1200/JCO.2018.36.15_suppl.8034.

Moreau P, Garfall AL, van de Donk NW, et al. Teclistamab in relapsed or refractory multiple myeloma.N Engl J Med. 2022;387(6):495-505. doi:10.1056/NEJMoa2203478.

1. Janssen announces US FDA breakthrough therapy designation granted for talquetamab for the treatment of relapsed or refractory multiple myeloma. News release. The Janssen Pharmaceutical Companies of Johnson & Johnson. June 29, 2022. Accessed August 27, 2022. bit.ly/3AqKjZR