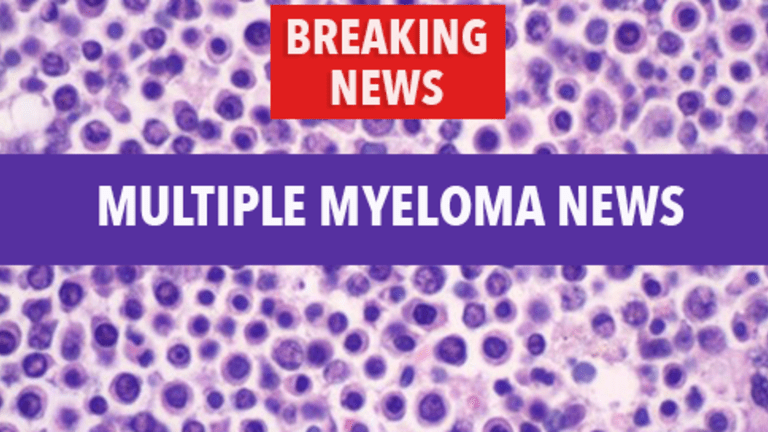 Novel Therapy for Recurrent Multiple Myeloma
Novel Therapy for Recurrent Multiple Myeloma
According to data recently published in Blood, a novel salvage therapy for recurrent multiple myeloma, consisting of cyclophosphamide, etoposide, dexamethasone and thalidomide appears to produce anti-cancer activity and survival rates comparable to those achieved with stem cell transplantation.
There are approximately 40,000 people in the United States living with multiple myeloma. With 14,000 new cases of multiple myeloma diagnosed each year in the U.S., it is the second most common blood cancer. Multiple myeloma is a cancer involving important immune (infection-fighting) cells called plasma cells. Plasma cells aid the body in fighting infection by producing specialized proteins called antibodies that have the ability to target and/or kill foreign cells. In multiple myeloma, cancerous plasma cells produce abnormal and excessive antibodies that do not have the ability to properly fight infection. In addition, the cancerous plasma cells accumulate in the bone marrow, suppressing the normal formation and function of other cells necessary for optimal production of blood cells and immune functions. The excessive accumulation of cancer cells in the bone marrow ultimately leads to the formation of tumors in the bone and to its breakdown. Multiple myeloma usually recurs and is rarely curable.
Standard treatment for recurrent multiple myeloma is chemotherapy and may be followed with stem cell transplantation (SCT). SCT offers the possibility of long-term, cancer-free survival, but is associated with high mortality rates. In search of new approaches to this disease, German researchers are examining combination chemotherapy consisting of cyclophosphamide, etoposide and dexamethasone (CED) given concurrently with thalidomide. CED has a lower risk of neurologic (nervous system) and renal (kidney) toxicities that are common in other chemotherapy regimens for recurrent multiple myeloma. In addition, CED agents are not related to anthracyclines (Ellence® and Adriamycin®) or melphalan, chemotherapy agents typically used as initial treatment for multiple myeloma, and thus are less likely to encounter drug resistance.
Thalidomide is a substance known for its anti-angiogenesis properties. Angiogenesis is the formation of new blood vessels in the body and is a crucial component for the development of cancer. Blood vessels are needed to supply cancer cells with essential nutrients from the blood. Anti-angiogenesis is the inhibition of the formation of new blood vessels. By stopping blood vessels from forming, cancer cells are "starved" of nutrients, ultimately inhibiting cancer development and growth. Previous clinical studies have demonstrated that thalidomide achieves significant anti-cancer responses in patients with recurrent multiple myeloma, can improve the effectiveness of chemotherapy and may be able to overcome drug resistance.

Researchers in Germany recently conducted a clinical trial involving 56 patients with advanced, recurrent multiple myeloma. In this trial, patients were treated with CED plus thalidomide for approximately three cycles. Nearly 90% of patients achieved a complete or partial disappearance of cancer following treatment. The survival rate at approximately one year following therapy was 62%. The average duration of survival without cancer progressing following therapy was approximately 16 months. Severe side effects of treatment included leucocytopenia (decrease in the number of specific white blood cells), infections, thrombocytopenia (decrease in blood platelets) and cardiovascular events.
In historical comparative studies, allogeneic stem cell transplants achieved optimal results for recurrent multiple myeloma, with reported average overall anti-cancer response rates of 58%, average durations to cancer progression of approximately 11 months and overall survivals of 19 months. Results from this recent clinical trial, however, clearly demonstrate that CED plus thalidomide may produce at least equivalent treatment responses when compared to previous results of allogeneic stem cell transplants in patients with recurrent multiple myeloma. In addition, CED plus thalidomide appears to be better tolerated than a stem cell transplant.
This German clinical trial on the safety and efficacy of CED and thalidomide for recurrent multiple myeloma suggests this treatment regimen produces at least equivalent responses as other chemotherapy regimens and/or SCT. Future clinical trials evaluating this treatment combination are warranted. Individuals with recurrent multiple myeloma may wish to speak with their physician regarding the risks and benefits of CED and thalidomide or about participating in a clinical trial. (Blood, Vol 98, No 13, pp 3846-3848, 2001)
Copyright © 2018 CancerConnect. All Rights Reserved.