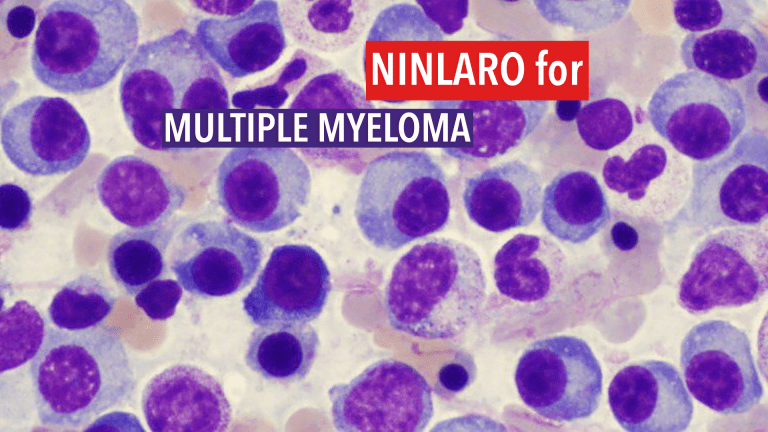 Ninlaro® Approved for both Treatment and Maintenance of Multiple Myeloma
Ninlaro - effective treatment for multiple myeloma & promising for maintenance - convenient with minimal side effect
by Dr. C. H. Weaver M.D. updated 3/2019
The United States Food and Drug Administration (FDA) approved Ninlaro® (ixazomib) for the treatment of multiple myeloma for use in addition to two other agents, Revlimid (lenalidomide) and dexamethasone, to treat patients with multiple myeloma who have received at least one prior therapy. Ninlaro also holds promise as maintenance therapy.
About Ninlaro
Ninlaro is referred to as a proteasome inhibitor. It produces anti-cancer effects by blocking proteins called enzymes within myeloma cells. By blocking these enzymes, the growth of the cancer cells is reduced or halted.
The trial leading to the approval of Ninlaro included 722 patients with multiple myeloma whose cancer returned or progressed following prior therapy. Patients were divided into two groups: one group was treated with Ninlaro plus lenalidomide/dexamethasone, and the other group was treated with placebo (inactive substitute), plus lenalidomide/dexamethasone. Results from the two groups were directly compared.
The average time before multiple myeloma started to progress following treatment on the trial was 20.6 months for the group treated with Ninlaro, compared with 14.7 months for those treated with placebo.
The most common side effects associated with Ninlaro were diarrhea, constipation and low platelet levels.
In the FDA's news release announcing the approval of Ninlaro, Richard Pazdur, M.D., director of the Office of Hematology and Oncology Products in the FDA's Center for Drug Evaluation and Research stated, "As we learn more about the underlying biology of multiple myeloma, we are encouraged to see the development of new ways to treat this disease. Today's approval is the third drug for multiple myeloma approved this year and provides patients with a new oral treatment that slows disease progression when other therapy has failed."
Ninlaro delays cancer progression when used as maintenance therapy following autologous stem cell transplantation.
The TOURMALINE-MM3 clinical trial evaluated the use of Ninlaro maintenance therapy post ASCT treatment for multiple myeloma which is currently a standard of care because it improves survival and is typically accomplished with the drug Revlimed (lenalidomide). Nearly one-third of patients will ultimately discontinue Revlimed due to side effects. Ninlaro which is taken orally and has requires less-frequent administration could be beneficial for individuals who can't tolerate Revlimd therapy. (2)
The TOURMALINE-MM3 clinical trial evaluated 656 adult patients with newly diagnosed multiple myeloma who had responded to induction therapy prior to undergoing high dose chemotherapy and stem cell transplant. Patients were treated with either weekly Ninlaro or matched placebo and directly compared. The study found that Ninlaro treated patients experienced a 28 percent lower risk of disease progression compared with placebo and a higher rate of conversion from MRD-positive to MRD-negative status. Whether or not Ninlaro prolongs survival has yet to be determined and requires longer follow up.
References
United States Food and Drug Administration (FDA). FDA news release. FDA approves Ninlaro, new oral medication to treat multiple myeloma. Available at: fda.gov/NewsEvents/Newsroom/PressAnnouncements/ucm473771.htm. Accessed November 20, 2015.
Dimopoulos MA, Gay F, Schjesvold FH, et al. Maintenance therapy with the oral proteasome inhibitor (PI) ixazomib significantly prolongs progression-free survival (PFS) following autologous stem cell transplantation (ASCT) in patients with newly diagnosed multiple myeloma (NDMM): phase 3 Tourmaline-MM3 trial. Abstract #301. Presented at the 2018 ASH Annual Meeting, December 2, 2018; San Diego, CA.