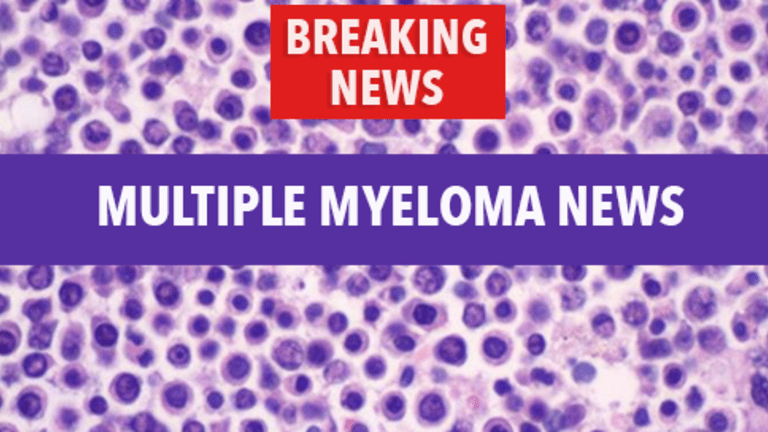 Multiple Myeloma Treatment Does Not Affect the Outcome of Stem Cell Transplant
Multiple Myeloma Treatment Does Not Affect the Outcome of Stem Cell Transplant
A recently published study indicates that the type of initial chemotherapy for multiple myeloma has no impact on the outcome of patients who later undergo autologous stem cell transplant. These findings appeared in an early online publication of Bone Marrow Transplantation.
Multiple myeloma is a cancer of the blood that affects the plasma cells. Plasma cells are an important part of the immune system and produce antibodies to help fight infection and disease. Multiple myeloma is characterized by an excess production of abnormal plasma cells, which can result in increased risk for bacterial infections or impaired immune responses. Other effects of myeloma may include damage to the kidneys, osteoporosis, anemia, and an elevated blood calcium level. Although multiple myeloma is not curable, it can be treated, allowing patients to live longer, healthier lives. Treatment options for multiple myeloma include watchful waiting, chemotherapy, radiation, and in some cases, stem cell transplantation.
Stem cells are immature cells produced by the bone marrow that mature and differentiate into various types of blood cells. Stem cells are collected from the bone marrow or blood and are frozen or stored until the patient has completed chemotherapy or radiation. Stem cells may be collected from the patient and then given back to the patient by an infusion; this is known as an autologous stem cell transplant (ASCT). Alternatively, an allogeneic transplant uses stem cells from a family member or a non-family member whose stem cells match the patient's.
Prior to receiving an allogeneic stem cell transplant, high doses of chemotherapy or radiation are given to kill the defective stem cells within the patient's bone marrow. This is known as the conditioning phase and typically consists of an aggressive, intense treatment regimen. Once these treatments are completed, the stem cells are then given back to the patient through an infusion. These cells grow and mature to restore the patient's blood cells.
In the current study, researchers sought to determine if incorporating newer chemotherapy agents into initial treatment for multiple myeloma would have any impact on the outcome after ASCT. Researchers studied 472 patients who intended to undergo ASCT within 12 months of diagnosis to determine the effect of initial therapy on the outcome after ASCT. Patients received treatment with either vincristine, adriamycin, and dexamethasone (VAD), dexamethasone alone, thalidomide, and dexamethasone, or lenalidomide and dexamethasone.
Results of the study indicate that while patients treated with dexamethasone alone had higher amounts of disease at the time of ASCT, no differences were observed in response rates to ASCT, post transplant complications, or treatment-related deaths among all treatment groups. As well, there were no significant differences in overall survival between the different treatment groups.
Researchers concluded that for patients undergoing ASCT for multiple myeloma, the type of initial treatment utilized has no long-term effects on outcome.
Reference: Kumar, S, Dingli, D., Dispenzieri, A., et al. Impact of pretransplant therapy in patients with newly diagnosed myeloma undergoing autologous SCT. Bone Marrow Transplantation [early online publication]. doi: 10.1038/bmt.2008.24.
Copyright Multiple Myeloma Information Center on CancerConnect.com
Copyright © 2018 CancerConnect. All Rights Reserved.