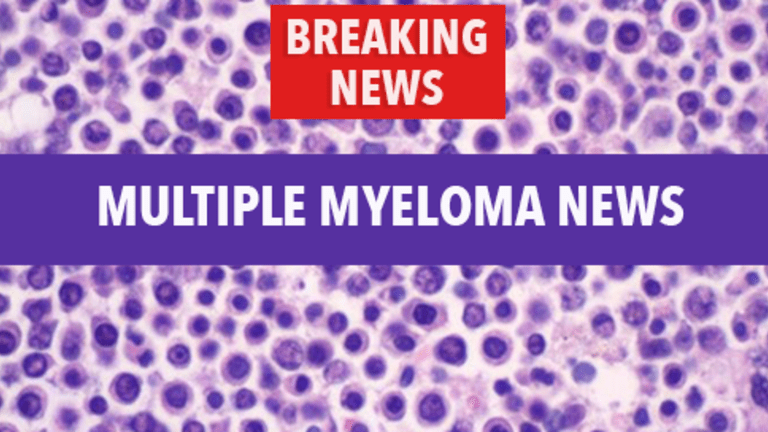 MRI of Bone Marrow Predicts Outcomes of Multiple Myeloma
MRI of Bone Marrow Predicts Outcomes of Multiple Myeloma
According to a recent article published in the Annals of Oncology, results from magnetic resonance imaging (MRI) of bone marrow in patients with untreated multiple myeloma helps to predict survival duration. These results may contribute to evaluation and treatment decisions of patients with this disease.
Multiple myeloma is a cancer of the blood that affects the plasma cells. Plasma cells are an important part of the immune system and produce antibodies to help fight infection and disease. Multiple myeloma is characterized by an excess production of abnormal plasma cells, which can result in symptoms such as increased risk for bacterial infections or impaired immune responses. Other effects of myeloma may include damage to the kidneys, osteoporosis, anemia, and an elevated blood calcium level. Treatment options for multiple myeloma include "watchful waiting" (delaying treatment until progression of disease), chemotherapy, radiation, targeted therapy, and in some cases, stem cell transplantation. In order to provide optimal individualized treatment options, physicians continue to evaluate ways in which to predict a patient's outcome or aggressiveness of disease.
Researchers from Greece recently conducted a clinical trial to evaluate results of bone marrow MRI scans of patients with multiple myeloma and associated outcomes. This trial included 142 patients who underwent an MRI prior to any therapy. Responses to therapy did not appear to differ; however, overall survival varied significantly between groups of patients with different MRI results.
Patients considered to have a "diffuse pattern" according to MRI results of their bone marrow had a shorter average survival time: This group lived approximately 24 months, compared with over 50 months for those with other patterns. Furthermore, MRI results delineated patients with early stages (ISS 1 and ISS2) into two distinct groups: Those with a diffuse pattern on MRI had an average survival of approximately 28 months, while those without a diffuse pattern had an average survival of approximately 61 months. A diffuse pattern on MRI resulted in shorter survival time, even among patients who underwent an autologous stem cell transplant.

The researchers concluded that MRI results of bone marrow in patients with multiple myeloma appear to provide important information regarding long-term outcomes among patient with this disease, regardless of treatment choices. Further study is required to determine how to proceed with patients for whom poor outcomes are indicated. Patients with untreated multiple myeloma may wish to speak with their physician regarding their individual risks and benefits of participating in a clinical trial further evaluating MRI of the bone marrow and treatment options or other individualized therapeutic approaches.
Reference: Moulopoulos L, Gika D, Anagnostopoulos A, et al. Annals of Oncology. 2005; Aug 8; [Epub ahead of print]. Available at:http://annonc.oxfordjournals.org/cgi/reprint/mdi362v1. Accessed August 2005 .
Copyright © 2018 CancerConnect. All Rights Reserved.