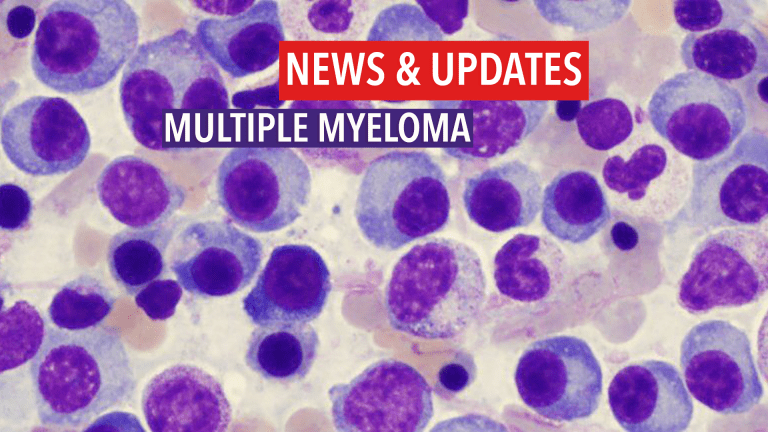 MLN9708 "Oral Velcade" Shows Promise in Multiple Myeloma
MLN9708 "Oral Velcade" Shows Promise in Multiple Myeloma
The investigational, oral proteasome inhibitor MLN9708, which is a new version of Velcade® (bortezomib)—may be more effective and better tolerated than the Velcade injections, according to data from a mid-stage study presented at the 54th Annual Meeting of the American Society of Hematology in Atlanta, Georgia.
Multiple myeloma is a cancer of plasma cells, which are a special type of white blood cell that are part of the body's immune system. Patients with multiple myeloma have increased numbers of abnormal plasma cells that may produce increased quantities of dysfunctional antibodies detectable in the blood and/or urine.
Velcade is a type of targeted drug known as a proteasome inhibitor. It has been shown to provide benefits in the treatment of multiple myeloma and mantle cell lymphoma. Velcade is delivered as an injection—but has now been re-engineered into a once-weekly pill known as the investigational agent MLN9708. MLN9708 is being developed to improve upon the efficacy and safety of injectable Velcade.
Researchers presented data from a phase II study that is halfway completed. The study includes 65 patients with newly diagnosed multiple myeloma who received oral MLN9708 (days 1, 8, and 15) plus Revlimid® (lenalidomide) 25 mg (days 1–21) and dexamethasone 40 mg (days 1, 8, 15, 22) for up to twelve 28-day cycles, then maintenance therapy with MLN9708 (same schedule) every 28 days until progression.
Midway through the study, the overall response rate was 90%, including complete response rate of 23% and a "very good partial response" rate of 58%. The study is ongoing and response rates continue to increase along with the number of treatment cycles.
The researchers have concluded that the combination of weekly oral MLN9708 plus Revlimid and dexamethasone appears generally well tolerated and shows anti-tumor activity. The researchers cautioned that the study is only halfway completed. After patients are treated longer and survival data is analyzed, they will better be able to draw comparisons between MLN9708 and Velcade.
Reference:
Kumar, SK, Berdeja JG, Niesvizky R, et al. A Phase 1/2 Study of Weekly MLN9708, an Investigational Oral Proteasome Inhibitor, in Combination with Lenalidomide and Dexamethasone in Patients with Previously Untreated Multiple Myeloma (MM). Blood (ASH Annual Meeting Abstracts) 2012 120: Abstract 332.