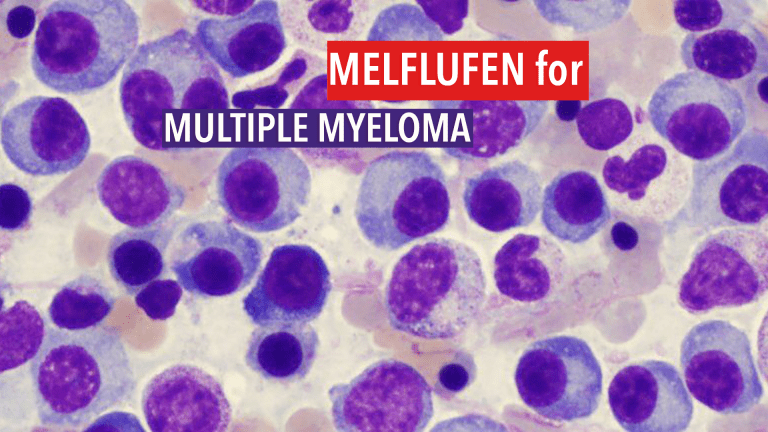 Melflufen Peptide Drug Conjugate for Multiple Myeloma
Melflufen demonstrates long term survival benefit in patients with advanced Multiple Myeloma.
by Dr. C.H. Weaver M.D.
Treatment with melflufen and dexamethasone led to sustained long-term overall survival among patients with relapsed/refractory multiple myeloma, according to a study presented at the 2019 American Society of Hematology Annual Meeting.
Melflufen is a novel peptide-drug conjugate that rapidly delivers a cytotoxic payload into cancer cells. Many cancer cells over-express (make to much of) aminopeptidase. By combining melphalan chemotherapy with a drug that targets an aminopeptidase melphalan can be directly delivered to a cancer cell where it exhibits its cytotoxic effect.
Melflufen was evaluated in 45 patients with relapsed or refractory multiple myeloma. Patients were previously treated with two or more lines of therapy including immunomodulatory drugs, proteasome inhibitors and alkylators, and had progressive disease within 60 days after the last therapy was completed. High-risk cytogenetics were present in 44% of participants.
Study participants received IV Melflufen 40 mg on the first day of each treatment cycle, which lasted 28 days and oral dexamethasone 40 mg each week for up to 8 cycles or longer.
Overall the treatment regimen was well tolerated and at the end of the study, the average duration of survival without myeloma progression was 5.7 months and the average overall survival duration was 20.7 months. The study authors pointed out that patients with stable disease as a best response to treatment had a median overall survival of 47 months, suggesting sustained clinical benefit despite a limited depth of response.
Melflufen plus dexamethasone is being further investigated in additional clinical trials including the pivotal phase 2 HORIZON study and the global, phase 3 OCEAN study.
Reference:
Bringhen S, et al. Abstract 1839. Presented at: ASH Annual Meeting and Exposition; Dec. 7-10, 2019; Orlando.
​